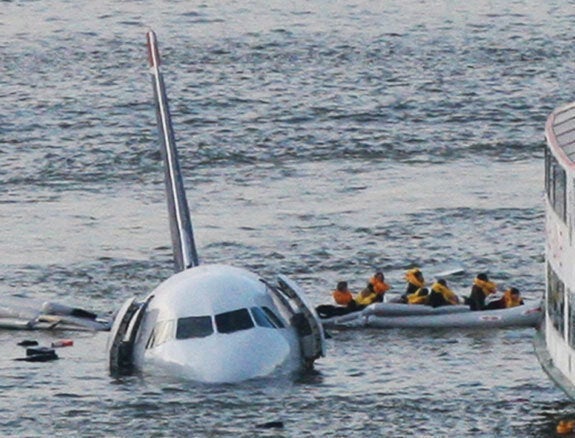 Developing and updated throughout the day
Here are survivor accounts of the crash of US Airways flight 1549 into the Hudson River:
Update on the passengers: Most have been released from local hospitals after examination or treatment. A spokeswoman for the Bank of America, Kelly Sapp, said 23 of the bank's employees were on board the plane. The company's headquarters are in North Carolina. The employees, who were not returning for any particular meeting, were all accounted for and safe.
A mother and baby were on board the plane, according to NYC Mayor Mike Blooomberg and passenger Jeff Kolodajy, 31, of Norwalk, Conn. who talked to the Newark Star-Ledger:
"Everyone's fine. There was a lady with her baby and she was trying to crawl over the seats. And I said, women and children first. She got off," said Kolodajy, who praised the effort by the pilot.

"I tell you what. It says a lot about people. He knew we were going down," Kolodajy said. "The engine blew out about three minutes, we circled around to the Hudson. Pilot said, look, we're going down. We looked at one another and said prayers."

According to the Associated Press, several employees of Bank of America and Wells Fargo banks were aboard the plane:
Bank of America Corp. and Wells Fargo & Co. say a number of employees of the Charlotte-based banks were on board a US Airways plane that crashed into New York's Hudson River.

Wells Fargo spokeswoman Mary Eshet said Thursday that three employees were on US Airways Flight 1549, and all are safe.

At Bank of America, spokeswoman Nicole Nastacie said the nation's largest bank was confirming the whereabouts of its employees and working with authorities to gather more information.
WCBS-TV is reporting that passengers were being treated for hypothermia and shock:
According to [CBS's Marcia] Kramer, survivors told her that about two minutes after takeoff, a loud "boom" was heard and the plane began descending. She reported seeing a flight attendant being taken away on a stretcher, though she said it appeared that was among the more serious injuries.

"As we got lower and lower the pilot said brace for impact and we landed," one survivor told CBS 2.

"It was just going down further and further and further and then all of a sudden it was gone," a witness named Peter Chinchino told CBS 2. "I'm shaking, it was crazy. I couldn't believe what I was seeing. There was nothing wrong with the plane, it wasn't wobbling, there was no smoke coming out of it!"
Several survivors are suffering hypothermia, including a husband and wife, reports MSNBC.
As many has 4 people may have hypothermia-related injuries, but no significant injuries were reported among the survivors.
A passenger told Reuters there was what sounded like an explosion a few minutes after takeoff.

"The engine blew. There was fire everywhere and it smelled like gas," Jeff Kolodjay, from Norwalk, Connecticut, told Reuters on a midtown Manhattan quay. "People were bleeding all over. We hit the water pretty hard. It was scary."

In a live interview with a rescued passenger identified as Alberto Panero, CNN's Wolf Blitzer reported that all passengers are safe and that the emergency exit was smoothly handled by US Airways staff.

When asked about his feelings immediately after the rescue Alberto Panero replied, "It was a near death experience (that) thankfully did not turn that way." Passengers are crediting pilots and crew with averting a potential tragedy.
Here is CNN's Wolf Blitzer interviewing passenger Alberto Panero:
Another interview with a survivor:
WATCH: Video of passengers leaving the site of the crash:
Shortly before 4 p.m., a New York Waterways ferry pulled into Pier 79 at 39th Street and 12th Avenue and, led by a man wrapped only in a blanket, about 15 passengers from the airplane were escorted into the ferry terminal. No one was carrying any belongings.

"They look amazingly calm, but I bet their hearts are racing," said Bob Grindrod, of Syracuse, who was waiting to board a ferry for New Jersey.
City officials told the New York Times that "everyone is accounted for, they are all out of the plane. They are going to New Jersey and New York, to three different piers. We don't believe we have any fatalities."
Popular in the Community