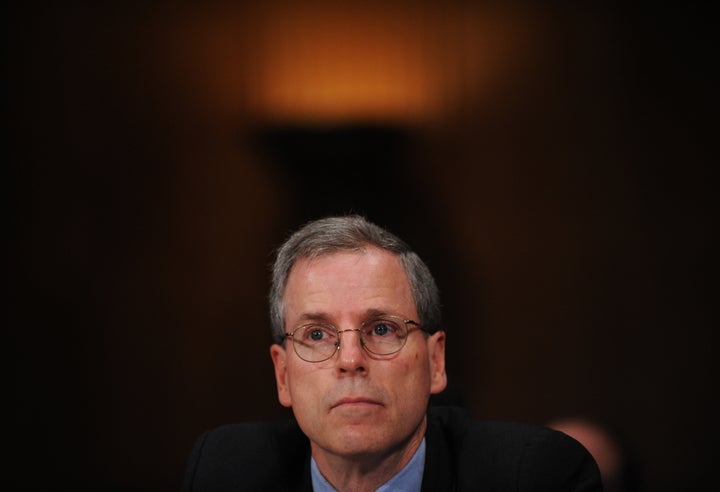 The embattled opposition movement in Syria is finding it increasingly difficult to hold off those who would resort to violence in the face of the government's brutality, the U.S. ambassador to Syria told The Huffington Post on Wednesday.
Ambassador Robert Ford said in a phone interview from Damascus that as the regime of Bashar al-Assad continues to aggressively crack down on the protesters, the incidence of "retaliatory violence" has gone up, as have the calls for the movement to take up arms in self-defense.
"People I have met have said they are having a hard time defending now against people who come to them and say we should resort to arms ourselves," Ford said. "I haven't met anybody who said I'm about to take up a gun, and if I did I would say that would be a mistake."
"That's a lot of blood, that's a lot of killing," Ford said. "2,700 people is a lot. So I understand why people in the street marches are wondering whether peaceful protesting is the way to go forward."
But he went on, "One of my roles I think now is to remind them they have a lot of support from the international community, but the international community is full of admiration for the fact that they have remained largely peaceful. Were they to suddenly become violent, or were they to spawn and foster terrorism, that support could not be so easily assured."
Since then, Ford's tenure -- as he continues to serve without Senate confirmation -- has been punctuated by a series of risky and high-profile displays of support for the Syrian opposition movement.
The Syrian government later ordered him confined to the capital city, Damascus.
In the executive offices of the embassy, he now answers his own phone, because the secretaries have been sent home for safety reasons.
"It's just my job," Ford said, of the risks he takes. "This is a hard job, and my heart's in it in a lot of ways, but it's just a job."
In recent weeks Ford has largely eschewed the typical portion of an ambassador's job that involves consulting with local government officials, although he continues to interact with them occasionally on more mundane matters.
"To be honest I think the Syrians understand, the government understands quite clearly the American policy, the president and the secretary of state have enunciated it very clearly," Ford said.
The contacts he now has in the Syrian government are primarily with low-level officials -- he was just in the Foreign Ministry on Tuesday, he said, to handle some "operational matters" about visas.
"We don't have a lot of other high level things to discuss," he added. "We don't need to discuss what President Assad's reform program is because we don't think it's credible and we don't think he's the guy to lead it."
"I think any good American ambassador should be able to write something and understand what the policy is and be able to put it up on a Facebook page," Ford said. "Nobody's asked me to clear these things with Washington, but I'm not saying anything we haven't already said publicly. I'm repeating American policy but I'm trying to do it in a way that's a little more understandable to the Syrians that are reading it."
Even as he works closely with the opposition, Ford acknowledges that one of the most significant challenges he faces is convincing them to think beyond the immediate violence and toward an eventual reconciliation phase.
Some analysts believe there can be no resolution to the standoff without accounting for the anxieties of the regime itself, which is mainly composed of members of the minority Alawite sect, and by all accounts fear that the eventual end will be catastrophic.
"The Alawis and Baathists aren't going to give up," said Joshua Landis, a professor at the University of Oklahoma and an expert on the Syrian government. "It is hard to imagine how they will collapse, as some suggest. More and more people are coming to the conclusion that if the regime is to be brought down, it will be a violent end."
Ford said that finding a way to avoid this outcome will necessitate including these sects in the transition process.
"It's going be very important in that the transition plan have buy-in from all of the major communities in Syria, otherwise the transition is going to be extremely bumpy," he said. "That's what the problem was in Iraq -- the Sunnis never bought into the transition, not ever. So if you're going to do a transition plan you've got to have a certain level of broad-based consensus behind it. And that is not something we can do for them."
Calling all HuffPost superfans!
Sign up for membership to become a founding member and help shape HuffPost's next chapter