Outside of the Cancún Messe at the international climate talks, runners Kevin Osborne from the U.S and Yingao Chen from China take their mark at the starting line. A sports commentator calls out: "It's a beautiful day! The sun is shining, the wind is blowing and our two competitors are ready to begin this epic race for a brighter and more prosperous world." At the sound of a whistle, the runners take off, racing toward the clean energy future.
What is the story behind this race? The U.S and China are major emitters and major economies with a complex relationship and huge opportunities to lead the clean energy economy.
At this moment in time, the U.S. is falling behind during a time that we most need economic revitalization and a competitive new job sector. While China has taken huge strides in building their renewable energy sector, much of their turbines and solar systems are exported while more new coal plants are constructed to meet growing energy demands.
U.S leadership has come empty-handed to the negotiations and continues to accuse China of holding up progress. Relations between U.S and China remain tenuous and marked with antagonism and mistrust.
Can the two countries overcome their differences and rise to the challenge? Who will emerge victorious in the clean energy economy?
As athletes representing U.S and China race in slow-motion along the red carpet track, youth on the side-lines cheer on the runners, holding up signs of historical moments in the U.S China clean energy history. Sports commentators from both countries narrate the race: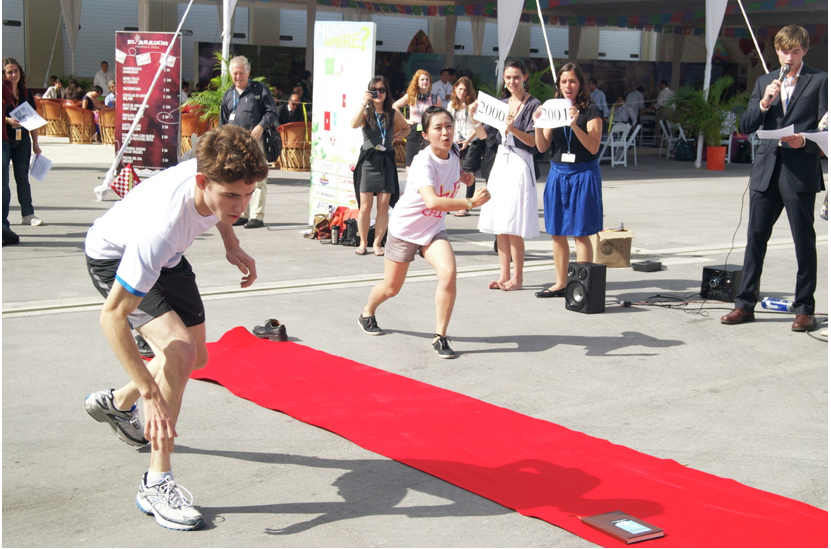 2000: "U.S has started off in the lead, it looks like they're making progress but can they keep it up?" "Will China be able to catch up?"
At first the U.S is by all indications equipped to outrun China in the race toward abundant clean energy.
2005: "China passes landmark Renewable Energy Law, she's gotten a jumpstart and is closing in on the gap."
The race becomes closer as both U.S and China take greater strides and vie for the lead...
2009: "Amazing comeback as China surges ahead, doubling its wind capacity in record time! She's really devoting herself to the race -- and it looks her investments are paying off!"
Now it is China that has taken the lead, with the U.S falling behind and looking winded.
2011: "Oh what's this -- it seems that a major obstacle is blocking the path to a clean energy future -- how will the runners handle this challenge?"
Two youth from the crowd crouch down on the track, creating a roadblock. The runners pause, looking frustrated and perplexed. They push the obstacle but it won't budge.
"It looks like they're struggling one their own and refusing to cooperate. Can the U.S. and China cooperate, to develop the next generation of clean energy?"
At this moment, youth from the crowd begin to chant "To-geth-er!" The runners continue to push, but to no avail. Finally, as the cheering become stronger, the runners take hands and push through the roadblock together...
"Wow, in a surprise turn of events, US and China work together to overcome the obstacle!"
The athletes resume the race, surging toward the finish line.
"An unbelievable comeback from the U.S and both athletes seem to be performing excessively well, blowing old records out of the water!"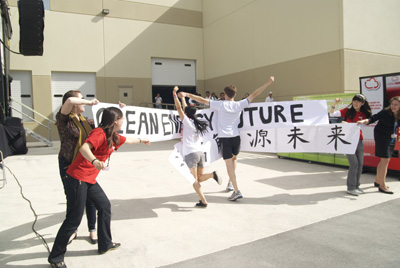 Sprinting now, U.S and China take hands and cross the finish line victoriously!
U.S and Chinese youth have come together to urge President Obama and Congress and to spur on new job-creating economic drivers at home by rapidly growing U.S green economy between now and COP17 in South Africa and encourage the Chinese government to implement more clean energy projects at home, bringing the clean energy transformation to the Chinese people, matching major strides in wind and solar manufacturing with increased domestic installations.
This race illustrates the need for ambition in advancing toward the clean energy economy -- to provide new sources of employment and improve air quality, to enable true progress toward international climate solutions, and to secure a viable future for our generation.
But jobs, solutions, and the security of our planet won't be ensured by competition alone. In the lead-up to this race, Chinese and U.S youth became acquainted with the importance of building trust and mutual leadership. We need both China and the U.S rising to the occasion, racing toward the clean energy future.
According to U.S runner Kevin Osborne of the Cascade Climate Network, "If we don't learn to lead together, then we won't lead at all. We need to be leaders and demonstrate far-reaching cooperation to achieve effective clean energy solutions."
As part of the U.S China Youth Climate Exchange, over the past two weeks, American and Chinese youth are demonstrating the sort of cooperation and leadership that we are asking of our governments. Learn more about this initiative and the impressive string of media it has garnered here.

***
It's already clear that we have a long way to go in order to make real progress on the international front. The first step to saving the negotiations and saving the planet is for the U.S to seriously step up its clean energy game.
This week, President Obama announced a framework tax deal that would scrap the Renewable Energy Grant Program, the only major national program incentivizing renewable electricity; such a decision would kill nearly 100,000 jobs, and further cripple our country in the clean energy race.
President Obama must show real leadership on this issue: no more fumbles, giveaways and cop-outs. We need Obama to get into the game and stand up to Big Oil bullies and climate deniers; he must demonstrate how the clean energy economy can revitalize America and employ millions.
Meanwhile, the current 2011 fiscal budget proposes to repeal tax breaks for major industries like Exxon Mobil, freeing up $20 billion and saving an estimated $45 billion over the next 10 years, funds that could be re-funneled to green jobs training programs, energy efficiency, and clean energy development.
Ironically, these wasteful dirty energy subsidies are likely to be protected by industry-entrenched members of congress simultaneously calling for fiscal restraint and job creation.
Congress must approve a budget that reflects American priorities: investing in clean energy technology and removing wasteful subsidies to fossil fuel industries.
REAL LIFE. REAL NEWS. REAL VOICES.
Help us tell more of the stories that matter from voices that too often remain unheard.