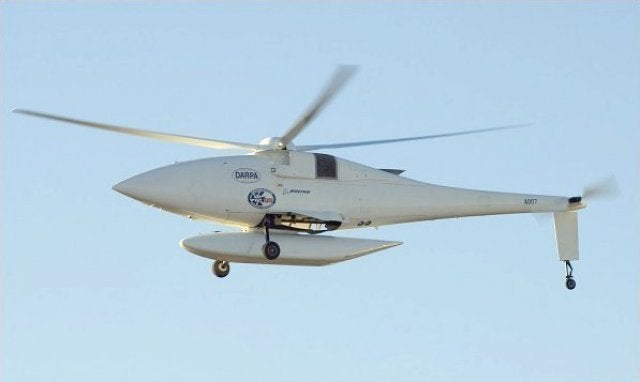 According to a U.S. Army press release, three of the Boeing-manufactured helicopter drones -- officially called A160 Hummingbird Vertical-Take-Off-and-Landing Unmanned Aerial Systems, or VTOL-UAS -- will be deployed in Afghanistan as early as May or June of 2012.
"These aircraft will deploy for up to one full year as a way to harness lessons learned and funnel them into a program of record," Lt. Col. Matthew Munster, product manager at the US Army's Unmanned Aerial System Modernization unit, said in the media release. "We begin flight testing of the UAS at Yuma Proving Grounds, Arizona, early next year," Munster said, explaining that developers are nearly finished integrating the drone's sensor technology, which has never been used in this capacity before.
Among the drone's equipment is a surveillance system the Army calls the Autonomous Real-time Ground Ubiquitous Surveillance-Imaging System, or Argus IS, the BBC reported. The system's 1.8 gigapixel cameras can track people and vehicles from an altitude of 20,000 feet and across 65 square miles.
In Greek Mythology, Argus Panoptes was a one-hundred-eyed giant whose epithet means "all-seeing."
"If you have a bunch of people leaving a place at the same time, [Army personnel] no longer have to say, 'Do I follow vehicle one, two, three or four,'" program manager Brian Leninger told the BBC. "They can say: 'I will follow all of them, simultaneously and automatically.'"
Another upgrade to previous drones is the A160's vertical-takeoff capabilities and its ability to hover, a first-time feature for the Army's unmanned aircrafts.
Munster hopes in addition to introducing important technology into the drone program, the A160 Hummingbird will spur even more competition between weapons vendors in developing new products and systems for the military.
Not everyone has met new drone technology with Munster's level of enthusiasm, especially in light of an ethics investigation earlier this year against Tom Faller, the Army's director of unmanned systems operations. In an alleged conflict of interest case, Faller is said to have joined the board of directors of a drone industry association at the same time he was working for the government.
Writing for Salon, Glenn Greenwald said the aircraft pose threats to individual privacy since "there are few Constitutional limits on how this technology can be used, and there are no real statutory or regulatory restrictions limiting their use."
In sum, the potential for abuse is vast, the escalation in surveillance they ensure is substantial, and the effect they have on the culture of personal privacy--having the state employ hovering, high-tech, stealth video cameras that invade homes and other private spaces--is simply creepy.
Nevertheless, advocates for domestic drone usage point to a vast number of unmanned aircraft currently patrolling the U.S.-Mexican and U.S.-Canadian border as evidence for their effectiveness in protecting national security.
"If you look at how important the UAVs have been in defense missions overseas, it's not really rocket science to make adjustments for how important those things could be in the homeland for precisely the same reasons," Maj. Gen. Michael Kostelnik, a retired Air Force pilot who has been working with drones since the 1990s, told The Global Post.
WATCH: Video of the A160 during a flight test in Victorville, California: