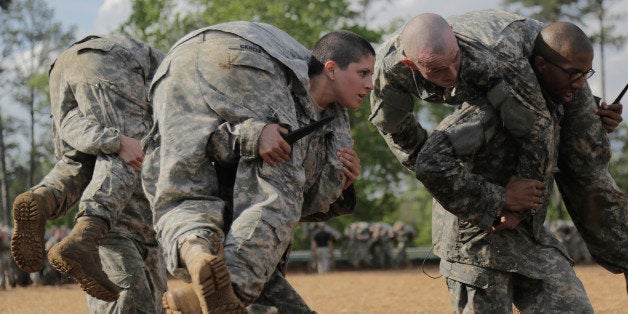 I spent more than 25 years of my life with the FBI, doing something I loved, and making an impact serving my country in many corners of the world. I also happen to be a woman. These women, as I was, are focused on being the best they can be in a tough, highly demanding, service-oriented and historically male-dominated profession. It's about doing the job first; the fact that they're women is second. I never wanted to be referred to as a "female agent", nor has any woman I've worked with.
We were FBI agents, period.
And these women are U.S. Army officers, period.
Much is justifiably being written of the exceptional accomplishments of these women, along with that of their male colleagues, in completing Army Ranger School. It is a very significant accomplishment, and it's even more meaningful when you consider the history of women in military academies.
Women have been admitted to the military academies since 1980 -- for 35 years. But, like law enforcement, the percentage of women lags, even more so as they advance up the career ladder. In fact, the military is doing better than law enforcement. The number of women law enforcement officers has hovered at around 13 percent nationwide for nearly two decades; the military's numbers are at about 20 percent. There is discussion within and outside our military about the apparent inability to increase the numbers of women entering the military academies.
But, apart from the lack of transparency in the nomination process, it's really not that much of a mystery, any more than it's a mystery that the numbers of women aren't higher in law enforcement. These are highly demanding professions that don't appeal to large percentages of the population to begin with, and women are not rising in large numbers to leadership positions at the rate they should be.
Why? We are too often relegated to more administrative, rather than operational, roles. We know this, so some women avoid setting their sights on leadership in the first place or switch fields mid-career for this reason. In completing Ranger School, Captain Griest and Lieutenant Haver have succeeded in breaking into another previously exclusively male provenance. They're incredible and they have clearly demonstrated they are more than capable of doing the job.
Here's what I can guarantee about these women:
1. Captain Griest and Lieutenant Haver are thrilled that they've completed this amazing challenge, which was a great personal challenge for both women.
2. I'm sure they're not thrilled with being singled out, given that this is in an environment that is totally focused on teamwork and not the individual.
3. Despite this, they are well aware that they are the first women to complete the training, proving women can do the job as well as men.
I know this because I've been in a similar place.
As a new FBI agent, I was driven by an intense desire to succeed and I was highly competitive. I sought out every available training opportunity to better myself. Like members of the Armed Forces, FBI agents put their lives on the line for others.
I tried out for the SWAT team in the Milwaukee Division of the FBI. To be clear, trying out for the FBI SWAT team in 1985, in Milwaukee, in no way compared to Army Ranger School. However, at that time and place, trying out for an FBI SWAT team was a highly unusual step for a young woman agent.
As is likely the case with Captain Griest and Lieutenant Haver, this was not about being one of the first women on a SWAT team; it was about pushing ourselves to the max, and further building confidence in ourselves and our ability to do the job.
Let's celebrate this great achievement of Captain Griest and Lieutenant Haver. Let's pull for the remaining third woman to complete Ranger School. And let's allow them to do their jobs, as members of a team, without the media attention. They already stand as incredible role models for girls and young women everywhere.
The best way to celebrate their excellence is to encourage the women and girls we know to take the lead to discover, and own, their passion and power as these amazing young women and future world leaders will do in October in Istanbul, Turkey, during the G(irls) 20 Summit. By doing this, we honor Captain Griest and Lieutenant Haver in the strongest possible way.