Shortly after he was released from the jail, Reza Zarrab, at the heart of Turkey's colossal bribery scandal, said in a live TV interview that he is prepared to stand a trial before an impartial court.
It seems 'his dream' has finally come true. He was apprehended in Miami on Saturday and an Indian-born US attorney who is handling Zarrab's case has rocketed to fame in Turkey.
Exulting in Zarrab's arrest, Turkish social media users had a field day mocking him and hailing the attorney.
Preet Bharara, US Attorney for the Southern District of New York, had only 8,010 followers before the Justice Department announced on Monday the arrest of Zarrab, a Turkish-Iranian businessman accused of evading US sanctions on Iran. The number of attorney's followers on Twitter was skyrocketed to whopping 230,000 and it is rapidly increasing. His latest two tweets were shared nearly 60,000 times and liked by 85,000 people.
Bharara has four times more followers on Twitter than two previous US Attorney Generals Loretta Lynch (43K followers) and Eric Holder (10K followers) combined. Closely watching Bharara's every move, Turkish media reported on Wednesday that he followed Turkish President Recep Tayyip Erdogan. He later unfollowed the Turkish president, perhaps because he thought the case may be politicized.
Zarrab's arrest brought into the open the dormant twin investigations that rattled Turkey for over two years. It was these two investigations that forced four ministers to resign, but also left Erdogan with no choice but to significantly escalate the crackdown on critics.
Bharara was lionized in Turkey largely because corruption suspects are deemed so "untouchable" that any prosecutor or police who go after them may lose their jobs or jailed and any journalist covering them may face prosecution or get fired.
As the news came that Zarrab's bail for release was rejected by the court, Turkish critics breathed a sigh of relief. Finally hope loomed large in the offing.
Any idea where the prosecutors and police who jailed Zarrab are now? Of course, in jail. What about newspapers who extensively reported about the case? Of course, taken over by the government. The Turkish authorities dropped charges against the graft suspects, reassigned prosecutors and police to less influential positions and described the probe as a "coup with global links." In these circumstances, Zarrab's arrest was a huge, huge story.
Zarrab's arrest came at a time when Turkish critics almost lost their entire hope that their country could get back on track anytime soon. With the arrest, their flagging spirits were instantly revived. Many of the blames that have been assigned in an indictment by Turkish prosecutors have turned out to have merit. Zarrab could be charged with up to 75 years in prison. His testimony could also be key in unveiling many of his secret dealings with the Turkish government.
Attorney Bharara is the only visible figure involved with the case of Zarrab, who is also accused of violating laws designed to ensure US national security. Zarrab's arrest has placed Bharara at the forefront of a national debate on corruption. He was deluged with a type of love messages that only fans of Justin Bieber would post.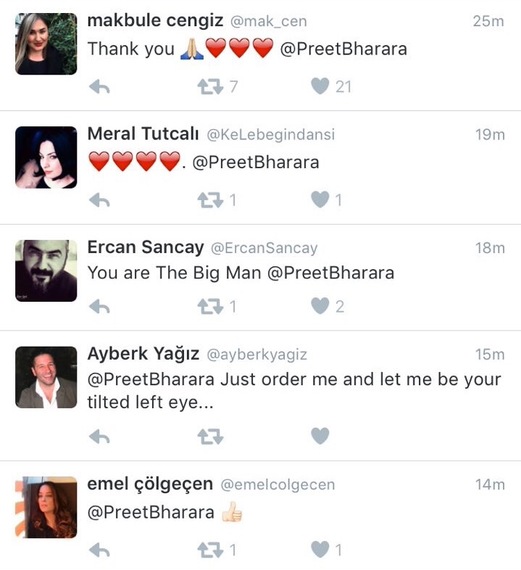 One user suggested to send the attorney Turkish liquor, delight or shish kabab. "Just ask. We are on your service," the user quipped. In a scathing diatribe against Turkish officials, who are generously bribed by Zarrab, Bharara said he cannot accept gifts for doing his job. This tweet went viral with 34k retweets and 50k likes.
Erdogan is awkwardly silent. He had gone through thick and thin to shield the Iranian businessman from the prison, only seeing him getting arrested during a vacation in Miami. He has not spoken since Zarrab was taken behind bars, except releasing statements of condolences over blasts in Istanbul and Brussels. A newspaper owned by his son-in-law doctored one of Bharara's photos, depicting him receiving an award from a Turkish charity group linked with the Gulen movement. It was a way of saying that the prosecutor has close ties with the group. After the original photo came to the surface, Sabah was forced to delete its story, without an apology.
Bharara assumed mythic heroism in a country accustomed to prosecutors unable to stand firm in the face of a relentless government pressure. After the arrest, Bharara tweeted that Zarrab will face the American justice in a Manhattan courtroom. For many Turks, Bharara's message still sounds more like a hope.
Zarrab's arrest could rekindle the widespread anger at the corrupt officials and help shatter the image that he could be innocent. But one thing is certain: Attorney Bharara is already a rock star and a hero for many Turks.
Related
Popular in the Community