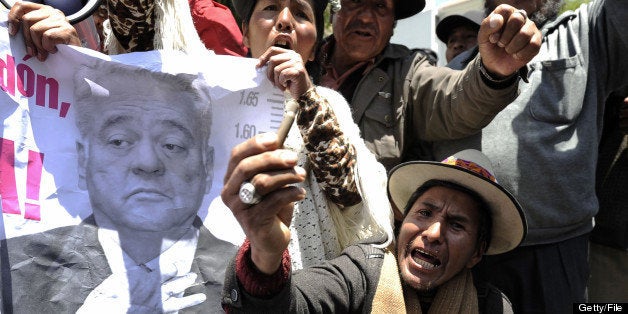 It was a moment worthy of a sitcom. The world's most infamous information technology specialist, Edward Snowden, had been holed up in a Moscow airport for three weeks, with no apparent escape in sight. Then the rumor surfaced that Bolivian president and known thorn in the United States' side, Evo Morales, may sneak Snowden out of the country on his presidential plane. Several European countries refused to allow Morales to pass through their airspace, and his plane was grounded in Vienna. Snowden wasn't aboard. Seeing the hand of the U.S. behind the event, Morales responded by offering political asylum to the former defense contractor wanted by the U.S. government for leaking information about the surveillance activities of the National Security Agency.
The humiliation Morales faced in Europe likely wasn't the only thing on his mind when he made the offer. Morales has long resented the U.S. government's refusal to hand over a certain former Bolivian head of state accused of human rights abuses in his home country.
Gonzalo Sánchez de Lozada, president of Bolivia from 2002 to 2003, was a free-market reformer and U.S. ally. He fled his country after protests to his plans to route natural gas through neighboring Chile toppled his government in 2003 -- an episode known in Bolivia as the "Gas War." He now faces charges of genocide in Bolivia for allegedly ordering the military to fire on protesters in 2003, killing more than 60 people, as well as a civil lawsuit in the U.S. brought by relatives of those who died. Sánchez de Lozada, now living in the U.S., is being sheltered from extradition back to Bolivia.
The Sánchez de Lozada issue hung heavy over U.S-Bolivian relations. And that was before Edward Snowden.
"It's an absurd expectation that Bolivia would extradite Snowden if he ever arrived there with this kind of precedent," Kathyrn Ledebur, director of the Cochabamba-based Andean Information Network, told The Huffington Post. "It's kind of this elephant on the table that they're pretending doesn't exist, but is a huge problem."
After all, the Gas War is still fresh in the minds of many Bolivians. The gas project offended nationalist sentiment in Bolivia, where many opposed allowing private firms to control the country's natural resources. Routing the pipeline through Chile added another layer of complexity to the conflict, since many Bolivians feel a lingering resentment against Chileans over a 19th century war that ended with Bolivia's loss of access to the sea.
"The loss of life that occurred during the events of September and October 2003 was tragic, but the responsibility for that tragedy is clear," Sánchez de Lozada's attorney Ana Reyes told HuffPost. "Forces associated with Evo Morales and other armed insurgents engaged in violent uprisings."
Sánchez de Lozada's critics viewed him as out of touch. A similar conflict, known as the "Water War," had broken out in 2000, when the U.S. contractor Bechtel Corp. bought the local water system in the city of Cochabamba, then raised rates by as much as 400 percent.
After the Sánchez de Lozada government fell, Bolivia's traditional political parties collapsed into disarray. Morales became the first indigenous president of the majority-indigenous country in 2005.
In 2011, the Bolivian courts convicted five military officers and two former cabinet members and imposed sentences ranging from three to 15 years. In its 2013 "World Report," Human Rights Watch called the convictions the "only notable advance" in Bolivia's efforts to punish human rights violations under previous governments.
That Sánchez de Lozada sought refuge in the U.S. isn't surprising. The son of an ambassador who became a U.S. exile after a military coup, Sánchez de Lozada grew up in the U.S., from the age of 1, earning a humanities degree from the University of Chicago.
But Bolivia retained an allure for the young man, who returned and became a successful politician. He won a congressional seat in 1979 and the presidency in 1993, defining himself as a fiscal conservative and a social liberal. His best-known political achievement was helping to reign in the hyperinflation that had soared to an annualized rate of 60,000 percent at one point when he served as minister of planning in the 1980s.
"The son of an exile is always more Bolivian than the Bolivians," Sánchez de Lozada told PBS in a 2001 interview.
His fellow compatriots did not always agree. On the campaign trail, his critics needled him over his English-inflected pronunciation of Spanish and referred to him as a "gringo." He entrusted his 2002 presidential campaign to American advisers, including prominent Democratic strategist James Carville. Sánchez de Lozada earned only 22.5 percent of the vote in a multi-candidate race, edging out Morales by some 42,000 votes. With no candidate winning a majority, Congress voted Sánchez de Lozada the victor.
Even in the U.S., however, Sánchez de Lozada has faced legal pressure over his actions as president. Unable to prosecute him in their home country, in 2007 family members of eight people killed in the 2003 protests filed a civil lawsuit against Sánchez de Lozada in the U.S. courts.
The plaintiffs include the parents of 8-year-old Marlene Nancy Rojas Ramos, who was shot to death inside her home in Warisata, outside the Bolivian capital of La Paz on Sept. 20, 2003. None of the victims named in the lawsuit were armed when they were killed.
The U.S.-based Center for Constitutional Rights brought new allegations in an amended complaint last month, saying the former Bolivian president and his defense minister, José Carlos Sánchez Berzaín, decided during meetings before they took office to use lethal force against civilians who protested their economic projects. Based in part on the experience of the Water War, they anticipated they might have to kill as many as 3,000 civilians to overcome protests to routing natural gas through Chile, according to the filing.
"They personally ordered the Armed Forces to enter Bolivian towns and villages as if they were attacking a foreign invader," the complaint says. "The Armed Forces employed tactics of war, including deploying military sharpshooters armed with high-powered rifles who shot into houses and chased and shot unarmed villagers as they fled through fields into the mountains."

Beth Stephens, the attorney representing the victims' families, told HuffPost the new allegations are based on testimony and documentation that emerged from the genocide trial in Bolivia, but she declined to identify sources by name who attended meetings referenced in the complaint.
"We have what we believe will be admissible evidence," Stephens said. "Much more information is available to us now, largely because of the criminal charges in Bolivia."
Reyes, who is defending both Sánchez de Lozada and Sánchez Berzaín, disputed the new allegations.
"At no time in their efforts to restore order and protect the citizenry did President Sánchez de Lozada or Minister Berzain order the use of lethal force against unarmed individuals," Reyes told HuffPost.
Whether or not the civil case proceeds, Stephens said her clients view the case as, at best, a substitute for justice.
"What they really want is for them to face is criminal prosecution in Bolivia," Stephens said. "The United States shouldn't be a safe haven for those who order violent attacks against unarmed civilians."
Meanwhile, the U.S. government has already begun to seek justice against Snowden for leaking information to the press about NSA surveillance. The Obama administration asked Bolivia to extradite Snowden last week, even though he wasn't in the country.
Popular in the Community