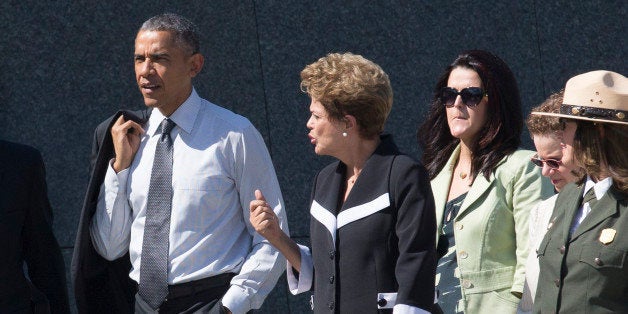 WASHINGTON -- President Barack Obama and Brazilian President Dilma Rousseff announced on Tuesday new joint efforts to confront climate change, committing the two nations to more aggressive targets for growing renewable energy and reducing greenhouse gas emissions.
During their meeting in Washington this week, the two presidents agreed to "intensify collaboration" and to "work with each other and with other partners to resolve potential obstacles towards an ambitious and balanced" agreement at the upcoming United Nations climate meeting in Paris.
"The global scientific community has made clear that human activity is already changing the world's climate system, causing serious impacts, putting ever larger numbers of people at risk, posing challenges to sustainable development, affecting particularly the poor and most vulnerable, and harming economies and societies around the world, including in the United States and Brazil," the pair wrote in a joint statement issued Tuesday morning.
As part of the commitment, both countries pledged to increase their targets for renewable energy drawn from sources other than hydropower. The United States agreed to increase its share of renewable energy to 20 percent by 2030 -- which is about triple the percentage of energy currently produced from non-hydro renewables.
"We believe this is an ambitious target, but one that is actually achievable in a way that will create new, low-cost opportunities for the American economy," Brian Deese, senior adviser to the president, said Tuesday morning in a call with reporters. He said the administration believes the target can be reached as part of states' plans to comply with the Environmental Protection Agency's strategy to cut carbon emissions from power plants.
Brazil has pledged to double its use of renewables by 2030.
The United States previously released its commitment to cutting emissions 26 to 28 percent below 2005 levels by 2025, in what is known as an Intended Nationally Determined Contributions, or INDC, through the United Nations Framework Convention on Climate Change process. The U.S. has reduced emissions 10 percent since 2005.
Brazil, which has cut its emissions 41 percent in the past 10 years, has not yet released its INDC but committed in the new bilateral agreement to "present a fair and ambitious intended nationally determined contribution that represents its highest possible effort beyond its current actions." The country also committed to restoring and reforesting 12 million hectares of forest by 2030 -- an area roughly the size of Pennsylvania.
The two countries are also creating a joint initiative aimed at addressing land use, clean energy and adaptation, to be known as the United States-Brazil Climate Change Working Group. The group is slated to begin work by October and will focus on developing areas where the two countries can cooperate on climate challenges.
The Brazil agreement, Deese said, "follows a consistent pattern of the president highlighting climate change s a central component of his bilateral engagements." The White House has previously announced bilateral climate agreements with China and India, two other major emerging economies.
Support HuffPost
The Stakes Have Never Been Higher
Before You Go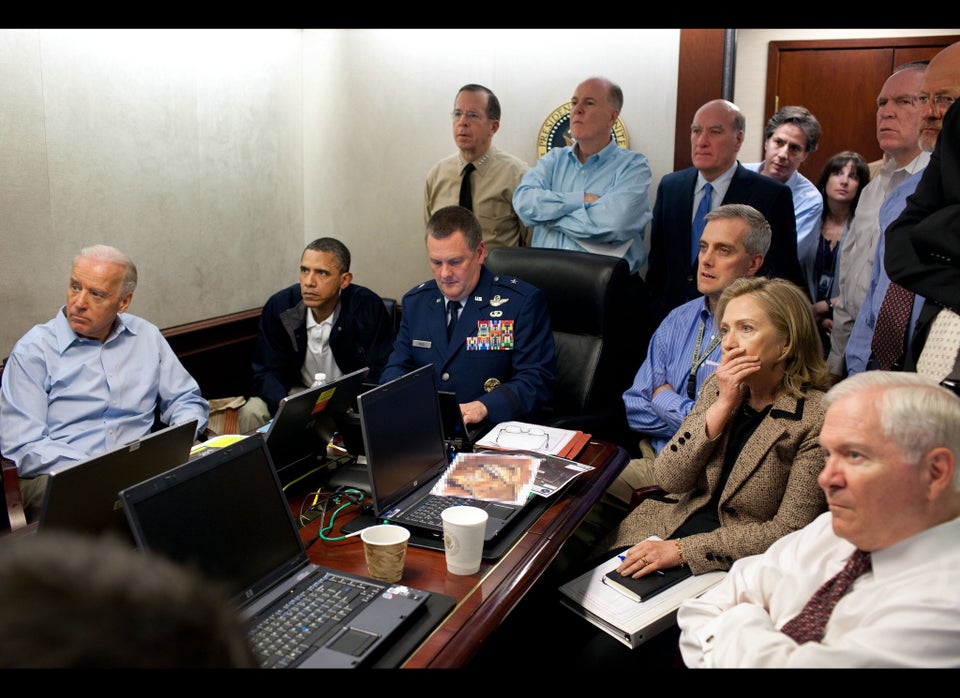 Most Iconic Photos Of Obama's First Term
Popular in the Community