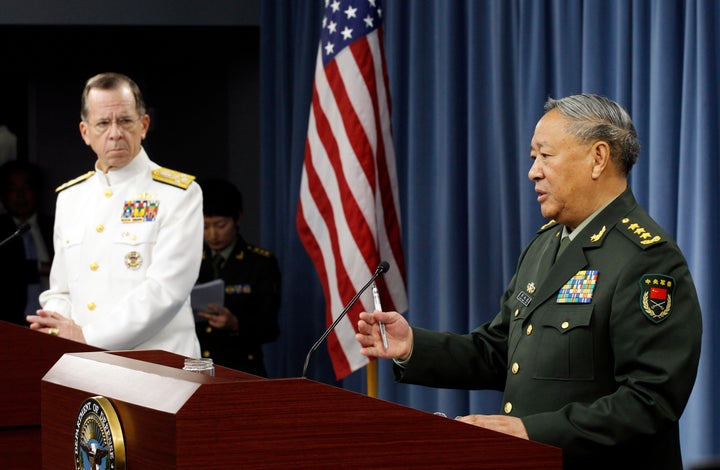 WASHINGTON -- New talks this week between American and Chinese military leaders got stuck on the issue of Taiwan, the same problem that torpedoed U.S.-China military cooperation last year.
Growing American concern about China's military build-up, cyberwar attacks, aggressive maneuvers in the South China Sea and Chinese complaints about U.S. spy-planes monitoring its coastline were all topics left unaddressed after the first high-level Chinese military visit in seven years.
Following two days of discussions at the Pentagon and elsewhere in Washington, Gen. Chen Bingde, chief of the Chinese general staff, and Adm. Mike Mullen, chairman of the Joint Chiefs of Staff, expressed hope for continued dialog and cooperation while acknowledging the deep disagreements between the two powers.
"We spent the bulk of our time trying to understand the security environment from one another's perspective, and trying to gain a better sense of the common interests we share," Mullen said at a joint press briefing Wednesday. "We can't afford to wait until we are in a crisis before we start to understand each other."
For his part, Chen, a 69-year-old hardliner whose career began in 1961 as a common enlisted soldier, said in a speech at the National Defense University in Washington that "it is natural and necessary for the two militaries to work together toward a peaceful and stable landscape." He vowed to "push forward" with a U.S.-China military dialog.
But beneath the beaming smiles and photo-op bonhomie, the issue of Taiwan loomed large. At immediate issue: the prospective sale of U.S. F-16C/D fighters to Taiwan, an action that aroused unusual Chinese fury.
"Taiwan is part of Chinese territory," Chen declared. "Why would it need U.S. weapons sales to guarantee its security?"
He explained away China's own surging build-up of sophisticated military capability -- a major and growing U.S. concern -- as "mainly targeted at separatist forces who have attempted to split Taiwan away from China."
Having had a good look at U.S. military capabilities during his Washington briefings, Chen added coyly, "I am surprised at the sophistication of the U.S. military … China does not have the capability to challenge the United States."
"This kind of candor is crucial for any good relationship," Mullen said. But he showed no sign of easing the tension over Taiwan. "I certainly share the view of peaceful reunification of China," he said, but added that in the meantime, the Taiwan Relations Act of 1979 remains in effect, requiring Taiwan to be treated as any other sovereign foreign country. "We will continue to follow the law until such time as that changes," Mullen said, noting that he is unaware of any effort to change the law.
"We have realistic expectations about our ability to solve these issues this week," he added.
China's extreme sensitivity to Taiwan became evident a year ago, when the nation abruptly canceled military dialogue with the United States after the Obama administration announced plans to sell $6.4 billion worth of arms to Taiwan, including Patriot air defense missiles and Blackhawk helicopters. Since then, Taiwanese officials have expressed a strong interest in acquiring the F-16 fighters, but there has been no official request.
Perhaps mindful of such potential explosions, Mullen and Chen carefully skirted the issue when asked if the sale of F-16s to Taiwan would again derail U.S.-China military talks. It would depend, each said, on the size and scope of the proposed sale.
Nevertheless, U.S. and Chinese officials agreed this week on a number of small joint steps they hope will carry the two nations beyond the Taiwan issue. Such measures include a counter-piracy exercise and a joint humanitarian assistance and disaster relief exercise.
These and other minor forms of cooperation will take place against large and deepening strategic concerns. Senior American analysts worry that China seeks to hold at-risk U.S. warships and military facilities in the South China Sea, where more than a third of the world's sea-borne cargo transits, and in neighboring island chains and straits.
Underscoring those concerns is China's development of high-tech weaponry, including the Dong Feng 21D, an advanced long-range ballistic said to be capable of attacking American aircraft carriers long before they are in striking range of the Chinese coast. A senior Navy intelligence officer, Vice Adm. David Dorsett, said earlier this year the missile is designed to hunt down and strike a maneuvering target, such as an aircraft carrier.
But when asked directly if the Dong Feng threatens carriers, the main instruments of asserting American power in the region, Dorsett said, "That's something I'd prefer not to talk about."
China is also developing a stealth fighter that could challenge the best new U.S. fighter, the F-22. U.S. officials have said the Pentagon "underestimated" the speed at which high-tech weapons are being developed and deployed by China, which had been known for fielding shoddy knock-offs of clunky Soviet aircraft, missiles and warships.
At present, China is finishing refitting an old Russian aircraft carrier that it expects to put to sea for trials later this year. Defense analysts have said they expect China will test the ship as a precursor to a class of new Chinese carriers to be built in the future.
Chen set off Wednesday evening on a tour of U.S. military facilities, including Nellis Air Force Base just outside Las Vegas and the Army's National Military Training Center at Fort Irwin, Calif. The planned itinerary infuriated Congressional conservatives, with Rep. Ileana Ros-Lehtinen (R-Fl.) charging Chen's visit amounts to little more than a sophisticated spy mission.
"There can be no doubt that every scrap of information this expert delegation collects will be used against us," Ros-Lehtinen, chairman of the House Foreign Affairs Committee, said in a statement.
"The Chinese military openly regards the United States as an enemy," she added. "We should not undermine our own security by thinking we can make friends with self-proclaimed adversaries with hospitality and open arms."
Related
Popular in the Community