A Florida man is suing a local sheriff's office, saying he was unlawfully detained and nearly deported to Jamaica after Immigration and Customs Enforcement confused him with someone else.
Peter Sean Brown, a U.S. citizen who was born in Philadelphia, filed a federal lawsuit on Monday against the Monroe County Sheriff's Office. He claims that authorities ignored his attempts to identify himself as they threatened him with deportation.
In a video released by the ACLU on Monday, Brown described the experience as traumatizing.
"I felt totally, totally powerless," he says in the video. "I went from angry, because nobody was listening to me, to a really frightful moment because I was literally told at one moment that I was to sign this paper, that they were tired of listening to me lying, and that I had three days and I was being sent back to Jamaica."
According to the lawsuit, obtained by HuffPost, Brown had turned himself in to authorities on April 5 for a federal probation violation after testing positive for marijuana. That violation followed his 2016 arrest in Key West for refusing to leave a downtown bar and then lunging at a responding police officer, the Miami Herald reported, citing a copy of the police report.
While in custody for his probation violation in April, Brown was told that ICE had put a hold on his release and that he had been flagged for deportation to Jamaica ― a place Brown said he had only spent a day visiting during a cruise years ago, according to his lawsuit.
Brown's lawsuit argues that the sheriff's office had enough information to know the ICE hold was incorrect because its own records listed him as being born in Philadelphia. ICE's report listed the wrong birthdate for Brown and described him as 7 feet tall. Brown is 5 feet, 7 inches tall.
In a statement obtained by HuffPost on Tuesday, Monroe County Sheriff Rick Ramsay said his office primarily detained Brown for his probation violation, pending a court appearance, and only held him for 12 hours on the ICE matter.
According to Ramsay, the office informed Brown about ICE's hold so he would have time to sort the situation out with his attorney prior to going before a judge on April 26.
As for the discrepancies in Brown's personal information, the sheriff said he had no control over the matter.
"When an inmate is held under an ICE matter, I, as Sheriff, do not have the legal authority to release that person."
Justice Department guidance does not legally require jurisdictions to honor ICE immigration detainers, according to the Bipartisan Policy Center, though Monroe County is one of several in Florida that formally agreed this year to abide by ICE requests in a pact called a Basic Ordering Agreement.
Brown said he filed multiple complaints with the sheriff's office to prevent his deportation but was told it wasn't up to the sheriff's office to determine whether he is a U.S. citizen or not, and so the office would leave the matter to ICE.
After several weeks of pleas and failed attempts to reach ICE by phone while in custody, Brown's lawsuit states, he attended his court appearance and a judge ordered an end to his detention on the probation violation.
Instead of releasing Brown, the suit claims, the sheriff's department re-arrested him on the ICE hold before transferring him to the Krome immigrant detention center in Miami. He was released after a friend sent a copy of his birth certificate to ICE.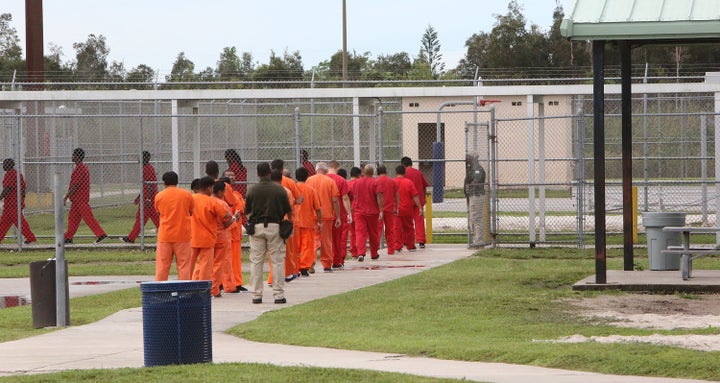 "After confirming that Mr. Brown was a US citizen, ICE hastily arranged for his release from Krome. Before he left, they confiscated all the documents they had given him regarding his impending deportation," the lawsuit states.
Ramsay, in his statement to HuffPost, defended his department's handling of the case, though called it "an unfortunate case of mistaken identity by ICE."
"Though the Sheriff's Office does not investigate immigration matters and while I cannot release detainees under ICE custody, I immediately took action when notified of this matter months ago," Ramsay said. "I ordered Sheriff's Office detention deputies to immediately notify ICE of a detainee's claims of citizenship and to follow up with those claims."
Brown's story is far from unique.
According to a 2013 study released by Syracuse University, ICE mistakenly issued detainers to 834 U.S. citizens and 28,489 legal permanent residents, or "green card" holders, between 2008 and 2012. The study cast concern on ICE's ability to quickly detain someone on suspicion alone.
"Having a detainer placed on you, however, even if ICE has mistakenly done so, can have very significant ramifications. Inadequate safeguards exist to prevent such mistakes from happening or to rectify them after they have happened," the study states.
In an even more egregious case, a New York man named Davino Watson spent three and a half years in detention after being wrongly accused of being in the U.S. illegally in 2008.
Upon Watson's release, he filed a complaint and was awarded $82,500 in damages. An appeals court in 2017 threw out that ruling, however, determining that the statue of limitation had expired while Watson was still in ICE custody without a lawyer, NPR reported.
"There's thousands of Americans in the same position as I was," Watson told New York's PIX 11 this past spring. "I saw a lot of guys, they had good grounds to fight their case but because they couldn't read and write, they got deported."
A spokesperson for ICE declined to comment to HuffPost, citing the ongoing litigation.
Calling all HuffPost superfans!
Sign up for membership to become a founding member and help shape HuffPost's next chapter