 BEALLSVILLE, Ohio, Feb 5 (Reuters) - Leon Lieser has been a coal miner 49 years, his bent fingers testament to his first job, loading coal by hand into a bucket. Mining also led to a hip replacement and a knee replacement. He loves his job and his industry, despite what it has done to his body.
"It's a way of life. It's a proud life," said Lieser, 66.
It may also be doomed. Lieser's boss, Robert Murray, chief executive of Murray Energy Corp, said he fears for the end of coal, prodded by a U.S. president who has promoted wind and solar power while cracking down on emissions from coal-fired power plants.
"There are no coal-fired plants being built. Mr. Obama took care of that. I think we're totally eliminated by 2035," said Murray, 73, a prominent advocate for his industry and a fund-raiser for Republican Party causes.
Despite Murray's protestations, the decline of the coal industry is being driven by the free market. U.S. natural gas production rose 16 percent from November 2008 to November 2012, creating a cheap supply that has made gas-generated electricity more competitive than that from coal.
Murray, too, decided to spend his life in the industry, even with the dangers readily apparent. His father was paralyzed from the neck down in a mining accident when Murray was 9 years old, and Murray broke his neck twice in mining accidents during the 16 years he worked underground, before he built the country's largest privately held coal company.
"I've got a birdcage of titanium and vanadium between (vertebrae) C2 and C8," said Murray, pulling back his collar to show a scar running down the back of his neck, the trace of a past surgery.
While cities such as Pittsburgh, about 75 miles (120 kilometers) to the north, have recovered from the decline of coal and steel, rural areas such as the Ohio Valley have been largely left behind. Four or five mines operate in an area that once had 25, veteran miners say.
Today, Murray works in a gleaming new office building in St. Clairsville, Ohio, though he periodically drops in on the Century Mine, tucked behind rolling hills near Beallsville in eastern Ohio, where he hosted Republican presidential candidate Mitt Romney for an August campaign event.
He can be affable one moment and erupt with fury the next over what he called President Barack Obama's attempt to shut down the coal industry; the president's failure to understand business; his pandering to environmental radicals; and his promoting the "hoax" of global warming. The president, he says, is "destroying America."
"In his inaugural address, which is supposed to be bipartisan and unite the country, what did he do? He demeaned and he demonized anyone he thought was his enemy, including all Republicans," Murray said. "This president does not understand what he's doing to the lives of these people. I live it every day. He does not see what he's doing to an entire segment of the United States economy."

Coal mining pride is on display in the Ohio Valley now more than ever, especially since Obama rededicated himself to wind and solar power in his second inaugural address on Jan. 21. "Fire Obama" signs still stand in front yards three months after the election. Miners attach "Stop Obama's war on coal" stickers to their helmets.
Obama and the U.S. Environmental Protection Agency see coal-fired power plants as a dangerous source of emissions. (Electricity generation accounts for about 40 percent of U.S. carbon dioxide emissions, the EPA says, with coal-fired plants polluting the most.)
To Lieser and Murray, coal brought jobs and wealth to the Ohio Valley, and they fear Washington will regulate them out of business. Natural gas was a "threat," Murray said, but he predicted that would change should gas prices rise.
Murray is lobbying Congress to stop rules including one from the Office of Surface Mining (OSM) aimed at protecting streams from the adverse effects of coal mining; a Mine Safety and Health Administration (MSHA) proposal for stricter requirements on the dust levels allowed in mines; and EPA rules to reduce sulfur dioxide and nitrogen oxide emissions.
Energy industry experts expect Obama will sidestep Congress and use executive power to enact his second-term environmental agenda. By April, they say, the EPA could issue carbon emission standards for new plants that would effectively prevent new coal-fired generators from being built. Next would come a more controversial effort, setting standards for existing plants, a measure sure to provoke industry lawsuits.
The White House declined to comment for this article, though Obama outlined his vision on the campaign trail and in the inaugural address, in which he devoted eight sentences to the future of green energy.
"The path toward sustainable energy sources will be long and sometimes difficult. But America cannot resist this transition, we must lead it," he said.

Coal mining has captured imaginations at least since the Industrial Revolution.
Charles Dickens gave voice to the coal miner in his 1850 magazine article "A Coal Miner's Evidence." In modern America, country music star Loretta Lynn gained fame as "A Coal Miner's Daughter" through her song and book, later made into a 1980 Hollywood movie.
"Coal miners remember coal mining as a great economic blessing, but it's hard to think of a more difficult way to make a living," said Jennifer Haigh, a novelist whose fictional town of Bakerton, Pennsylvania, was the setting for a novel and a just-released collection of short stories called "News From Heaven."
"It seems a little crazy that people remember it so wistfully," she said. "I suppose the reason is that in a lot of these places, nothing (else) has come along. A lot of them are towns that are just sort of frozen."
In the United States, miners represent the fiercely independent white working class that today is largely Republican and resentful of government interference in an industry that brought wealth and development to Appalachia.
"I'm so proud to be part of a tradition of waking at dawn and working till dark. That pride of being self-reliant," said Mitch Miracle, 56, a foreman at the Century Mine. "I feel fortunate to have been part of that for four generations in the Ohio Valley. It's absolutely heartbreaking to see it taken away."
A Reuters survey found that almost 100 coal-fired power plants have closed since 2010. Some 150 others have announced plans to close before the decade ends.
Coal generated 50 percent of the United States' electricity in 2005, a figure that fell to 38 percent in 2012, according to the U.S. Energy Information Administration. Less-polluting natural gas, more abundant since the gas drilling boom of recent years, has grown from 19 percent to 30 percent in the same period.
Murray exported almost 13 percent of his 2012 production but considers exporting a last resort, given its expenses.

Lieser, the longtime coal miner, remembers another regulatory campaign in the 1980s, when concerns over acid rain eventually led to a meaty section of Clean Air Act of 1990. Burning coal releases toxins such as mercury, sulfur dioxide and nitrogen oxides, the latter two contributing to acid rain.
"They shut down mines and people lost their jobs, houses," Lieser said, speaking in a conference room at the Century Mine. "But this time the EPA's on steroids. This will be Death Valley if we lose the coal mines here. We won't have anything."
The next day, Lieser was back underground, taking the Century Mine elevator some 250 feet (75 meters) beneath the surface. He was overseeing a continuous miner, or CM, the tunnel-digging piece of heavy equipment that mainly carves out passageways but also harvests coal.
Modern coal mining has been mechanized for decades, rendering obsolete the image of soot-smeared miners wielding picks and shovels (though miners still bear the unmistakable helmets with lanterns) Today, miners operate computer-driven hydraulic machinery costing hundreds of millions of dollars.
At the "longwall" area of main production, shearers slice off the 1,300-foot-wide (400-meter-wide) face, digging about 30 inches (75 centimeters) deep with each pass, dumping crumbled coal onto conveyer belts that zip through miles of underground tunnels before heading up a slope toward the surface.
The miners' lanterns reveal the inside to be not black but a pale gray. Miners cover every surface with a powder called rock dust, a fire retardant in case of an explosion.
Coal mining is still dangerous. There were 48 U.S. coal-mining fatalities in 2010, the year 29 died in an explosion at the Upper Big Branch mine in West Virginia. Twenty-one died in 2011 and 19 last year, according to MSHA.
In a 2007 accident at Utah's Crandall Canyon Mine, half-owned Murray subsidiaries, six miners and three rescue workers died.
"There's a certain amount of people who like danger in their lives, and coal mining's dangerous," Lieser said. "It's not an occupation for the timid and the weak." (Reporting by Daniel Trotta; Editing by Prudence Crowther, Douglas Royalty and Lisa Von Ahn)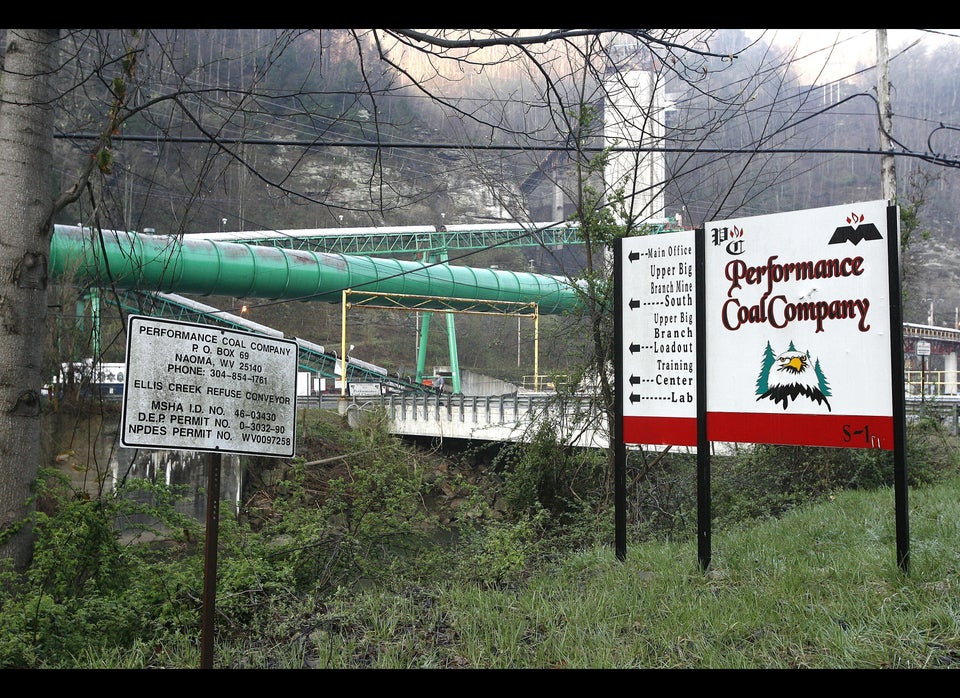 Major American Mine Disasters