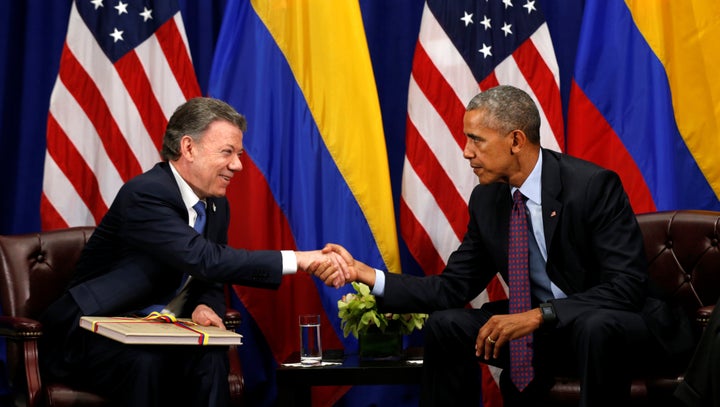 After more than half a century of war, with about 220,000 lives lost and millions of people displaced from their homes, Colombia and the rest of the continent are celebrating. Peace is finally within reach.
This week, the government of Colombia and the Revolutionary Armed Forces of Colombia, or FARC, signed a peace accord expected to be ratified by the people in a nationwide referendum on Sunday. The road ahead is risky and dangerous ― the conflict opened many wounds ― but now at least, there is a well-founded conviction that peace can prevail.
In a speech at the United Nations, U.S. President Barack Obama noted that the U.S. "helped Colombia end Latin America's longest war." Is that right? To what extent did Plan Colombia ― a U.S. military and diplomatic aid initiative launched by U.S. President Bill Clinton in 2000 and renewed by U.S. President George W. Bush and Obama ― actually help end the conflict?
The shift in U.S. aid was one of the least well-known impacts of 9/11. It helped Colombians gain the upper hand against the FARC.
To help me answer those questions, I talked to five experts. This is what they told me.
"In the late 1990s, middle-class Colombians were leaving their country in droves," said Michael Shifter, the president of the Inter-American Dialogue. "For many, the nation's very viability was on the line, as both the FARC and paramilitary forces were gaining ground. The turning point stemmed from the Colombians' collective determination to reverse the rapid deterioration, coupled with the Plan Colombia cooperation effort with the U.S., which was mainly driven by the U.S. Congress and was all about fighting drugs."
He went on: "What also helped was when, in August 2002, the U.S. Congress decided that its assistance did not have to be limited to fighting drugs, but could be used more widely, for security purposes. The shift was one of the least well-known impacts of 9/11 and gave Colombians more flexibility in strengthening security forces and gaining the upper hand against the FARC."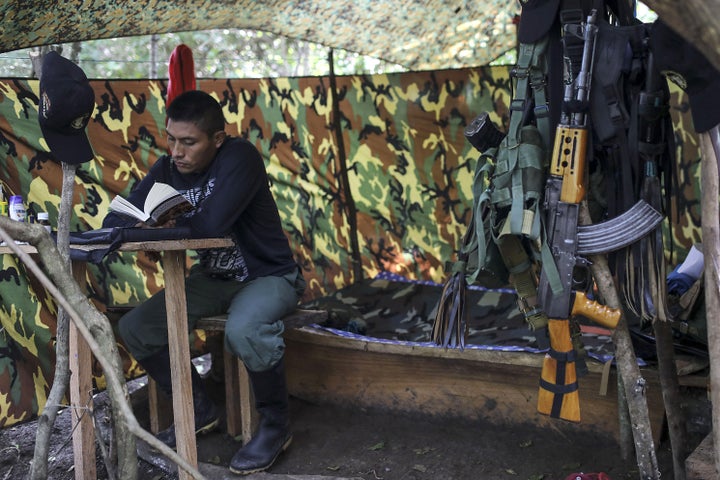 Chris Kraul, a veteran Los Angeles Times correspondent in Colombia who has covered the war, added a point: "Yes, no question ― the Colombian military was being outfought across the board prior to Plan Colombia and several of its military bases were overrun in the 90s."
Enrique Santos Calderón, President Juan Manuel Santos' brother and an influential Colombian journalist, agrees. He played a role in the peace negotiations, delivering confidential information to the negotiators in critical moments of the talks in Havana. He told me that "Plan Colombia played a decisive role modernizing and restructuring the Colombian army to turn it into an offensive force against FARC instead of always being on defense."
But, former U.S. Ambassador to Venezuela Charles Shapiro, clarified, "Plan Colombia marked a long-term strategic relationship between Colombia and the U.S. It complemented and assisted the government and the people of Colombia in getting the strategic advantage over both FARC and the ELN [the National Liberation Army, another rebel group] but the credit should go not to Plan Colombia but to the people of Colombia."
It was a foreign policy achievement accompanied by considerable collateral damage and human rights violations. On balance, it was successful but it needs to be understood in its totality.
Ricardo Avila, the assistant editor of El Tiempo, the largest Colombian newspaper, added a deeper perspective: "The U.S. assistance was key not only in terms of money and equipment, given to us at a time when the country was going through a deep economic crisis. Their assistance in intelligence matters was crucial, and it also gave us Colombians a message of solidarity. It showed we were not alone in this fight."
So, can we call this peace accord a top U.S. foreign policy achievement? Shifter is skeptical:
This brings to mind what a friend once said: 'tomando en cuenta la modestia del conjunto' ― a phrase that translates as 'taking into account the modesty of the set.'

In other words, there haven't been too many foreign policy achievements of late, certainly not where substantial U.S. resources were committed, like Iraq and Afghanistan. Seen in that light, Plan Colombia looks very good, and it's not surprising that U.S. officials like to point to it. But measured against its stated aim ― fighting drugs ― it has clearly fallen short. Coca production is up sharply in the past couple years and the drug trade is, by all accounts, flourishing. 

Plan Colombia was also a foreign policy achievement accompanied by considerable collateral damage and human rights violations. On balance, it was successful but it needs to be understood in its totality and be seen in perspective.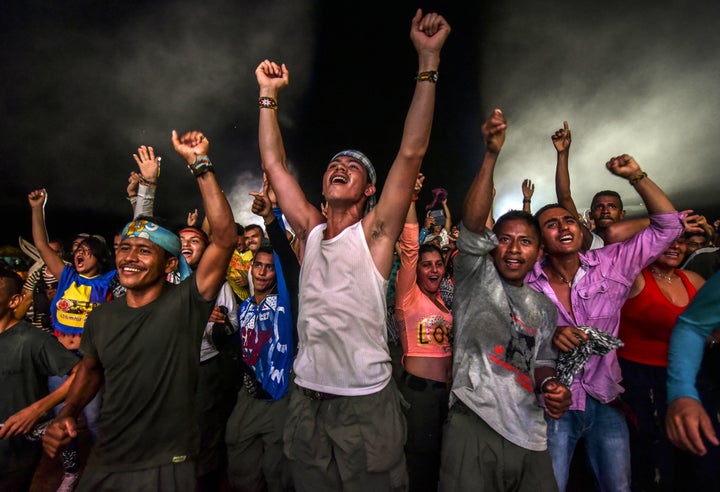 Shapiro takes a different path and points out that "the peace plan and the growing Colombian economy, strengthening of democratic institutions and good governance are certainly a long-term success story for the people of Colombia, and since the U.S. helped, we get to enjoy some of the reflected shine of that success."
Would this type of intervention serve as a template for future U.S. interventions in Latin America? I asked the experts and their response was almost unanimous. "In Latin America, there are no armed conflicts comparable to the Colombian case," said Enrique Santos.
Shifter holds a similar view but with a caveat: "Perhaps some general principles apply, such as: to be effective, U.S. cooperation requires sustained engagement and needs to be wide-ranging and bipartisan. But that's all."
The main credit for the peace accords, however, should go to the Colombian people.
Ambassador Shapiro reminded me that the U.S. tried, unsuccessfully, to use Plan Colombia as a template for the Merida Initiative, a program to help Mexico fight drug cartels and organized crime. "The circumstances in each country, not just in Latin America but around the world, are distinct," he said. "Bipartisan long-term support like Plan Colombia had is another rarity in U.S. foreign policy."
Kraul believes "the high cost" ― around $10 billion over 16 years ― "and the U.S. politics militating against foreign interventions" make it hard to replicate the plan.
Colombia is now on the verge of succeeding with its ambitious objective of turning an armed struggle into a civil political contest, and there is no doubt the country owes the U.S. for playing an important role in changing the tide in the conflict. President Santos also deserves praise for attempting to achieve what no Colombian president in the past 50 years accomplished.
The main credit for the peace accords, however, should go to the Colombian people. The will of the majority has consistently been to give peace a chance.
Calling all HuffPost superfans!
Sign up for membership to become a founding member and help shape HuffPost's next chapter
BEFORE YOU GO
PHOTO GALLERY
FARC in Colombia