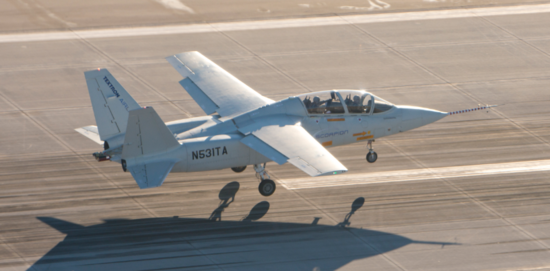 Imagine secret agent Angus MacGyver with access to the technology of a Fortune 500 aerospace enterprise. But, this time, he's not fighting bad guys. He's facing a challenge that would intimidate even James Bond. He's doing battle with budget.
One company's MacGyver-esque project took to the skies for the first time this month as part of a bet that building a Swiss Army knife of an aircraft using as many pre-existing components and technologies as possible will result in a product that the armed forces will love, even in the face of increasing fiscal constraints.
The aircraft is Textron AirLand's Scorpion Jet. It looks like a mashup of an A-10 Warthog tank killer and an F/A-18 Hornet or F-35 Lightning II fighter, but it's about 80% the size and about half the basic weight of either. It has an internal payload bay capable of carrying up to 3,000 lbs. of gear, a first for an aircraft of its type. Its two turbofan engines provide the go-power to help the Scorpion reach its design top speed of 450 knots (518 mph), but the aircraft also needs the engines to deliver enough electrical energy to power sensors, communications gear, and other tech that will fly in the payload bay and elsewhere in and on the aircraft.
And that's one of the keys to the case for this aircraft. It's designed to be a flying Leatherman, able to perform airspace control and alert, border patrol, counter-drug operations, disaster relief, maritime security, and close air support missions, among others. You load and configure the mission-appropriate equipment and stores into the cargo bay or onto one of six hard points on the wings (two of them "wet," or able to pass fuel) and launch for the mission. If and when the mission changes, you swap out equipment and stores and launch again.
In the meantime, the Scorpion is supposed to be able to fly both fast and slow (100 knots, or about 115 mph, is well within the envelope) high and low (surface to 45,000 feet), stable (to accommodate sensors), and in more aggressive attitudes (to accommodate low-level maneuvering and air-to-ground attack).
The plug-and-play configuration and the operating envelope are planned to make the aircraft able to do many jobs with a single platform. It's designed to do the surveillance and strike jobs of the MQ-1 Predator and MQ-9 Reaper unmanned aircraft, but adds pilot and observer eyes on station. It's designed to carry air-to-ground munitions and do some of the jobs of the A-10 Warthog or a fighter jet in close-air-support roles, but do so with a greater loiter time and lower expense. It's designed to do search operations like a C-130 Hercules transport, but with a fraction of the aircrew.
Textron AirLand says that the cost to operate the jet is likely to be under $3,000 per flight hour. That's about the same cost as a C-130 Hercules transport or a helicopter if you go by some US government numbers. And a lot cheaper than a fighter jet like the F-16, which the company says costs around $16,000 per flight hour to operate and support.
The Scorpion is a project of Textron AirLand, which is a joint venture between Textron Inc. and AirLand Enterprises, LLC. Textron is the parent company of Cessna Aircraft Company, which makes business jets and other aircraft.
Unlike MacGyver working with duct tape and clarinet reeds, the Scorpion program presumably has access to Textron's cache of technology and designs, including those of Cessna. And, if reports of the acquisition by Textron of the ailing Beechcraft Corporation are true, that's another menagerie of technologies and designs that might become available to the project. Beechcraft builds, among other aircraft, the newer T-6 series of single-engine military trainers, including the AT6, a weaponized version that lost out to the Embraer EMB 314 Super Tucano for the US Air Force's Light Air Support ("LAS") program.
The access to those resources is great, but does it come with the kind of red tape usually attendant to corporate aerospace? The project leaders say no. In fact, they make it out to be a pretty MacGyver experience. Bill Anderson, the president of Textron AirLand and a Cessna executive, says "not only did we have to design and build an airplane and fly it in less than 24 months, we had to find a building, rehab the building, build the team, and after we did all that, we got started on designing and building our aircraft."
Dale Tutt, the project's chief engineer, says that the constraints of the cost-efficiency strategy helped in some respects. "Starting with the premise that we're going to re-use whatever we can really helps facilitate a lot of decision-making because you don't spend a lot of time debating whether or not you're going to go out an build something custom."
The jet had its first flight on December 12 and Tutt says that test pilot Dan Hinson delivered a positive review of the Scorpion's performance. The program now faces a year of flight test that is planned to accumulate 400 flight hours of data and experience. The company is also soliciting orders for the aircraft.
Time will tell if the Scorpion will find a home in the inventories of the US or its allies. In the meantime, this might be the shape of things to come in military aircraft development. Rapid prototyping using the components at hand and producing a modular, flexible solution that confronts that most feared of adversaries: The accountant.
Photo courtesy Textron AirLand.
Full disclosure: The law firm of which I am a member has in the past represented Textron or its affiliates. I have never personally done any work representing Textron.
Calling all HuffPost superfans!
Sign up for membership to become a founding member and help shape HuffPost's next chapter