On Thought Leaders and Global Citizens.
U.S. Congresswoman Carolyn B. Maloney, representing Manhattan's Upper East Side, Roosevelt Island, and Western Queens, has weighed into the debate over the U.S. response to Uganda's proposed "Anti-Homosexuality Bill."
She has just signed two letters initiated by Congresswoman Tammy Baldwin (D-WI) expressing serious concerns about the grave injustice occurring in Uganda and other countries that are taking steps to criminalize or otherwise severely discriminate against their Lesbian, Gay, Bisexual, and Transgendered (LGBT) communities.
The first letter was to Barack Obama, asking our President to speak out publicly against this proposed legislation to bring further attention to the issue.
The second letter was to Ugandan President Museveni, urging him to use every means possible to convey to leaders in their Parliament that this appalling bill is reckless in both intent and possible impact, and should be withdrawn immediately.
U.S. Congresswoman Carolyn B. Maloney knows wrong when she sees it. Here, testifying in Congress on Uganda's Abhorrent Anti-Gay Legislation.
She was one of just three House Members to issue a statement to the U.S. House of Representatives Human Rights Commission, named after the late California Congressman and Holocaust survivor, Tom Lantos, noting:
The recent developments in Uganda have sent shockwaves throughout the international community and for good reason.

The Uganda Parliament recently introduced a bill that would further criminalize homosexual behavior.

It would make "any form of sexual relations between persons of the same sex" punishable by a minimum of seven years in prison and in cases of so-called "serial offenders" and HIV positive individuals, death.

This form of officially sanctioned discrimination is both deeply troubling as a piece of legislation and an affront to the universal values of individual liberty and human rights.

Among its many offensive and dangerous provisions, the Anti-Homosexuality Act of 2009 would force individuals to reveal the whereabouts of gays and lesbians to the police or face prosecution.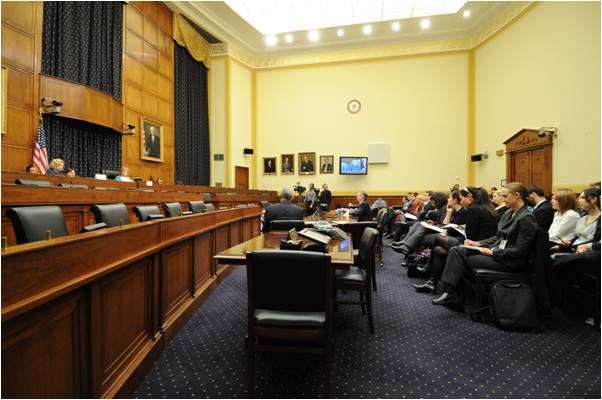 Hearings of the U.S. House of Representatives Human Rights Commission on Uganda.
It would further establish extra-territorial jurisdiction to prosecute lesbian, gay, bisexual, or transgender (LGBT) Ugandans living abroad, criminalize LGBT advocacy, and limit the distribution of information on HIV prevention.

I join my colleagues in sending two letters: one, to President Barack Obama expressing our concerns with the bill's discriminatory nature and the second to Ugandan President Museveni urging him to support the legislation's immediate withdrawal.

I share Secretary of State Clinton's fear -- and others in the human rights community -- that this type of legislation would almost certainly incite violence against Uganda's LGBT community and further push this already marginalized population underground.

Lesbian, gay, and bisexual Ugandans, as the New York Times has reported, are repeatedly subject to "beatings, blackmail, death threats, constant harassment, and even so-called correctional rape."

Moreover, at a time when the U.S. sends hundreds of millions of dollars each year to Uganda through PEPFAR and other health initiatives, we should closely examine the impact this anti-gay bill may have on our efforts to encourage HIV prevention, treatment, and care in that country.

The Washington Post has called the Anti-Homosexuality Bill an "ugly and ignorant piece of legislation." I believe that is putting it mildly.

As a member of the LGBT Caucus and a longstanding champion of equal rights for LGBT persons, I am deeply troubled by the very notion that someone could be discriminated against -- let alone sentenced to death -- for their sexual orientation.

Such a measure goes far beyond ugliness and ignorance: it is hate in its rawest form.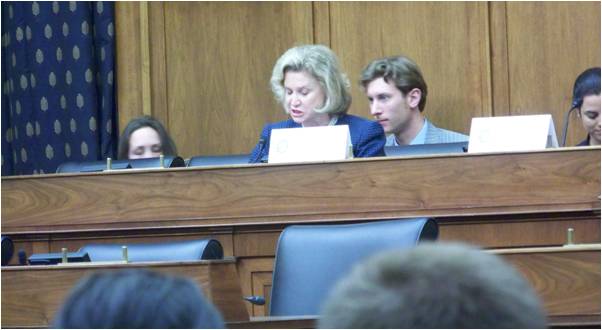 Carolyn has worked closely with Congress member Tammy Baldwin,
a Wisconsin Democrat, in this important human right this effort.
The Tom Lantos Human Rights Commission was established by Congress to promote, defend, and advocate internationally recognized human rights norms in a nonpartisan manner, both within and outside of Congress, as enshrined in the Universal Declaration of Human Rights and other relevant human rights instruments.
Another one of my heroes, New York State Assemblyman Micah Kellner, is also trying to introduce a resolution in Albany regarding this hateful situation in Uganda.
I know for a fact that Carolyn Maloney is gay-friendly. Because I know Carolyn Maloney well and I am gay. She was there for me when my mother died, she remembered me when my father passed away.
She authored and introduced the first bill to recognize same-sex couples in New York State history, back in 1986 when she served on the New York City Council.
Nearly a quarter century later, she's continuing to demonstrate that same commitment to gay and lesbian families by introducing the Family and Medical Leave Inclusion Act in Congress.
In fact, she's been a fierce advocate for human rights throughout her career. New York Times columnist Nicholas Kristof wrote in his new book, Half the Sky: Turning Oppression Into Opportunity for Women Worldwide, that "no one has been a greater champion than Carolyn Maloney" in the battle against the scourge of human trafficking.
To help keep her advocacy in Congress, my partner John Lee and I are hosting a campaign reception for her in our own home, Sunday, Feb. 7.
As someone who builds orphanages around the world with Orphans International Worldwide, I need to be particularly sensitive to local mores. The developing world has a right to its own values. But no world has the right to de-value human beings on the basis of their sexual orientation.
It is because of her determination to better our world, Orphans International Worldwide is acknowledging the Congresswoman's efforts by presenting her with our 2010 Global Citizenship Award For Leadership In Helping Humanity at a benefit for Haitian orphans on Sunday, Feb. 28, at historic Webster Hall in New York's East Village.
Support HuffPost
The Stakes Have Never Been Higher
Popular in the Community