President Barack Obama announced Wednesday that the United States and Cuba will open embassies in each other's countries.
"This is a historic step forward in our efforts to normalize relations with the Cuban government and people," Obama said in a press conference at the White House.
"The progress that we mark today is yet another demonstration that we don't have to be imprisoned by the past," Obama added.
Reuters reports a letter from Obama discussing the restoration of diplomatic relations was delivered to Cuban President Raúl Castro Wednesday. The Cuban government announced Wednesday the embassies would re-open July 20.
Secretary of State John Kerry is expected to speak about the embassy openings, according to the AP. Obama said Kerry will travel to Havana later this summer "to formally, proudly raise the American flag over our embassy once more."
It was announced in December the U.S. and Cuba would seek to normalize relations for the first time since the U.S. cut off relations in 1961.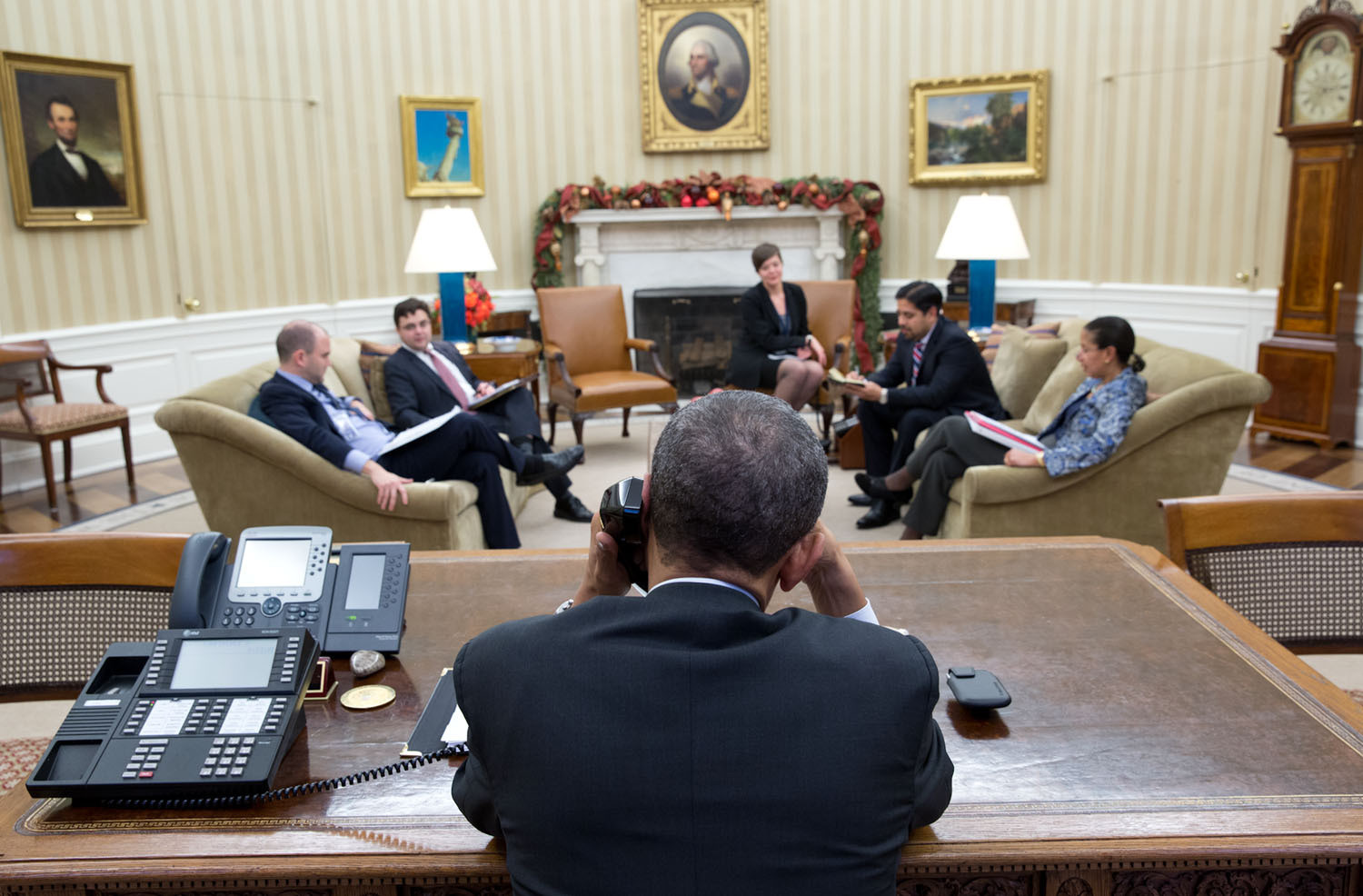 The President talks on the phone with President Raúl Castro of Cuba in the Oval Office. The next day, Obama announced the U.S. would restore full relations with Cuba after more than 50 years. (Official White House Photo by Pete Souza)
Rules that loosened the trade embargo between the U.S. and Cuba went into effect in January, allowing Americans to transport up to $100 in alcohol and tobacco from Cuba, ending the ban on Cuban cigars.
Below, more from the AP on U.S.-Cuba relations:
While the opening of embassies marks a major milestone in the thaw between the U.S. and Cuba, significant issues remain as the countries look to normalize relations. Among them: talks on human rights; demands for compensation for confiscated American properties in Havana and damages to Cuba from the embargo; and possible cooperation on law enforcement, including the touchy topic of U.S. fugitives sheltering in Havana.
Obama also wants Congress to repeal the economic embargo on Cuba, though he faces resistance from Republicans and some Democrats. Those opposed to normalizing relations with Cuba say Obama is prematurely rewarding a regime that engages in serious human rights abuses.
The president also will face strong opposition in Congress to spending any taxpayer dollars on building or refurbishing an embassy in Havana. Congress would have to approve any administration request to spend money on an embassy.
Rep. Ileana Ros-Lehtinen, R-Fla., said in a statement that opening a U.S. embassy in Cuba "will do nothing to help the Cuban people and is just another trivial attempt for President Obama to go legacy shopping."
Sen. Ben Cardin of Maryland, the top Democrat on the Senate Foreign Relations Committee, said the opening of embassies was part of the administration's "common sense approach to Cuba." However, he called for Cuba to recognize that it is out of step with the international community on human rights.
"Arrests and detentions of dissidents must cease and genuine political pluralism is long overdue," Cardin said in a statement.
Obama and Cuban President Raul Castro met in April during a regional summit, marking the first time U.S. and Cuban leaders have met in person since 1958.
For Obama, the embassy announcements come amid what the White House sees as one of the strongest stretches of his second term. He scored major legislative and legal victories last week, with Congress giving him fast-track authority for an Asia-Pacific free trade deal and the Supreme Court upholding a key provision of his health care law.
The court also ruled in favor of gay marriage nationwide, an outcome Obama supported.
Calling all HuffPost superfans!
Sign up for membership to become a founding member and help shape HuffPost's next chapter
BEFORE YOU GO
PHOTO GALLERY
Obama's Handshakes Around The World