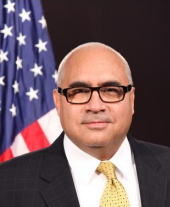 Gonzalo Gallegos, is a career member of the Senior Foreign Service, Class of Counselor, is the Deputy Assistant Secretary for Public Diplomacy for the Department of State's Bureau of Western Hemisphere Affairs.
. "The United States has changed neither our values nor objectives, just our tactics for achieving them".
"TPP will build on previous free trade agreements with Chile, Peru, Mexico, and Canada and solidify our hemisphere's trade ties with the dynamic Asia-Pacific region by linking us with rising and established markets like Japan, Malaysia, and Vietnam".

"President Obama's 100,000 Strong in the Americas initiative, which is directed at all students, including those who have been historically marginalized, is emblematic of our regional focus on an inclusive, opportunity-based agenda".
Experienced diplomat, in this interview Gonzalo Gallegos, US Government State Department spokesman expands on many important issues about economic, technological and international relations including links with Latin America.
Having experienced career, member of the US Foreign Service makes us a thorough analysis about continental contingency and the position of the State Department on key issues to understand international politics of the 21st century where education and technology are positioned as important focal points to understand the major changes that lie ahead in a world in constant change.
What are the benefits of ttp ( Trans-Pacific Partnership) and also prospects for the international trade and the importance of entrepreneurship and the economy?

We have long embraced a vision of expanding the benefits of more open trade across the entire hemisphere, including inclusive economic growth, job creation, and innovation. That remains our vision. In that regard, over the past 20 years, the United States has developed a network of free trade agreements with 12 countries in the Western Hemisphere - more than any other region in the world.

Grouped together, the Western Hemisphere's market of nearly a billion people is an energetic hub of trade and investment. Latin American and the Caribbean together are a $5 trillion market, not to mention Canada at about $1.6 trillion and the United States at $18 trillion. The United States and our partners in the Western Hemisphere must continue to build the Americas into a shared, integrated platform for global success.

We think the benefits of open markets are clear, as demonstrated in the economic growth, jobs, and innovation that accompany this approach.

The United States free trade agreements with our Latin American partners represent a bold commitment by those countries to economic integration among themselves and with us. For example, CAFTA-DR has sharply increased trade between the United States, the Dominican Republic and Central America.

The United States has also supported the economic development and export diversification of Caribbean countries through the Caribbean Basin Initiative (CBI).

U.S. engagement with the Caribbean Basin through the CBI offers an important opportunity to cooperate with CBI beneficiary countries in making the structural changes necessary for them to take full advantage of trade opportunities in the Western Hemisphere.

Helping small business take advantage of free trade agreements is one of the main reasons we launched the Small Business Network of the Americas in 2012. Since then, we have made great progress in strengthening and connecting the region's small business support infrastructure.

On February 4, 12 countries signed the complete text of the Trans-Pacific Partnership agreement. This agreement represents years of negotiations, encompassing countries that today account for nearly 40 percent of the world's GDP.

Mexico, Chile, Peru, and Canada are members of the Trans-Pacific Partnership Agreement. Each country has individually signed a number of free trade agreements in the past (including with the United States), but nothing as large or as comprehensive as TPP.

TPP will build on previous free trade agreements with Chile, Peru, Mexico, and Canada and solidify our hemisphere's trade ties with the dynamic Asia-Pacific region by linking us with rising and established markets like Japan, Malaysia, and Vietnam.

In addition, TPP represents an opportunity to build from NAFTA and further increase the competitiveness of our North American economic platform.

In North America, we do not just trade with others; we make things together. For example, a significant part of the content of our imports of final goods from Mexico and Canada originate in the United States.

Inclusive growth and supporting small businesses are priorities of governments across the hemisphere. That is why we launched the Women's Entrepreneurship in the Americas (WEAmericas) initiative in 2012; to reduce the barriers that women entrepreneurs face in starting and growing their businesses by building partnerships that improve women entrepreneurs' access to markets, finance, training, and leadership opportunities.

TPP creates a system of trade that supports these priorities by working to simplify procedures and make it easier for small- and medium-sized enterprises (SMEs) to do business. In fact, the TPP is the first trade agreement to have a chapter devoted to helping SMEs. A recent World Bank report notes that over 50 percent of the Asia-Pacific region's small and medium enterprises have a female owner. And we know that small businesses, particularly women-owned businesses, are the drivers of economic growth. So as our regional economic ties are strengthened through the TPP, we know we can count on women entrepreneurs and business owners to take full advantage of the benefits TPP will provide and help drive inclusive economic growth.

As are US relations with South America?
The United States is deeply engaged with the region, and the evidence is everywhere - the number of high-level trips and visits, our rising trade and investment figures, and in initiatives such as our Central American assistance package, support for the Colombian peace process, and normalization of relations with Cuba.
U.S. partnership with the region is framed around a mutually beneficial focus on jobs, entrepreneurship, education, the environment, energy, inclusive prosperity, science and innovation, human rights, and democratic values.
We have an historic opportunity to strengthen our mature and mutually beneficial partnerships with most of the hemisphere while keeping an open door to improved relations with countries with which relations are currently more difficult.

Government-to-government relations are only part of the picture: there is an extraordinary breadth of people-to-people contacts between the United States and the Americas - business people, civil society, tourists, students, scientists, and artists interact every day.

We are very focused on social and economic inclusion, and the Department is committed to engaging in regional and bilateral dialogues to advance these priorities. President Obama's 100,000 Strong in the Americas initiative, which is directed at all students, including those who have been historically marginalized, is emblematic of our regional focus on an inclusive, opportunity-based agenda. Our commitment to economic inclusion is also demonstrated in the Women's Entrepreneurship in the Americas initiative, which helps women in the region grow their businesses and participate in the development of their communities.
What is the importance of new technologies in the governments of the twenty-first century?

Today's international landscape is more complex than it has ever been before and the challenges facing the global community demand that governments have both access to the latest technologies and a deep understanding of the impact that emerging technological trends will have on domestic and foreign policy.

The pace and scale of transformations today provide unprecedented opportunities for the world, as well as shared challenges to peace, prosperity, democracy, and dignity. The diffusion of power between and beyond nations marks a fundamental shift in our geopolitical environment, with far-reaching implications.

Seismic shifts in the sophistication and volume of information, coupled with wider access to smart phones and other tools of technology, rival the economic and social transformations of the Industrial Revolution. The scale and scope of transnational challenges demand innovation in how we engage other governments - and those outside of government - and how governments work together to strengthen and modernize a robust, credible, and responsive multilateral system.

Science, technology and innovation underpin the achievement of development goals as well, including the new Sustainable Development Goals codified in Agenda 2030 for Sustainable Development in September 2015, whether it is by expanding access to health services and quality education; improving food security; increasing access to clean water and sanitation; building transparent, accountable, and stable institutions; empowering women and minorities; or promoting the sustainable management and use of renewable energy and natural resources.

Advances in science, technology and innovation present great opportunities for individual empowerment, innovation, and interconnectedness, but will also be disruptive as new ways of doing work and communicating challenge existing social paradigms. A diverse range of partnerships and stakeholder engagement will be critical to draw in the talent and resources needed to strike the right balance and adapt to transformative changes brought by science, technology and innovation.

How is Empowering new technology in American education?

We are virtually connecting teachers around the world to English language teaching resources so that students and teachers obtain the knowledge and skills needed to compete in the global economy. The American English E-Teacher Scholarship Program offers a thousand scholarships each year to English teachers for online courses at top U.S. universities, and we are launching five Massive Open Online Courses (MOOCs) on English language learning within the context of career fields like entrepreneurship and science.

More freely accessible materials for English teachers and learners are housed at AmericanEnglish.state.gov, as well as on our American English Facebook page, which has reached nearly 3 million likes.

We continue to seek out innovative ways to prepare students to collaboratively address global challenges. For instance, working with NASA and the Jet Propulsion Lab, we developed a Virtual Field Trip to Mars for students from the United States, Argentina, and Nicaragua. The experience allowed students to interactively learn about the red planet with one another.

Our new U.S. Study Abroad Capacity Building Grants enable U.S. universities to establish and sustain programs that increase collaboration among academic communities both in-person and virtually. For example, the University of Texas, El Paso and the University of Piura in Peru developed an engineering program for their students to collaboratively develop water purification devices and ways to recycle waste. And, later this year, we will launch a MOOC to help higher education officials establish or expand their institutions' ability to host study abroad and exchange programs.

Prospects for democracy in the region?

Democracy depends on an informed citizenry whose access to the broadest possible range of information enables them to participate in public life, access justice and hold governments accountable.

We are redoubling our efforts to promote and speak out in defense of strong, independent institutions of democracy across the region. The United States has changed neither our values nor objectives, just our tactics for achieving them.

Cuba, Venezuela, or other restrictive governments may grab media spotlights. But the real story centers on how much the region is doing - and how much more it needs to do - to safeguard democracy and human rights.

We know from examples around the globe, including many in the United States, that corrupt institutions favor those in power, resist change, and persist in absence of transparency.

Secretary Kerry reaffirmed the Administration's commitment to combating corruption at the anticorruption Summit in London in early May. Heads of State from more than forty countries, multinational organizations, and civil society leaders joined together to call for additional ways to prevent and fight corruption across the globe.

In the hemisphere, we are deepening our partnerships to strengthen rule of law and sound government institutions, including by boosting capacity to coordinate cross-border investigative communications through the International anticorruption Coordination Center and maximizing efforts through multilateral institutions, such as the Open Government Partnership, to improve transparency.
Calling all HuffPost superfans!
Sign up for membership to become a founding member and help shape HuffPost's next chapter