PORT-AU-PRINCE, Haiti – When longtime Los Angeles resident Wilberle Vereus arrived in Haiti after being deported from the United States, he was taken to the Petionville jail above Port-au-Prince and placed in a 20-by-10-foot cell along with three other deportees and a group of Haitian prisoners.
Vereus, 22, had committed no crime in Haiti.
"We walked into the jail, and the first thing I smelled was urine," Vereus said. "They threw us in a jail that had no beds, no toilets, no shower, nothing but just concrete. It had a little toilet bowl that didn't work that had urine and trash and all that stuff up in there."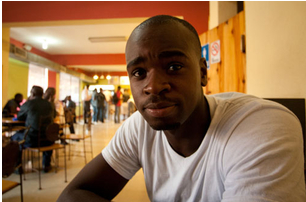 Jacob Kushner/California Watch
Wilberle Vereus, 22, at a Port-au-Prince restaurant one month after he was deported to Haiti.
Vereus was only 2 years old when his family fled Haiti on a boat following the 1991 coup d'état of President Jean-Bertrand Aristide. But after a U.S. immigration judge sent him to Haiti this year, Vereus found himself back where he was born, in a country he barely knew.
But he is not alone. Since January, the United States has deported more than 250 Haitians knowing that one in two will be jailed without charges in facilities so filthy they pose life-threatening health risks. In recent years, immigration officials have stepped up deportations of legal immigrants like Vereus because of criminal convictions.
One deportee to Haiti who arrived in April suffered from asthma, hypertension, diabetes, bipolar disorder, posttraumatic stress disorder and head trauma, among other ailments. That same month, the U.S. deported a mentally ill immigrant whose psychiatric medications were lost by Haitian authorities after his first day in jail.
"What's distinct about the situation in Haiti is that, unlike in other countries, people are immediately jailed, and the conditions in Haitian jails are condemned universally for violating human rights," said Rebecca Sharpless of the University of Miami Law School Immigration Clinic, which helps immigrants appeal deportation orders.
The health risks for incarcerated deportees have increased significantly since a cholera outbreak, which began in October 2010, infected about 470,000 people and killed more than 6,500, including some prisoners.
International health experts say deportees in Haiti's jails are at risk of contracting cholera, which can spread rapidly in overcrowded cells that lack clean water, soap and waste disposal. Once exposed, cholera victims can die in less than 24 hours.
In January, 34-year-old deportee Wildrick Guerrier, whose Florida criminal record included convictions for battery and possession of a firearm, died from what doctors described as cholera-like symptoms two days after being released from the holding cell where he became ill.
U.S. Immigration and Customs Enforcement officials said the agency resumed deportations to Haiti because of a U.S. Supreme Court decision requiring detainees to be released after 180 days. That requirement, they said, would have placed "some detained Haitian nationals with significant criminal records into U.S. communities, which in turn poses a significant threat to the American public."
Barbara Gonzalez, an ICE spokeswoman, said in an e-mail that the agency would "prioritize those who pose the greatest threat to the community."
According to an April memo from the agency, detainees would be prioritized "through the consideration of adverse factors, such as the severity, number of convictions, and dates since convictions, and balance these against any equities of the Haitian national, such as duration of residence in the United States, family ties, or significant medical issues."
But interviews in Haiti uncovered at least three deportees arriving in August and September who were convicted of non-violent drug offenses, and three-quarters of all Haitian deportees in recent years had no criminal convictions at all, according to immigration records.
Haitian authorities said they place about half of all deportees in jails to monitor what they term "serious criminals" - a largely arbitrary determination. These detentions, which have lasted as long as 11 days, violate Haitian law and United Nations treaties when deportees have not been charged with crimes in Haiti.
One day after the Jan. 12, 2010, earthquake destroyed much of Haiti's capital, the U.S. government suspended deportations. Since then, the United Nations and Inter-American Commission on Human Rights have lobbied countries to halt deportations due to worsening conditions in Haiti.
Still, the Department of Homeland Security resumed deportations to Haiti on Jan. 20, 2011 - the same day the U.S. State Department issued a travel warning urging Americans to avoid Haiti due to health risks and lawlessness.
"The crisis has not gone away," said Michel Forst, the U.N. independent expert on the situation of human rights in Haiti. "The most important help the international community can give to Haiti is to suspend the forced return of Haitians."
In a law journal article in March, Roxana Bacon, the former chief counsel for Citizens and Immigration Services, part of the Department of Homeland Security, chided the agency and DHS for not upholding its vows that immigration benefits and relief for Haitians would be handled with a "generous and open heart."
"Well, somebody must have had a heart transplant, because very soon it was back to business as usual," she wrote. "[I]n the middle of January, in the midst of a cholera epidemic, deportations to Haiti resumed. Daily, we send hard-working people to Dante's hell, and no leader in the Administration even seems embarrassed, much less angry or sad."
Prison term leads to drawn-out deportation
Vereus had a typical American childhood, attending school and playing sports. But at the beginning of his senior year at Inglewood High School, he and a friend stole iPods from a group of teenagers near South Bay Galleria in Redondo Beach, shooting a BB gun at them as they walked off.
While he served a three-year prison sentence for robbery, Vereus was admitted to a California Department of Forestry and Fire Protection program in which inmates train and then work alongside fire departments to battle forest fires and assist on routine calls. But seven days before his March 2010 parole date, Vereus was informed that he would not be released after all.
Vereus said the threat of deportation did not occur to him or his friends.
"They never talked about deportation - they were Americans. It was a subject that never came up," Vereus said. "I never thought I could get deported because I was a legal permanent resident. I've been in the U.S. so long, I never thought deportation would ever be a problem."
ICE officials held Vereus in detention from March to October 2010, but because the agency was not deporting people to Haiti due to conditions following the earthquake earlier that year, he was released on extended supervision.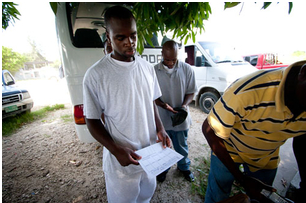 Jacob Kushner/FCIR Photo
Wilberle Vereus of Los Angeles prepares to be fingerprinted shortly after arriving on a Sept. 13 deportee flight to Haiti.
Then, on Dec. 6, 2010, Vereus awoke to immigration officers knocking at his door. They took Vereus back into custody on the premise that his deportation was "imminent." Yet, Vereus would spend the next nine months shuffling between various immigration holding centers before he was finally deported on Sept. 13.
When he arrived in Haiti, police placed Vereus and the other 47 deportees in two white buses, where they waited to be individually fingerprinted and photographed.
Jean-Claude Prevost of Haiti's Office of Citizen Protection entered Vereus' bus and announced that all deportees will have to report weekly to a judicial police station as part of an 18-month probation, though no Haitian law allows for such preemptive supervision.
Then, he addressed the rumor that had been on Vereus' mind since he was ordered deported from the United States: Some deportees will be placed in "administrative retention" - meaning jail - for up to a week.
"My main thing was I did not want to go to the jail," Vereus said later. "I heard a lot about the cholera outbreak, so I was afraid about that. I heard it killed a lot of people, that it's a deadly disease that gives out diarrhea, vomiting. I heard it was in the water, so my focus was not to drink any water."
Dr. John May, president of Health Through Walls, a North Miami nonprofit that works to improve jail conditions in foreign nations, travels frequently to Haiti. He visited the facility where Vereus was detained the week before his arrival.
"Tuberculosis would thrive in this environment; certainly skin conditions like scabies, which we see often," May said. "And most seriously and concerning in Haiti recently is cholera, and it would just take one person with cholera here, and it would quickly spread to the others."
Members of Haiti's Commission in Charge of Deportees, which is made up of representatives from four government ministries and the independent Office of Citizen Protection, decide which deportees will go free - and which will be incarcerated.
When asked if such conditions pose life-threatening health risks, commission Chairman Pierre Wilner Casseus said only that deportees exhibiting symptoms of illness are released immediately.
"We don't give them any medicine," Casseus said, adding that the International Organization for Migration, which works to improve living conditions in Haiti, attends to the health needs of jailed deportees. But a spokesman for the organization said Haitian officials do not allow access to the deportees once they are in jail.
Haitian jail loses medication
Sometimes, jailhouse conditions in Haiti complicate existing medical problems, as they did for Jeff Dorne, a longtime Boston resident diagnosed with paranoid schizophrenia. Dorne served six years in prison for a 2003 rape conviction in New Jersey.
Haitian authorities immediately imprisoned him - without charge - in the same cell where Vereus later would be held. Dorne's illness required him to take four medications daily, so U.S. immigration officers sent a one-month supply of the prescriptions to Haiti's judicial police. But jails in Haiti do not have medical personnel, and Haitian police are not trained in basic medical care.
On Dorne's first night in the Petionville jail, the municipal police gave him the medication, and then, according to Dorne, held onto - or lost - the remaining pills.
"The prescription said every night. So Saturday night, I asked the chief officer, 'Can you get my medication for me?'" Dorne said. "They told me they can't find it. Every day, I asked them for it. After two, three days, I stopped asking."
During his next few days in jail, Dorne said some of the symptoms that had subsided after he began psychiatric treatment in the New Jersey prison returned.
"I couldn't sleep," he said. "My hands started shaking."
The police officer in charge of that jail said he was not familiar with Dorne's case.
A review of statements made by federal immigration authorities after deportations resumed in January found discrepancies between the agency's stated deportation policy and its practice in deporting Haitians with medical conditions.
An April 1 memorandum explaining the decision to resume deportations to Haiti said alternatives to deportation would be considered for medical and humanitarian reasons. Yet, Haitians with documented medical problems continue to be deported from the United States.
The U.S. government deported Dorne, for example, three days after the Department of Justice documented his paranoid schizophrenia and the four psychiatric medications prescribed to him.
Deportee Ralph Celestin, 51, suffered from so many health problems that a list of his conditions and medications filled six pages of a New Jersey prison document. Despite his asthma, hypertension and diabetes, U.S. immigration officials deported Celestin to Haiti on the same April flight as Dorne.
Immigration attorneys in the United States are fighting deportations of individual Haitian clients under the 1984 U.N. Convention Against Torture, which forbids governments from deporting people to countries where they will undergo "severe pain or suffering."
In April, a mentally ill Haitian immigrant in Miami had his deportation deferred on the grounds that the conditions in a Haitian jail could meet that standard in his case.
Officials lack detention policy
The process of determining which deportees are sent to jail is largely ad hoc, as no written policy exists, and there is little consensus among members of the deportee commission about the primary purpose of the detentions. Aramick Louis, secretary of state for public security, said detentions are meant for deportees' protection during the "vulnerable" transition to Haiti.
Frederic Leconte, the commissioner of Haiti's judicial police, said the detentions allow the state time to understand each individual's situation. But the U.S. government provides detailed files on each deportee two weeks before arrival, and reporters were unable to document any instances in which detained deportees were interviewed or even observed directly by officials.
Haiti's Citizen Protection chief Florence Elie, an adjunct member of the commission, said the detentions are meant to allow authorities "to get to know them."
"Whenever I have to make a choice between the welfare of the community against the welfare of one person, I have to be very careful," Elie said. "These people who come to Haiti are a threat to the society."
But Haitian law does not allow someone to be jailed based on the possibility that he may commit a crime in the future.
A review of federal data shows ICE deported at least 2,684 non-criminal immigrants to Haiti from 2007 to 2010. As recently as 2008, 74 percent of all Haitian deportees did not have criminal convictions, according to the data. In the three months leading up to Haiti's earthquake, 67 percent of deportees were non-criminals.
The federal government's decision to resume deportations to Haiti one year after the 2010 earthquake surprised many Haitians with final orders of removal.
Samuel Lizius, a 25-year-old who grew up in Fort Worth, Texas, came to the United States when he was 8 years old. Lizius was convicted in 2008 of felony cocaine possession. He served a nine-month jail sentence and received parole in January 2010, after which he was transferred to immigration custody and ordered to be removed.
Lizius was deported on the first flight to Haiti since the earthquake and was jailed for 11 days upon his arrival. For now, he spends most of his time in his sister's Port-au-Prince home underneath the flight path of Toussaint Louverture International Airport – listening to the rumble of planes leaving for a country he called home.
"I had my first love, my first crush in the States. Went to school, kindergarten, middle school, high school, college in the States. First job in the States... All I know is the States."
Like Lizius, Vereus said it is challenging to adjust to life in a foreign country. "I really don't go anywhere – I just talk on my phone. I might walk around the corner and buy something to drink or something, but I don't know nobody," he said.
Vereus said he hopes to get a Haitian driver's license to work as a motorcycle taxi driver and eventually save enough money to buy a car. His brother, Fritzner, visited him at his new home in the northern city of Cap-Haitien, where Wilberle Vereus now lives with family members.
But for his California family, there is little consolation. Because Haitian authorities forbid Vereus from making a phone call when he arrived in Haiti, his family didn't find out he had been deported and jailed until a reporter contacted Fritzner the next day.
"I told my mom, but she fainted and had to go to the emergency room," he said. "I had a heavy heart for a couple days knowing that she's gonna suffer."

Reporter Jacob Kushner produced this story for the Florida Center for Investigative Reporting, with additional reporting for California Watch. His research was supported by the Nation Institute Investigative Fund and the Investigative News Network.
Related
Popular in the Community