An American doctor is being credited with saving lives immediately following Tuesday's blasts in Brussels by setting up an impromptu clinic that relied solely on office supplies.
"She started to triage," Laura Harper told ABC News of her friend, Dr. Laura Billiet, who she identified as an internal medicine physician who's temporarily living in Belgium's capital.
"She said, 'There's people hurt. I'm going to go help those people,'" Harper recalled.
Speaking to AL.com, Harper said she was scheduled to fly back home to Alabama that morning, after attending the baptism of Billiet's son. It was just after they parked their car at the airport and began to enter the building when they say they heard the first bomb go off.
"If we had arrived one minute earlier, we would have been right inside, right where it happened," Harper told AL.com. "(The explosion happened) at the counter I was going to. I'm just so grateful."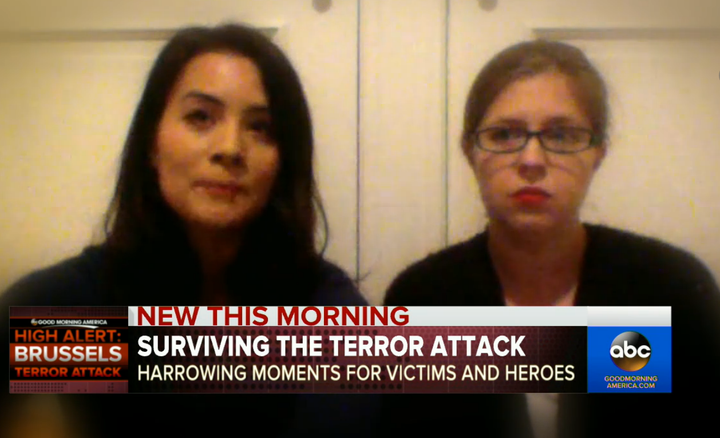 The friends, who grew up together in Huntsville, said they tried to drive away but a traffic jam immediately emerged, preventing them from leaving.
When the second bomb went off, they said they ditched their vehicle and escaped on foot -- running into a nearby police station, along with many other terrified and wounded victims. Some of those were children; a few were unaccompanied.
Billiet said she found paper towels, scissors and a basic medical kit -- one lacking antiseptic or burn salve -- and went to work.
The women described seeing victims burned, soaked in blood and with shrapnel embedded in their faces and other body parts.
As Billiet went to work, desperately cutting off some victims' clothing to get to their wounds, Harper said she did her best to comfort two young girls who had become separated from their parents. Though they didn't speak the same language, she sang to them.
"One of them was going into shock, she was shaking so hard," Harper told AL.com of the two girls, ages 6 and 8. "They had a lot of burns on their faces."
Eventually paramedics arrived and were able to whisk the victims to a nearby hospital.
The women, reflecting on the day's act of senseless violence and terror, said they were moved by many of the victims' selflessness, with some of them urging that others were helped before them.