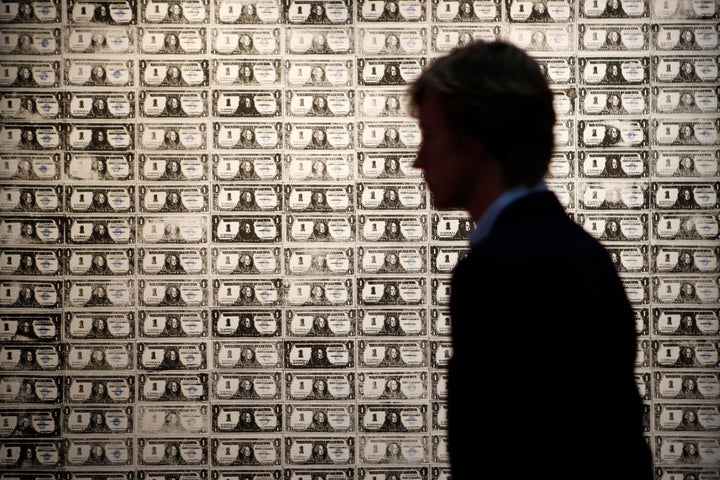 The world economy, so long defined by the dominance of a few advanced countries, has entered a period of "transformative change," according to a new report by the World Bank.
Six emerging economies could account for half of all economic growth by 2025, the report says, matching the output of the "euro area," inlcuding Brazil, China, India, Indonesia, South Korea, and Russia. That's assuming an annual growth rate in emerging economies of 4.7 percent until 2025. Advanced economies like the U.S. are expected to grow at a 2.3 percent rate.
For emerging economies to continue that tremendous rate of growth, the report says, they'll need to make "structural changes" that increase productivity and domestic demand. So far, emerging economies have depended on technological innovation and expanding demand in other countries.
"The fast rise of emerging economies has driven a shift whereby the centers of economic growth are distributed across developed and developing economies – it's a truly multipolar world," said Justin Yifu Lin, the World Bank's chief economist, in the release.
The report also predicts the demise of the dollar as the world's reserve currency. By 2025, say the authors of the report, the world economy could be run according to a "multi-currency" understanding, one in which the dollar is joined by the euro and renminbi, according to a release.
"Over the next decade or so, China's size and the rapid globalization of its corporations and banks will likely mean a more important role for the renminbi," said Mansoor Dailami, lead author of the report and manager of emerging trends at the World Bank, in the accompanying release.
In the coming years, multinational corporations based in emerging economies will become "increasingly important sources and drivers of global investment flows," according to an accompanying slideshow, which will place the countries more directly at the center of the global economy.
The report comes on the heels of the arrest of IMF Chief Dominique Strauss-Kahn. Should Strauss-Kahn resign or be let go, there have been growing rumblings that his replacement ought to originate from an emerging economy. Every IMF Chief since the organization's creation has been European.
It's not just the strength of emerging economies that is shifting global power. The U.S. dollar hit a three-year low in April, and the Federal Reserve is expected to keep interest rates low for the foreseeable future.
Signs of China's growing prominence among multinational corporations is particularly pronounced. More and more, the renminbi is being used to make cross-border payments: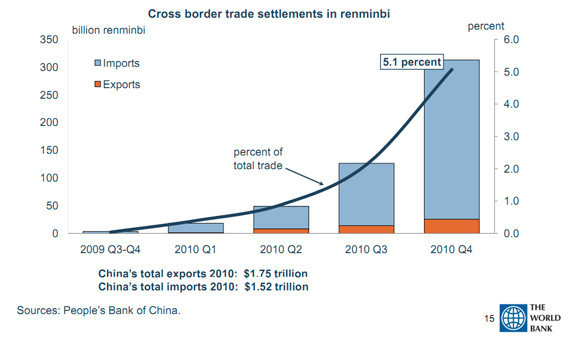 Emerging markets are also increasing their capacity for dynamic innovation. Witness the growing number of patents being granted to residents of emerging markets: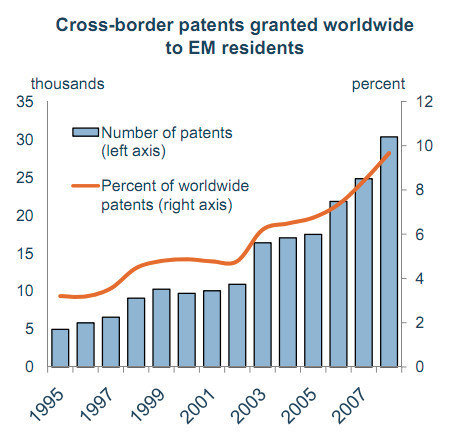 Mergers and acquisitions originating in emerging markets have been steadily increasing for over a decade: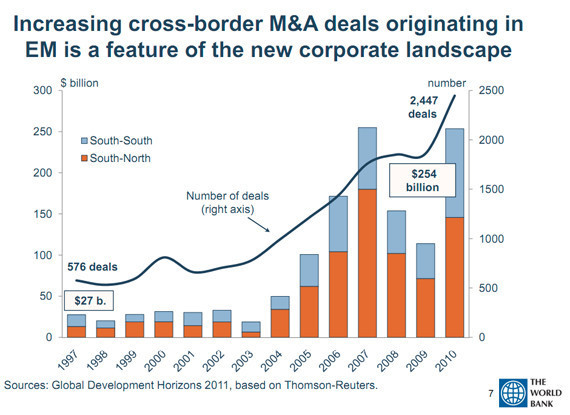 And as emerging economies have ramped up, the amount of money they've borrowed to maximize growth has increased rapidly as well: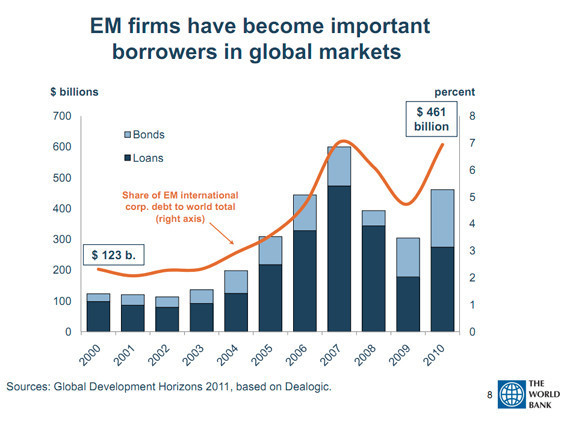 Calling all HuffPost superfans!
Sign up for membership to become a founding member and help shape HuffPost's next chapter