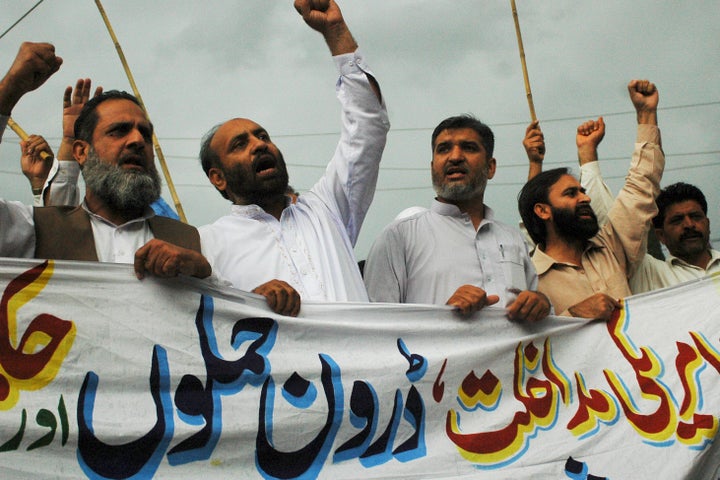 ISLAMABAD (Reuters) – U.S. drone aircraft fired missiles into a house in Pakistan's North Waziristan region on Friday, killing at least 17 suspected militants as Islamists protested against the killing of Osama bin Laden.
Four drones took part in the first such attack since U.S. special forces killed the al Qaeda leader on Monday not far from Islamabad, further straining ties between the strategic allies whose cooperation is needed to stabilize neighboring Afghanistan.
Facing relentless suicide bombings by Islamic militants and struggling with a stagnant economy, Pakistan's leaders now face criticism from all sides on bin Laden.
Both Islamists and ordinary Pakistanis are questioning how their leaders can just stand by while the United States sends commandos deep inside the country into a garrison city to eliminate the al Qaeda chief.
At the same time, suspicions that some Pakistani security forces might have known he was hiding in the country threaten to strain already uneasy ties with Washington.
"The country's political and military leadership should immediately resign as they have failed to ensure the country's integrity," said Fareed Ahmed Paracha, a senior leader of the biggest Islamist political party, Jamaat-e-Islami, at a rally in the eastern city of Lahore.
"This is an attack on Pakistan's sovereignty," said Paracha of the raid by Navy SEALS that ended one of the most extensive manhunts in history.
Pre-dominantly Muslim Pakistan has yet to see any major backlash since bin Laden's killing, but is death has angered Islamists. About 1,500 Islamists demonstrated near the city of Quetta, capital of Baluchistan province in the southwest, saying more figures like bin Laden would arise to wage holy war against the United States.
"Jihad (holy war) against America will not stop with the death of Osama," Fazal Mohammad Baraich, a cleric, said amid shouts of "Down with America."
"Osama bin Laden is a shaheed (martyr). The blood of Osama will give birth to thousands of other Osamas." In Abbottabad, where the U.S. operation took place, dozens of Islamists marched through streets calling on the United States to stay out of Pakistan and Afghanistan.
"America is the world's biggest terrorist," read one placard.
Small protests were also held in the cities of Multan, Hyderabad and Abbottabad.
Anti-American sentiment runs high here, despite billions of dollars in U.S. aid for nuclear-armed, Pakistan.
Pakistan's religious parties have not traditionally done well at the ballot box, but they wield considerable influence on the streets of a country where Islam is becoming more radicalized.
The U.S. war on militancy is unpopular in Pakistan because of the perception of high civilian deaths from drone attacks against suspected militants along the Afghan border and the feeling they are a violation of the country's sovereignty.
The Pakistani government said bin Laden's death was a milestone in the fight against militancy although it objected to the raid as a violation of sovereignty.
Pakistan has denied any knowledge of his whereabouts and the army threatened on Thursday to cut intelligence and military cooperation with the United States if it mounted more attacks.
Some Pakistanis are too overwhelmed by the daily grind in a politically and economically unstable nation that offers poor government services and education, to react to the fact that the world's most wanted man was living here for years undetected.
"This is just another instance of us becoming insensitive to all the chaos around us as a nation, and Osama's death is just another day, another incident for us," said Jibran Jawaid, a film producer in Pakistan's biggest city, Karachi.
"Frankly, when people are so worried about high food prices, no power, security and everything, they cannot be blamed for being insensitive. A roti (bread) costs so much, bombs go off every now and then, people are robbed daily, so should they worry about that or the U.S. raid?"
(Reporting by Gul Yousafzai in Quetta, Haji Mujtaba in North Waziristan, Kamran Haider in Abbottabad and Faisal Aziz in Karachi; Writing by Augustine Anthony; Editing by Michael Georgy)
Popular in the Community