* Wheat pastures wither as drought persists
* Cattle moved to feedyards sooner than expected
* Record high cattle, beef prices seen this year
CHICAGO, Jan 14 (Reuters) - Oklahoma rancher Kent Donica has given up. The drought that has ravaged pastures on his ranch and throughout the region has won.
Since last September, Donica has sold nearly all of his 800 cattle because there is no pasture to feed them and he now works as a ranch hand nearby to make ends meet until it rains again.
Last autumn he had hoped his winter wheat crop would feed his cattle and keep his ranching business going. The wheat also would reduce the need to buy high-priced feed like corn, which would wipe out earnings from the cattle he fattens and sells.
But the worst dry spell in half a century stopped the wheat crop from sprouting properly, depriving Donica's herd of the green shoots that would have sustained it through winter.
Donica is not alone. Across the southern Plains, the worst ever starts to the winter wheat crop have put in jeopardy ranches that depend on wheat pasture for cheap feed, raising the prospect of higher beef prices this summer.
U.S. farmers, squeezed by high prices for corn and other fodder on one hand, and drought that has parched pastureland on the other, are cutting back their herds in a bid to survive. The U.S. cattle herd has shrunk to 91 million animals, the smallest in 60 years.
More pain seems to be on the horizon for ranchers after the USDA on Friday reduced its estimates for corn stocks, sending Chicago Board of Trade corn futures sharply higher. Meaning anyone feeding corn to cattle, hogs, chickens and other animals, will pay more for it.
"The drought has absolutely put me in a survival mode and I finally decided there was no way to fight this," said Donica, who now tends a nearby rancher's cattle to pay expenses.
"If we don't get some rain pretty quick, it will be the end of the world in Oklahoma as far as the cattle business is concerned," said Donica, 47, whose ranch is near Ardmore, Okla.
Kansas, Oklahoma, and Texas, which have all been hurt by drought, are important pieces in U.S. cattle production accounting about 25 percent of the nation's herd, including dairy. The share is even larger for beef cattle, with the three states currently fattening 46 percent of the supply.
Already the shrinking herd is driving up cattle and beef prices, which could further accelerate the decline of beef consumption in the United States, which has fallen more than 16 percent per capita in the last decade.
Farm lender Rabobank forecasts U.S. cattle prices will soar to a record high $140 to $145 per cwt this spring as numbers decline.
The shrinking herd will reduce beef production, with USDA forecasting a 4.3 percent drop this year from 2012.
The smaller U.S. cattle herd and the resulting drop in beef production has lifted retail beef prices to an all-time of $5.15 per lb in November, surpassing the previous peak of $5.09 in January 2012.

Winter wheat is a key link in the economic chain of the U.S. cattle industry. Animals that graze on the tender shoots in the fall and early winter before snow covers the ground tend to put on more muscle than they would eating grain like corn, which boosts their value at auction.
Only a third of the U.S. winter wheat crop at the end of November was rated "good to excellent" by the U.S. Department of Agriculture and the crop has deteriorated since then.
"We essentially have no wheat pasture. There are very few cattle on wheat in Oklahoma at this time and many of them will probably not make it through the winter," said Darrell Peel, Oklahoma State University extension livestock marketing specialist.
Peel expected ranchers to continue selling off their herds to avoid buying high-priced feed.
The sting of the poor state of the winter wheat crop in the southern Plains is being felt as far away as Tennessee and Ohio where farmers, who specialize in rearing calves then selling them off to ranchers like Donica, are struggling to find buyers.
This year, stocker cattle in the Ohio Valley are going to go to auction barns or feedyards a lot sooner, said Sam Roberts of United Producers Inc, a farmer-owned and operated livestock marketing cooperative based in Columbus, Ohio.
"Many of those cattle will wind up being moved to feedyards in the Midwest at a lighter weight than they would normally," said Roberts, an assistant vice president of corporate marketing at United Producers Inc. (Editing by K.T. Arasu and Bob Burgdorfer)

Related
Before You Go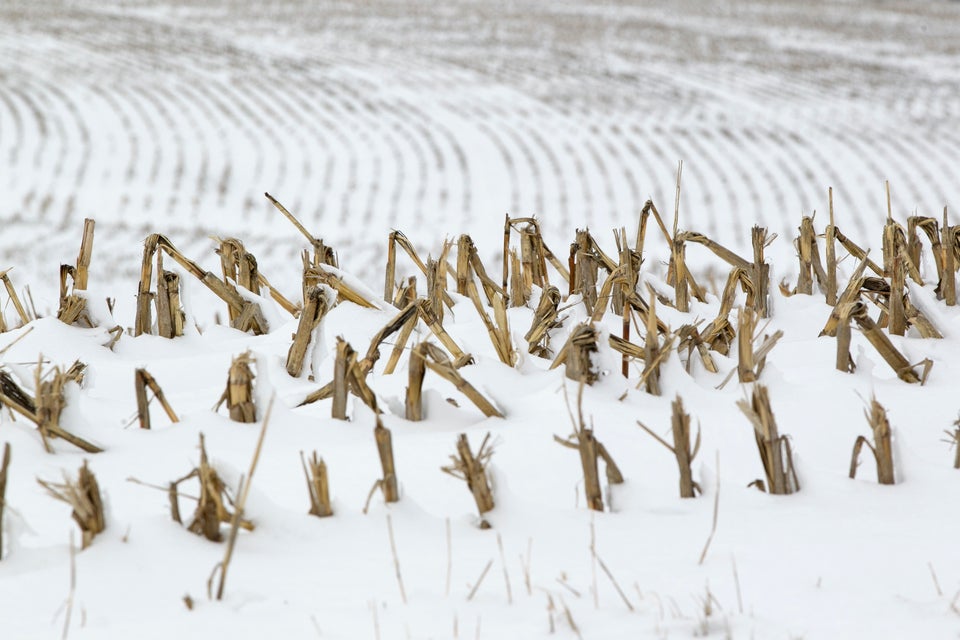 U.S. Drought 2012-2013
Popular in the Community