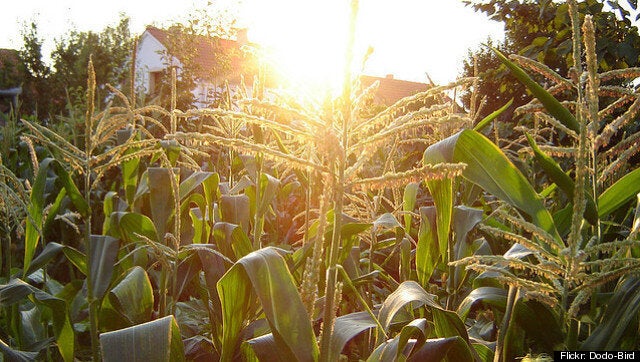 (Adds Iowa farmer comments; changes dateline from previous RIDGEWAY, Missouri)
MYSTIC, Iowa, July 11 (Reuters) -- Scorching heat and rain-less skies continued to frustrate U.S. Midwestern farmers on Wednesday, with damage to the corn and soybean crops growing more dire by the day.
"There are a lot of people thinking of chopping their corn up and feeding it to cows," said University of Missouri Professor of Plant Sciences William Wiebold.
"The attitude is not real good right now. For some farmers the crop is already gone. The longer we go without rain the more farmers will be in that situation."
The condition of the U.S. corn crop has deteriorated quickly after a record-fast planting buoyed hopes of a bumper crop this fall in the world's largest exporter of grains.
Crop ratings have fallen to their lowest level in 24 years, with the U.S. Agriculture Department's most recent estimate pegging the crop as just 40 percent good to excellent.
The government sharply reduced its expectations for the crop on Wednesday, cutting its yield forecast by 20 bushels per acre, or 12 percent in its monthly crop report. If realized, the yield estimate of 146 bushels per acre would be the lowest since 2003.
A weather-damaged corn crop can drive up food prices as the grain is a popular food ingredient. It also is a common livestock feed, thus a smaller crop can drive up meat prices.
Farmers who can irrigate are running their systems nightly, trying to keep their crops alive. Others are already meeting with insurance adjusters to tally the cost of lost production.
"We are really on a razor's edge as far as moisture goes," said Richard Oswald who farms in northwest Missouri. "We need rain pretty quick."
Farmers and agronomists through Missouri and north into top producer Iowa said soybeans were starting to show white spots and other signs of distress, while corn was wilting away in many fields.
At Tom Zaputil's 1,700-acre corn and soybean farm near Mystic, Iowa, production potential has been cut nearly in half, according to the veteran farmer. Zaputil's corn stalks are 8 feet tall but the leaves are fading from dark green to light green and curling up on themselves in the heat.
Fingering a shriveled ear, Zaputil said, "it looked good until about 10 days ago. But there is nothing we can do about this weather."
"Mother Nature always plays the biggest card in this deal," Zaputil said.
Four inches of rain fell when Zaputil planted in the third week of April, getting the crop off to a good start and raising his hopes for a big harvest.
But the corn that he had earlier projected to yield more than 200 bushels per acre now will make 100 to 110 at best, he said.
Zaputil's soybean crop is better off, though the plants are showing 20 to 25 percent fewer blooms than normal, he said.
"They still look pretty healthy," he said.
In Missouri, the corn crop was rated 12 percent good to excellent as of July 8, down from 59 percent in late May. In Iowa, good-to-excellent ratings for corn have dropped to 46 percent from 77 percent during the same time.
"We are way below our normal rainfall. It is happening all across Iowa," said Joyce Frost, Farm Service Agency executive director for Wayne County, Iowa.
Southern and eastern Iowa are deteriorating rapidly and the next 10 days will be critical for corn to receive water. "Everyone is in limbo," said Mindy Williamson, spokeswoman for the Iowa Corn Growers Association. "It is so sad, it really is."
In parts of Iowa, corn farmers are seeing increasing infestations of spider mites and Japanese beetles -- insects that can do extensive damage to crops and that flourish in hot and dry conditions.
Many farmers say at this point they see yield losses of at least 25 to 30 percent, though that could be a best-case scenario, with losses much worse if it does not rain soon.
Futures prices have soared as crops have wilted in the drought. Chicago Board of Trade corn was up 32 percent and soybeans were up 21 percent since the end of May. (Additional reporting by Mark Weinraub; editing by M.D. Golan and Bob Burgdorfer)

Popular in the Community