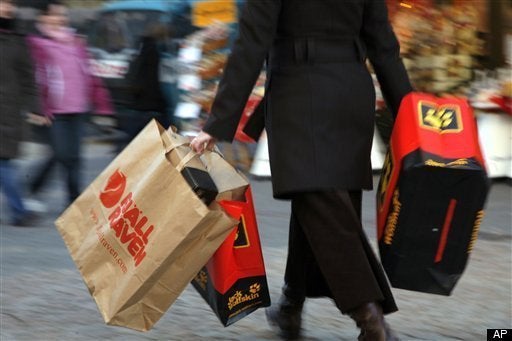 WASHINGTON (Lucia Mutikani) - Consumers and businesses pulled the sickly U.S. economy back from the brink of recession in the third quarter but don't pop the champagne just yet.
After wobbling early in the quarter, the economy regained some footing, with retail sales rising solidly in September and labor market conditions improving. Business spending has held up despite volatility in financial markets and factory activity has kept expanding.
Economists now estimate U.S. gross domestic product grew at an annual pace of between 2.3 and 2.7 percent in the July-September period, a sharp step up from the 1.3 percent logged in the first quarter and a far cry from what some feared just a few weeks ago.
"The economy held up surprisingly well in the third quarter but it's too early to celebrate," said Ryan Sweet, a senior economist at Moody's Analytics in West Chester, Pennsylvania.
Much of the re-acceleration in growth reflects the fading of disruption to motor vehicle production and sales after the big March earthquake in Japan. A surge in auto sales contributed to a solid 1.1 percent rise in retail sales in September.
Declining gasoline prices, which stretched household budgets in the second quarter and crimped consumer spending, are also seen supporting third-quarter economic growth.
But those factors should prove temporary, and with Europe's economy likely to slow as it battles its debt crisis and the U.S. labor market still weak, economists believe the fourth quarter will prove weaker, with some fearing a contraction in the first half of 2012.
"The euro zone debt crisis is still playing out. That remains a dark cloud on the horizon that can present a direct hit to the U.S. economic recovery," said Anthony Karydakis chief economist at Commerzbank in New York.
Although European leaders sound determined to come to grips with the debt crisis and could announce a bold plan in the next couple of weeks, analysts worry they might once again move too slowly for jittery financial markets.
"A bold plan would require some form of centralized fiscal policy, which means years of voting and changing the treaty and voting in individual parliaments," said Diane Swonk, chief economist at Mesirow Financial in Chicago.
"It's not clear whether financial markets will have the patience for them to execute on it because you don't have the ability in Europe to move as quickly on it and they have always been a day late in dealing with the crisis."
U.S. exports to the euro zone account for only about 2 percent of U.S. gross domestic product, but a worsening of the debt crisis could lead to a financial panic, with ripple effects on American banks and consumers.
The euro zone turmoil has already led to tightening in credit availability, weighing on spending and employment.
Economists at Goldman Sachs see U.S. growth slowing to a pace between 0.50 percent and 1 percent in the next two quarters, with the risk of a recession at about 40 percent.
Others, however, think another recession is far fetched.
"The economy is not in great shape but it is hardly falling apart," said Joel Naroff, chief economist at Naroff Economic Advisors in Holland, Pennsylvania. "We are in a slow, steady, grinding recovery that is not creating lots of jobs."
Naroff, like many other economists, draws solace from the solid rise in retail sales in September reported on Friday and the need for auto manufacturers to replenish inventories after production was disrupted early this year.
"Some of the momentum in final demand growth could carry into the fourth quarter. Early indications suggest that auto sales, which were an important element in third-quarter growth, are holding up well in October," said Michael Feroli, an economist at JPMorgan in New York.
"And while energy prices have backed up in recent days it should still be the case that moderation in headline inflation could give some lift to consumer spending power."
Much as Europe's shadow looms large over the U.S. economy, belt tightening at home also poses a risk to growth, with a payroll tax cut and an extension of emergency unemployment benefits scheduled to expire in December.
While economists expect the payroll tax cut to be extended, many doubt whether the emergency jobless benefits will be renewed, which would undercut already weak household income.
"If political parties are unable to agree on any of these measures, that could be the straw that breaks the camel's back," said Harm Bandholz, chief U.S. economist at UniCredit Research in New York.
"The spending cuts would impact growth not only directly via lower disposable incomes, but also indirectly via a massive loss of confidence in the ability of policymakers to steer events in the right direction in these critical times."
(Editing by James Dalgleish)
REAL LIFE. REAL NEWS. REAL VOICES.
Help us tell more of the stories that matter from voices that too often remain unheard.
BEFORE YOU GO