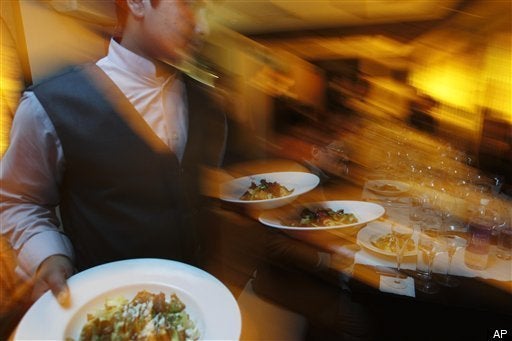 In the last 12 months, the U.S. economy has largely traded high-quality jobs for poorly-paid positions, according to a new report by the National Employment Law Project.
Though the economy has added more than a million jobs over the last year, new positions have skewed towards relatively low-wage industries, the New York-based non-profit finds in "A Year of Unbalanced Growth: Industries, Wages, and the First 12 Months of Job Growth After the Great Recession." The report finds a "striking imbalance" between the jobs being added and those lost over the last year:
Lower-wage industries constituted 23 percent of job loss, but fully 49 percent of recent growth
Mid-wage industries constituted 36 percent of job loss, and 37 percent of recent growth
Higher-wage industries constituted 40 percent of job loss, but only 14 percent of recent growth
The industries which have shed the most positions, the report found, were correlated with the housing bust and the struggles of the financial sector. Construction made up 38 percent of job losses in the last year; non-durable manufacturing constituted 19 percent; finance and insurance made up 10 percent, the report found.
"This snapshot suggests that the job opportunities currently available to workers have deteriorated compared to what was available before the recession," said policy co-director at NELP Annette Bernhardt in a recent press release. "If these trends continue, the slow recovery combined with imbalanced growth could make it much harder for workers to find family-supporting jobs and pose real obstacles to restoring consumer demand. It's imperative that we keep a close eye on industry growth trends as the recovery proceeds."
The below chart breaks down the wage distribution of jobs added by the U.S. economy: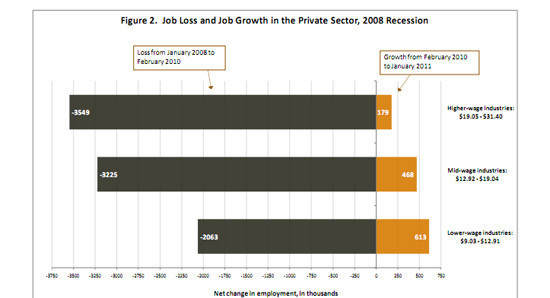 Real the full NELP report here
Related
Popular in the Community