By Edmund Blair and Patrick Nduwimana
BUJUMBURA, May 1 (Reuters) - Burundi President Pierre Nkurunziza warned on Friday of tough measures against those staging protests against his decision to seek a third term, a move opponents say violates the constitution and endangers a peace deal.
Chanting anti-Nkurunziza songs and blocking a road with boulders, hundreds of protesters gathered in Bujumbura's southern suburb of Musaga on Friday, the sixth day of protests. Unlike previous days, there were no scuffles with police.
Urging protesters to stay off the streets, Nkurunziza said the demonstrations were illegal and announced a new judiciary commission would investigate the "insurrectional movement."
"Within one month, the commission will issue its report, severe sanctions will be taken against those who will be found guilty," Nkurunziza said in Labor Day message broadcast on Friday but recorded on Thursday.
The protests have sparked the biggest political crisis since an ethnically-fueled civil war ended in 2005.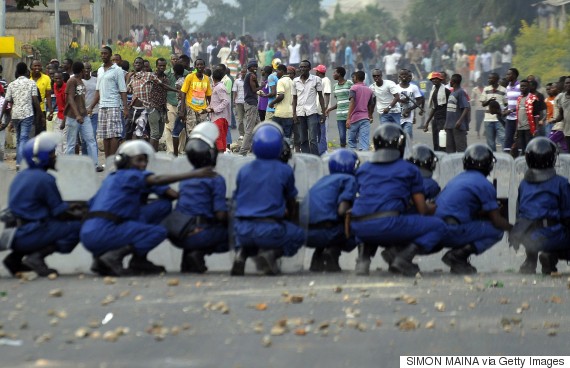 Burundian riot police form a barricade to hold protesters back during a demonstration against the president's bid to cling to power for a third term in Musaga, outskirts of Bujumbura, on April 28, 2015. (SIMON MAINA/AFP/Getty Images)
The U.N. said it was alarmed by reports intelligence and security agencies had used live ammunition during protests. It added that one credible report suggested more than 400 people have been arrested and held in overcrowded conditions.
"Detainees have also been beaten, particularly on their feet and buttocks, with some of those released having trouble walking due to the beating," said U.N. human rights spokesman Rupert Colville, citing the report.
The government could not be immediately reached to comment.
More than 600 students have sought refuge at the U.S. embassy after the government, citing security fears, closed the University of Burundi on Wednesday. Nkurunziza taught physical education at the university in the mid-1990s.
"We are here for security because we have been chased from the campuses," said Donation, a student who did not wish to give his surname.
The protesters in Bujumbura suburbs have vowed to continue demonstrating ahead of the June 26 elections.
"We want to tell President Nkurunziza that we are not giving up. We will continue to demonstrate until he abandons his ambition to run for a third term," a protester in the Musaga district area told Reuters.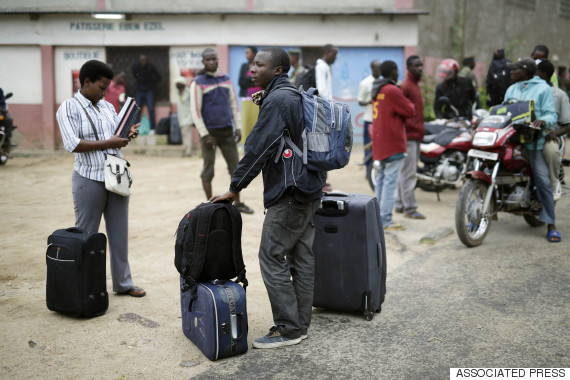 Students carry their belongings as they leave the Kiriki University campus in Bujumbura, April 30, 2015. (AP Photo/Jerome Delay)
The crisis is being closely watched in a region still scarred by the 1994 genocide that killed more than 800,000 people in neighboring Rwanda, which like Burundi is divided between ethnic Tutsis and Hutus.
The United Nations says about 26,000 Burundians have fled to Rwanda and Democratic Republic of Congo in the last month.
Tom Malinowski, U.S. assistant secretary of state for democracy, human rights and labor told Nkurunziza on Thursday that Burundi risks "boiling over," especially if political space is closed for opponents, adding there would be "consequences" if violence continued.
Burundi's electoral commission on Friday started accepting applications to stand for president, but it was not immediately clear if any opposition figures have submitted bids. They have until May 9 to do so.
The constitution and the Arusha peace accord limit the president to two terms in office, but Nkurunziza's supporters say he can run again because his first term, when he was picked by lawmakers and not elected, does not count.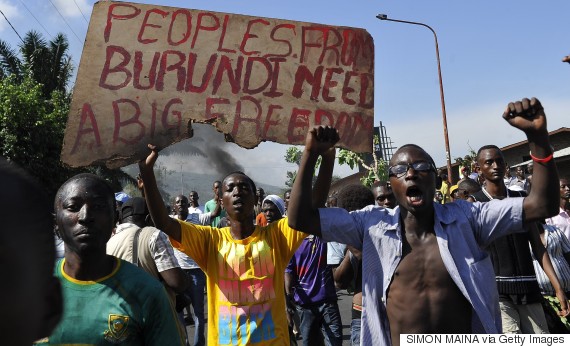 Burundian youth take to the streets as they demonstrate in Musaga, on April 28, 2015 on the outskirts of the capital Bujumbura. (SIMON MAINA/AFP/Getty Images)
(Additional reporting by Tom Miles in Geneva,; Writing by Drazen Jorgic; Editing by Dominic Evans)
Before You Go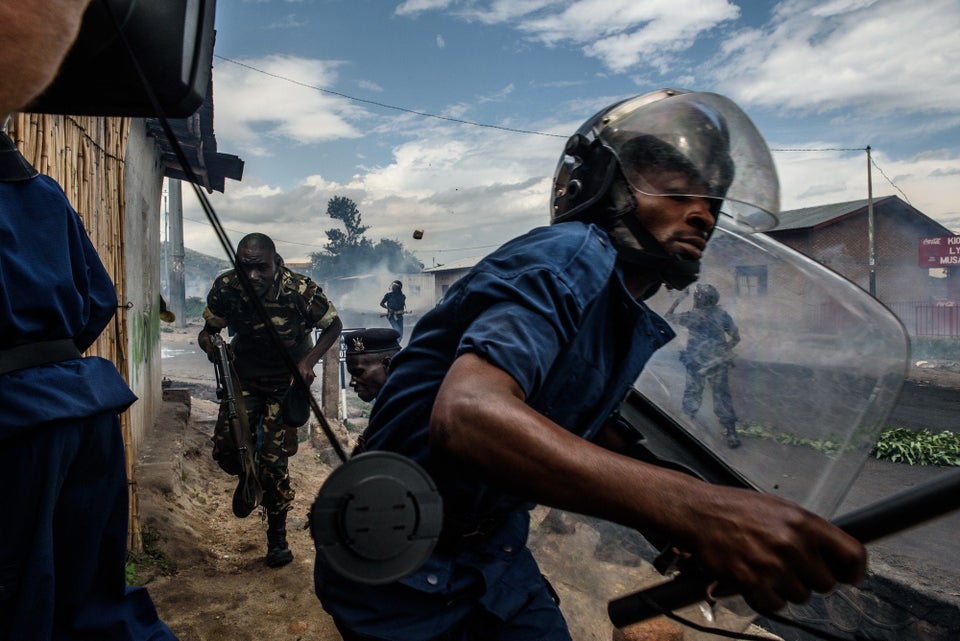 Protests Rock Burundi
Popular in the Community