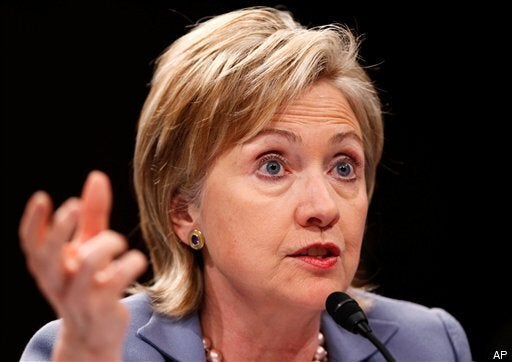 William Burns, US Under Secretary of State, gave a press conference Thursday in New Delhi after meeting with Indian Prime Minister Manmohan Singh.
Burns announced that he had personally handed a letter from President Obama to Prime Minister Singh, but would not divulge the contents, save to say that they were a development of the face to face talks which the two leaders held during the G20 Summit in London in April.
This is the first visit by a senior US government official since the new government, led by Manmohan Singh in his second term as PM, took power after Indian elections in May.
William Burns was repeatedly questioned about India's relations with Pakistan, which the US would like to see improve. He replied diplomatically that the US was not pushing for a speedy resumption of bilateral talks.
'It was up to India and Pakistan to decide on the pace and scope and character... of that dialogue... the timing... is something for India and Pakistan to decide,' Burns clarified.
The US envoy stated that Washington continues to regard India as a close partner.
The envoy was previewing US Secretary of State Hillary Clinton's visit to India due in the second week of July. He said that she had "wanted to do it quickly," as soon as possible after the new government was installed. Clinton, he said, on behalf of America, wanted to "launch a new phase in the partnership."
He stated that there were many areas of mutual interest between the two countries apart from security. Burns stated these were, "Defense, counter-terrorism, economic, education, science and technology."
There has been some concern in the Pentagon as well as in India recently that monies provided to Pakistan in aid has instead been used to reinforce its military defenses against India on its eastern front. When questioned about this, William Burns answered quite fully, "assistance monies... is something... we look at very carefully... and evaluate very carefully... we will continue to monitor the situation.'
It appeared that no agreement was signed during the US envoy's visit to India, but he indicated that technology safeguards agreement would be signed in due course, possibly by the end of July.
William Burns seemed relaxed though cautiously diplomatic throughout the conference. At one point, when there was a pause in the questions, he joked that it must be the result of the effect which he had had on the reporters. www.ranisingh.blogspot.com
Calling all HuffPost superfans!
Sign up for membership to become a founding member and help shape HuffPost's next chapter