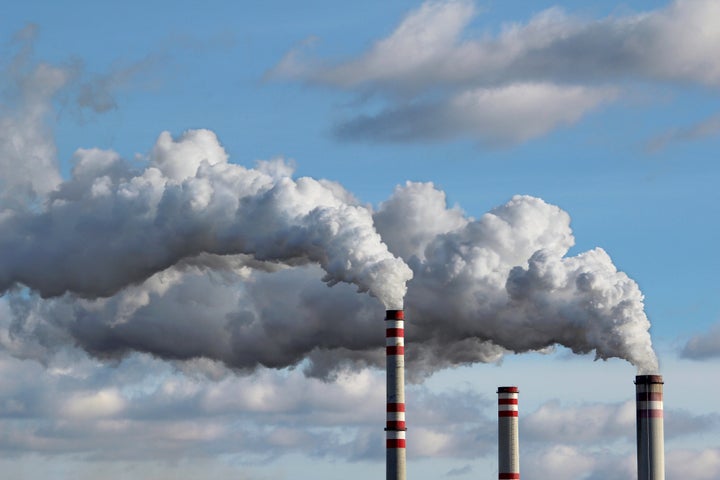 The United States and Europe have long differed on climate change. Even conservative parties in Europe acknowledge the science behind the issue, while the Republican Party remains the sole major party in the developed world to deny the evidence.
Yet nowhere is the transatlantic divide more stark than in the industry peddling the products that literally fuel global warming.
U.S. oil and gas companies invest less in clean energy and more in ultrapolluting tar sands compared to their European counterparts, and they fail to disclose information to investors about the financial risks posed by global warming, according to a report released this week by the British shareholder advocate CDP.
"The performance between Europeans and Americans is quite stark, with Europeans making steps in the right direction to hedge themselves against the changes which are going to happen in the world," Tarek Soliman, senior analyst of investor research at CDP, told The Huffington Post on Wednesday.
European giants have invested more heavily in cleaner-burning natural gas and renewable energy sources, and have found ways to cut back on emissions that leak during the extraction process.
Norway's state-owned Statoil ranked first on CDP's list for increasing its reserves of gas. It also reduced emissions from methane, a potent greenhouse gas, better than any rivals. Italian major Eni plans to invest over $1.05 billion in solar projects in Italy, Algeria, Pakistan and Egypt, and currently produces no oil from tar sands. French behemoth Total is on track to convert one-fifth of its portfolio to low-carbon fuels by 2035, and recently acquired solar and battery storage companies.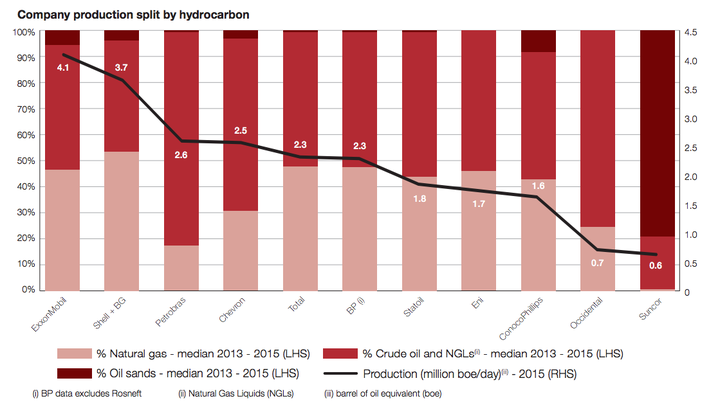 By contrast, Texas-based Exxon Mobil ― currently embroiled in a high-profile legal fight with state attorneys general over its role in a climate change cover-up scandal ― ranked below all of its U.S. and European rivals on emissions and corporate governance on climate risk. Chevron has failed to invest heavily in natural gas and "performs below average" on most CDP metrics. ConocoPhillips had the second-highest exposure to tar sands after Canadian giant Suncor, which ranked at the bottom of CDP's 11-company list.
"If you're in oil sands production, that's not a good thing," Soliman said. "If you're in gas, that's better. If you're in crude, that's somewhere in the middle."
The core issue may be that European investors seem more focused on the long-term financial stability of their companies. Even if Trump finagles a way for the U.S. to exit a treaty that has been enacted, the Paris agreement has already signaled the beginning of the world's shift away from a carbon-fueled economy.
"We've seen investors in Europe put pressure on companies to disclose and stress test their business models against climate change action," Soliman said. "They have certainly been more vocal in their concern that climate change action and the Paris agreement will represent a fundamental change in business models and therefore encourage companies which they hold shares in to adapt future models so they can not only survive but flourish."
Adding Trump into the mix only complicates things. The incoming president has called climate change "a hoax" and has vowed to push policies to bolster the coal and oil industries. He has also signaled his desire to boost Canada's tar sands industry by supporting U.S. pipeline projects, such as the Keystone XL, which President Barack Obama rejected last year.
But, then again, Trump is notorious for changing his mind, depending on who is in his audience.
"There's uncertainty with Donald Trump," Soliman said, "in that the only certainty we have is he'll be in power for four years."
Support HuffPost
The Stakes Have Never Been Higher
Popular in the Community