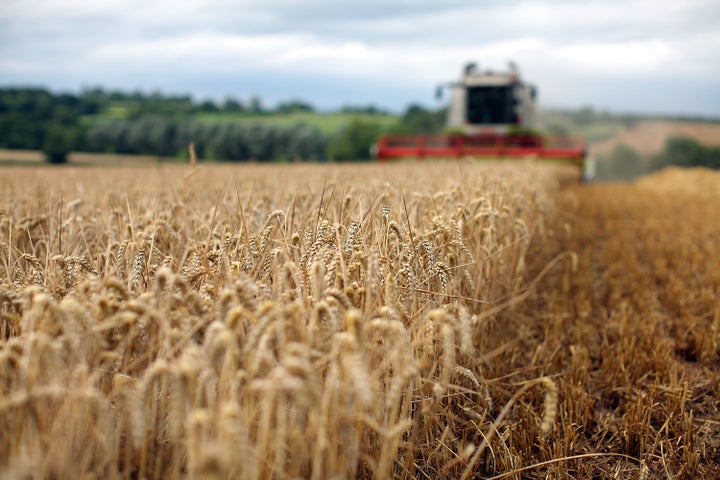 Getting agriculture policy right was viewed as a key to pulling America out of the Great Depression of the 1930s.

Agriculture Secretary Henry A. Wallace's visionary ideas on food security, soil conservation and a social safety net for farmers were at the heart of the New Deal, and U.S.D.A., of all places, attracted some of the best minds in government.
This summer, agriculture is again center stage in the policy debate -- as an inviting target for deep budget cuts. That's unfortunate. There's plenty of fat and waste in the farm programs, but there's also an urgent need for a new vision of American farming in the 21st century.
Agriculture doesn't have the same needs it had in the Depression. It's dominated by large-scale farmers and ranchers using large amounts of capital, technology and financial services. Farmers, on average, are better off than the rest of us. But new federal policies and investments are still urgently needed, this time to make agriculture more productive, sustainable, energy-efficient and environmentally friendly, in order to lock in America's agricultural edge for the rest of the century.
Farming is a smaller part of the economy than in 1933 -- but it's a highly successful part. The strong economic performance of agriculture kept whole sections of the country out of the recent recession. Farmland prices, bucking national trends, have held up, buoyed by booming demand from the biofuels industry and a growing world market.

Yet farming and ranching face "daunting" challenges, according to a 570-page report last year by the National Research Council, an arm of the National Academies of Science. Full-throttle output by farmers and ranchers is causing declining water tables and aquifers, soil erosion, rising greenhouse gas emissions, loss of biodiversity, chemical runoff into waterways, and compromised animal welfare and food safety.

"There is growing recognition and evidence of the unintended consequences of agriculture," the council's report stated. Since half the land mass of the United States is in farms and ranches, the environmental implications are vast.

California planted about 100,000 fewer acres in 2010 than a decade earlier, in part because cities are taking a larger share of federally subsidized water. Today the United States -- the world's "agricultural superpower"-- imports about $6 billion a year more fruits and vegetables than it exports.

Spring flooding that carried fertilizer runoffs into the Mississippi River will contribute to the largest "dead zone" in the Gulf of Mexico on record this summer, researchers from the University of Michigan predict.

Alongside these problems, however, there are exciting signs of a transformation of farming practices.

Some commercial farmers and ranchers have introduced conservation tillage or crop rotation, altered grazing practices that keep more carbon in the soil, and used "closed loop" systems that turn animal wastes into energy -- all with little or no government incentives.

An organic foods industry that has been doubling in size every year has demonstrated that farming with fewer chemicals can be good business. Thanks to growing demand for local produce, the number of small farmers has been increasing.

Some experts see farms becoming platforms for production of energy crops ("grassoline") or specialized fruits and vegetables; selling power to the grid from solar arrays and wind turbines; and marketing the carbon they store in the soil to polluters who need carbon credits.

Yet Congress, faced with deficits, appears to be moving back to the past. "U.S. farm policy seems to be driven by one objective at the moment: how to reduce costs," said David Blandford, professor of agricultural economics at Pennsylvania State.

The Republican-controlled House recently voted to trim $100 million from the 2012 budget of the U.S.D.A. office that funds cutting edge research. Conservation programs, overseas food assistance, and incentives for sustainable farming practices also came in for deep cuts, and the 2012 spending bill eliminates a program that gives farmers incentives to deliver wood chips, grasses and other biomass materials to the biofuels industry.

Farm bloc representatives in both parties in the House have hinted that, if a deficit reduction deal forces them to reduce farm program spending, they will circle the wagons around traditional programs benefiting large-scale "production agriculture." If they follow through, key conservation programs such as the Wetlands Reserve, and dozens of innovative programs in the 2008 farm bill, such as research on restoring a commercial vegetable industry on the East Coast, will likely be expendable. That would effectively gut the 2008 farm bill.

A May article in Science magazine, calls for shifting funds from programs that reward high-production of a few basic commodities, to ones that reward innovation across all of agriculture.

Soil erosion, a catalyst for the New Deal farm programs, is a concern once again. "The Saudis have the oil, we have the soil," said John Reganold, a Washington State University soil scientist. Soil loss is squandering one of America's greatest assets: best soils in the world for growing food.

Better conservation practices take time for farmers to implement, and can cost money in the short run. Conservation tillage, which combines crop rotation with fewer trips into the fields by heavy machinery, controls erosion but makes it more difficult to control weeds or apply fertilizer.

That is where federal incentives should come in, says Reganold. "In those first two or three years your yields are going to drop because you are doing things you haven't done before, so why can't we have the subsidies go to those farmers?"

Research will be the key to future growth in food output per acre, but productivity has been slowing, says Prof. Philip G. Pardey of the University of Minnesota. Pardey notes that R&D spending on agriculture could have been doubled in 2009 merely by cutting farm subsidies 20 percent. Unless the slow down in output per acre can be reversed, Pardey warns, food prices will rise and the environment will be further stressed.
Related
Popular in the Community