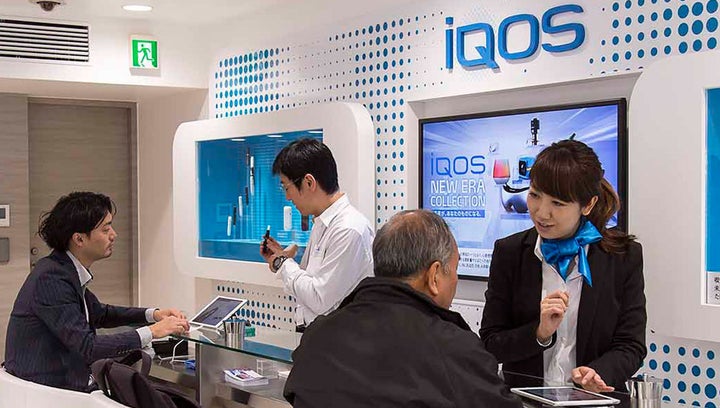 By Brian Fojtik and Dr. Brad Rodu
Japan Tobacco International, the dominant cigarette seller in the Japanese market, has experienced a dramatic drop-off in sales in its home country in 2017. According to recent estimates, year-over-year sales declined 16 percent in November and dropped an unprecedented 12 percent in the first eleven months of 2017. However, JTI's share of the country's cigarette market has actually gone up during this precipitous decline. What's going on in Japan? The reason that cigarette sales have declined so dramatically this year is because Japanese smokers are making a rapid and notable switch away from a deadly combustible product to "heat-not-burn" products dominated currently by Philip Morris' innovative IQOS system.
The reason that JTI's share of the cigarette market increased while sales plummeted is simple: cigarette sales of the other two major suppliers, British American Tobacco and Philip Morris International declined even more.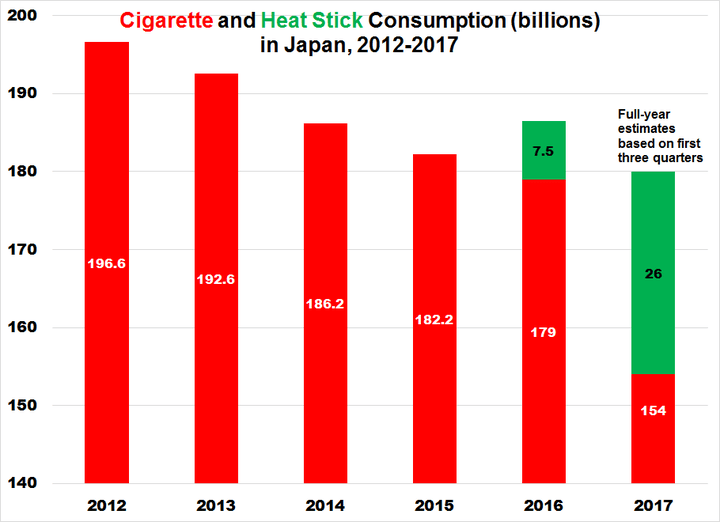 "This continues to be one of the most remarkable events we have ever seen in global efforts to reduce cigarette smoking, and it illustrates the potential for product substitution to dramatically reduce cigarette use," said David Sweanor, Adjunct Professor of Law at University of Ottawa's Health Law, Policy and Ethics (Canada). "Reduced smoking results in reduced rates of smoking-related disease and mortality."
Heat-not-burn products, unlike their e-cigarette counterparts, do contain tobacco. However, as noted tobacco researcher Michael Russell explained decades ago, it's not the nicotine from tobacco (or tobacco itself) that kills as many as half of all long-term smokers prematurely, rather it's the products of combustion – thousands of chemicals created by burning tobacco – that causes the lung cancer, heart disease and emphysema that kills smokers or significantly decreases their quality of life. Heat-not-burn products, like Philip Morris' IQOS, simulate smoking behavior and attributes (i.e. flavor) but don't heat the tobacco sufficiently to cause it to burn. They are gaining wide acceptance in Japan and are expected to convert as many as 20% of all Japanese smokers by next year.
"Looking at Japan, already close to 3 million smokers have quit smoking and switched to IQOS and this suggests high acceptance of the product as a cigarette replacement for smokers," said Dr. Takao Ohki, Chairman and Professor of Surgery and Chief of Vascular Surgery at the Jikei University School of Medicine in Tokyo in a recent submission to the FDA. "Although my ultimate wish is to have all the smokers quit using all tobacco products, it should be the upmost and immediate interest of public health to move current cigarette smokers away from the most harmful cigarettes to something less harmful as soon as possible."
Is there anything U.S. tobacco regulators and policymakers can learn from the Japanese experience? Under current FDA tobacco regulations, American smokers are denied the opportunity to switch from deadly combustibles to many safer alternatives, like innovative heat-not-burn products. Philip Morris now sells its IQOS product not only in Japan, Great Britain and Italy, but in 31 nations around the world. Competitors, such as British American Tobacco and Japan Tobacco are creating their own heat-not-burn, vapor and other smoke-free products to fight for the hearts and lungs of smokers looking for safer alternatives.
For nearly 40 million Americans who for whatever reason can't or won't quit smoking, eliminating combustion and dramatically reducing levels of harmful constituents may achieve significant health benefits. It's also clear from long-term studies in Sweden that converting smokers to smokeless tobacco or snus, can dramatically decrease smoking rates and incidence of smoking-attributable diseases. And we've seen millions of smokers convert to safer vapor products or e-cigarettes in the United States, Great Britain, Europe and New Zealand.
It's important to recognize that, while the transition from cigarettes to heat-not-burn tobacco has been huge in Japan, nicotine-containing vapor products – regulated by a different government agency than tobacco – are banned there. This is contrary to policy prescriptions from British authorities like Public Health England and the Royal College of Physicians, which found e-cigarettes to be as much as 95 percent safer than combustibles. In the U.S. and the U.K. e-cigarettes have become the most popular smoke-free substitute.
Understandably, the FDA is concerned about youth usage of tobacco and non-tobacco nicotine products. However, the agency must not let that focus cause it to excessively and inappropriately limit the availability of potentially life-saving products for adult smokers. The American Lung Association indicates that "the number one predictor" of whether teens take up smoking is whether their parents smoke. If the American Lung Association is to be believed, the FDA should focus on two things – limiting youth access to these adult products and ensuring that a wide range of appealing, heat-not-burn, smokeless tobacco and vapor products are accessible and widely available to adults. Those smoking parents and grandparents, aunts and uncles will no longer model deadly smoking behavior and they'll live longer and healthier lives.
Brian Fojtik is a Senior Fellow with Reason Foundation and Dr. Brad Rodu is a Professor of Medicine at the University of Louisville and a Senior Fellow with Heartland Institute and R Street Institute.
Popular in the Community