 WASHINGTON, Sept 5 (Reuters) - The number of poor Americans who repeatedly ran short of food shot up by 800,000 in 2011 to nearly 17 million compared with 2010, the U.S. government said on Wednesday.
The Department of Agriculture said in a report that about 5.5 percent of Americans, or nearly 17 million, suffered "very low food security" last year, meaning they had to skip meals or not eat for a day because of a lack of money to buy food. That is a rise of 800,000 over the prior year, it said.
The food-security report was released one day after the government said that a record 46.7 million Americans were enrolled for food stamps in June, up by 173,000 in May.
High unemployment and slow growth since the deep 2008-2009 recession has driven enrollment in food stamps, the major U.S. anti-hunger program, to record levels.
The cost of food aid to the poor is an election-year issue, with Republicans calling for large cuts in food stamps and Medicaid to help reduce the deficit. Democrats say the cuts are too deep.
This year is likely to be even more problematic for hunger prevention because jobless benefits are running out for tens of thousands of long-term unemployed workers, said Jim Weil, head of the anti-hunger group Food Research and Action Center.
The overall food-insecurity rate for individuals was 16.4 percent, almost unchanged since 2008, when it surged to the highest levels since the Agriculture Department began monitoring food security in 1995.
Food-security issues were greatest in the South, in inner cities across the nation, in families with a single parent, in Black and Hispanic households and in households with children.
Mississippi and Arkansas were the states with the highest rate at 19.2 percent, and North Dakota was lowest at 7.8 percent.
Almost everyone who experienced very low food security said they ran short of food and didn't have the money to buy more. Some 97 percent said they cut back on the amount they ate or skipped a meal, while 91 percent said it happened often throughout the year.
Nearly half said they lost weight because they did not have enough to eat, according to the report.

Related
Before You Go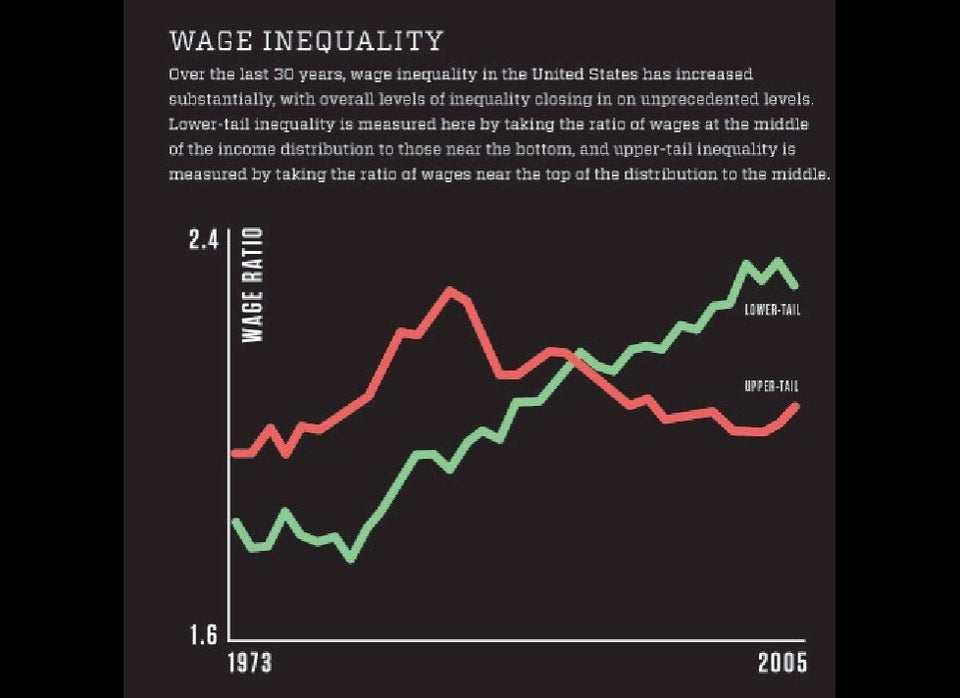 15 Facts About Income Inequality
Popular in the Community