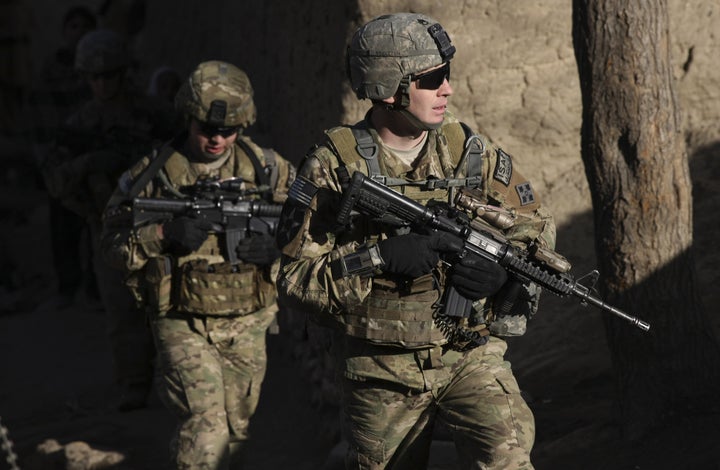 US troops leave the 'Valley of Death.' US forces have pulled out of the remote Korengal Valley in Afghanistan, an area that saw some of the "most intense fighting of the nearly nine-year American presence in the country," the AP reports. 42 American troops died during the years of fighting in the area, which had become known as the "Valley of Death." (TIME has a good slideshow of the region.) The move away from the area is part of Gen. McChrystal's new focus on protecting civilian population centers rather than outposts in such isolated and sparsely populated areas as Korengal.
"This repositioning, in partnership with the Afghan National Security Forces, responds to the requirements of the new population-centric counterinsurgency strategy," Lt. Gen. David M. Rodriguez said in an e-mail to the media, according to the AP.
Here's the New York Times's Alissa Rubin on the significance of the move:
Closing the Korangal Outpost, a powerful symbol of some of the Afghan war's most ferocious fights, and a potential harbinger of America's retreat, is a tacit admission that putting the base there in the first place was a costly mistake.

It is also part of a new effort by Gen. Stanley A. McChrystal, commander of forces here since last summer, to consolidate and refocus his forces in places where they might change the momentum of what had become a losing contest.
And, as the Washington Post writes:
The retreat carries risks. Insurgents could use the Korengal as a haven to plan attacks in other parts of Afghanistan. The withdrawal could offer proof to other Afghans that American troops can be forced out.
Feingold calls for timetable. Senator Russ Feingold (D-WI) and Representatives Jim McGovern (D-MA) and Walter Jones (R-NC) are introducing legislation which would require President Obama to produce a "flexible timetable" to end the U.S. mission in Afghanistan, which they say is "not in our best national security interest and makes us dependent upon an unreliable partner in the Afghan government."
The bill would also expand the powers of the Special Inspector-General for Afghanistan Reconstruction, Arnold Fields, giving him oversight power over work by U.S.-hired contractors operating in Afghanistan, to prevent continued "waste, fraud and abuse."
"A large, open-ended presence in Afghanistan is counterproductive to our global fight against al Qaeda," said Feingold, in a press release. "Rather than pour resources into a nation-building strategy in a country that isn't even al Qaeda's base, we should develop a timetable to end our massive presence in Afghanistan, so we are better able to go after al Qaeda's global network.  We need to be as agile as al Qaeda and we can't do that if we are bogged down in Afghanistan."
McGovern added that, "after 8 long years, hundreds of billions of dollars and - most importantly - thousands of our brave soldiers killed or wounded, it is past time to re-examine this strategy.  Instead of nation-building in Afghanistan, I believe we should be doing some more nation-building here at home."
Feingold lays out his argument for the timetable at length in a blog for HuffPost, which you can read here.
The bipartisan bill, because it does not set a specific date for withdrawal, may fare better than a recent House resolution introduced by Dennis Kucinich (D-OH), which failed by a vote of 65-to-356.
USAID spends only $150 million of $750 million pledged for Pakistan tribal areas in 2007. "Bureaucratic hassles" between Pakistani and American officials, along with security problems in Pakistan's northwest - a haven for the Taliban and Al Qaeda - are to blame for the aid hold up, AP and DAWN report.
Because the region is off limits for U.S. aid workers, they have had to rely on local partners to implement aid projects, which include road construction and building wells, making oversight difficult.
Despite the problems it faces implementing these projects, USAID is preparing to expand aid efforts, pledging to spend $7.5 billion on projects throughout Pakistan over the next five years.
These projects, U.S. officials say, are a crucial element in their efforts to quell the Afghan insurgency by winning hearts and minds in Afghanistan and Pakistan.
Drone strike kills 4 in NW Pakistan. Pakistani officials say a US missile struck a vehicle carrying militants in the Anbar Shaga area of North Waziristan killing 4 and wounding at least 3 suspected militants, AP reports.
Anbar Shaga is held by Hafiz Gul Bahadur, a militant leader involved in attacking Western forces in Afghanistan. Pakistan recently signed a truce with Bahadur, agreeing to turn a blind eye to his actions in Afghanistan if he doesn't cause problems for Islamabad. Today's airstrike could put that deal in jeopardy, the AP says.
This attack comes after the Washington Post reported that US officials were beginning to set aside their long-held doubts about Pakistan's resolve to fight the Taliban.
Pakistan's insecure nukes. A new study commissioned by the Nuclear Threat Initiative and released by Harvard University's Belfer Center for Science and International Affairs argues that Pakistan's nukes are unsafe, according to the Associated Press. While Pakistan may have improved security around its nuclear arsenal, the threat from "nuclear insiders with extremist sympathies, al-Qaida or Taliban outsider attacks, and a weak state" persists. The report asserted that Pakistan's nukes were world's least secure from theft or attack and that they faced "immense" threats.
But Agence France Presse notes that Pakistan's Prime Minister rejected the report's concerns, saying that "Islamabad has taken effective steps for nuclear safety, security and nonproliferation through extensive legislative, regulatory and administrative framework." The PM went on to reiterate Pakistan's demands for a civilian nuclear deal with the U.S.--seeking a nuclear agreement similar to the one the Bush administration gave its rival, India--by noting the country's severe energy crisis.
Pakistan admits civilian deaths. Pakistan's military has admitted that scores of civilians were killed during airstrikes over the weekend in the Khyber tribal region. The Pakistani army had initially denied any such deaths in the strike. The number of civilians killed is believed to be as high as 75.
Calling all HuffPost superfans!
Sign up for membership to become a founding member and help shape HuffPost's next chapter