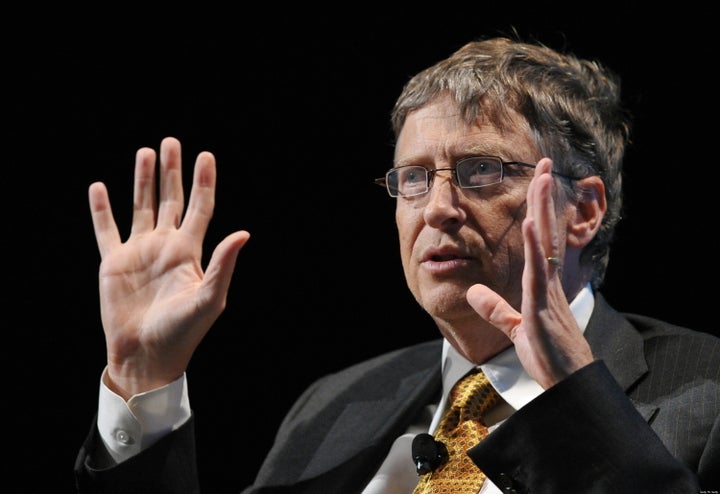 Ordinary Americans are saving millions of lives worldwide every year -- they just don't know it yet. Global deaths by malaria have dropped from 1,000,000 per year to 800,000. Children's deaths by preventable diseases has declined, from 15 million per year to 9 million. Rwanda is poised to enter the malaria pre-elimination phase (the complete eradication of the disease), and Senegal is on the brink of providing mosquito bed nets for all of its families.
The American taxpayers have been instrumental in achieving all of this through the United States' global health investments, but most are none the wiser. Bill Gates lamented this fact at a private panel event last week: "In a way, the U.S. taxpayers don't even understand the great things that have happened because of their generosity."
Gates shared the stage with Dr. Zeke Emanuel, Rwandan Health Minister Dr. Richard Sezibera, and moderator Frank Sesno on a panel about U.S. global health investment. Peter Chernin, former CEO of News Corporation and Fox Entertainment Group, and his wife Megan Chernin hosted the event at his Brentwood home with help from Hollywood-based Foreign Policy Roundtable and DC-based advocacy group Friends of the Global Fight Against AIDS, Tuberculosis and Malaria.
The panelists were before some of the most powerful people in Hollywood: super-agent Ari Emanuel (who praised his brother as "the smartest Emanuel!" when he was introduced), billionaire philanthropists Eli and Edythe Broad, Imagine Entertainment founder Ron Howard, Sony CEO Michael Lynton, HBO president Sue Naegle, and Christina Norman, CEO of the Oprah Winfrey Network. Gates and his co-panelists threw down the gauntlet to Chernin's guests: is there anyone here tonight who can tell the success stories of the United States' global health investment, with eloquence and urgency?
Eloquence, because according to a Gallup poll from last month, 59 percent of Americans are in favor of cutting "foreign aid" in order to fix the looming federal deficit. And despite the fact that foreign aid makes up just 1 percent of the United States federal budget, a 2010 University of Maryland study found that Americans vastly overestimate the figure: "the median estimate is 25 percent. Asked how much they thought would be an 'appropriate' percentage, the median response is 10 percent."
Urgency, because in the face of a federal deficit reaching in the trillions, Republican congressmen are in a race to the bottom to propose cuts to the foreign aid budget, which includes funding for global health systems. While Tea Partier Paul Rand's proposal to eliminate all foreign aid is an extreme, Politico reports that the Republican Study Committee filed a bill to eliminate the Agency for International Development.
When talking about money, statistics, and percentages, it's easy to lose track of the lives that have been changed through global health investment. Dr. Richard Sezibera was at the panel to provide an account "on the ground" of the effect global health aid has had on his country.
Before Rwanda's national health campaign to eradicate malaria, Sezibera explained that the disease was once so common that all Rwandans knew how to diagnose it -- from personal experience. Bill Gates added, "There's a hidden part to that, which is that for every child who dies, there are four children whose brains are basically destroyed. They have an IQ of about 65 because of cerebral malaria. It's a terrible injustice for them, and a terrible thing for the country they're in." But now, Dr. Sezibera explains, "In many parts of Rwanda, it is gone. Even the health workers and laboratory technicians do not know how to test for malaria... a few years ago you'd have seen three children on one bed. Today, the [malaria] wards are empty."
Despite all this good news, "The deficit looms large," Emanuel warned. He praised both former Senator Jesse Helms and President George W. Bush for their work on PEPFAR but lamented that they were no longer in Washington to carry on their work. He emphasized, "It is going to be important to make sure that this is a bi-partisan issue," and "for everyone who has looked at all the things the U.S. government has done, this is the highest return on investment in terms of saving lives and in terms of favorable response overseas." He then quipped, "It's also a very cheap version of smart power."
After Chernin thanked the panel and his guests for coming to the event, he closed the evening by repeating, "This is one of the singular achievements of American society over the past 10 or 20 years... This is something we should be inordinately proud of, and we should communicate that pride."
On the way out the door, documentary director Davis Guggenheim (of Waiting For "Superman" and An Inconvenient Truth) said to the Huffington Post, "What's so wonderful about an event like this is that you can learn about something that America's doing that's good in the world." When asked if a global health film was on the way, he replied, "Someone's gotta do it, I don't know. I've got to figure it out."
Related
Popular in the Community