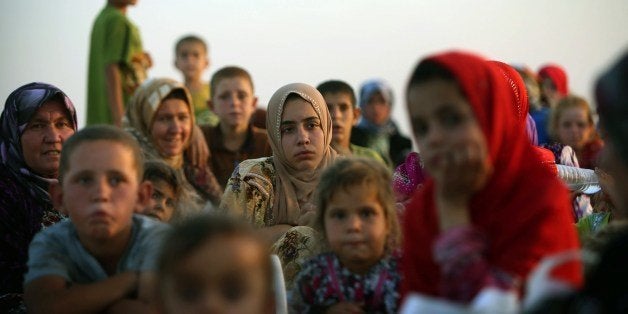 The 21st century's U.S. foreign policy and action -- or more accurately, reaction -- has been driven by fear. Terrorism. And as taxpayers, we have paid a heavy price to fear.
To date, the United States has spent more than $25 billion training and equipping the Iraq army. Now, after a war that has cost us trillions of dollars and too many lives, President Obama has asked Congress for half a billion dollars to train and equip yet another army -- Syrian opposition fighters, as an alternative to ISIS, the Islamic State of Iraq and Syria.
ISIS, a terrorist group so brutal that they were disowned by al Qaeda, is at the forefront of today's international news as the Islamist militants seizing cities in the cradle of civilization. In captured towns, they have forced marriages and raped. They have also publicly displayed brutal killings of women who did not obey their strict rules and cover their faces.
Now, how about we change this paradigm? Rather than continuing to react to fear, how about we develop a foreign-policy strategy that is based on a long-term vision rooted in love? Furthermore, rather than spending the $500 million training just fighters, how about we invest it cultivating another kind of force that can truly change the tide?
Ironically, for almost 3,500 years, Isis was a goddess of love. Embodying motherhood and empowered femininity, she was one of the most important deities in ancient Egypt, revered far and wide from England to Afghanistan.
Furthermore, there is, remarkably, powerful and yet, un-harnessed human force in the world. Tomorrow's women leaders are today's adolescent girls and young women in Iraq, Syria and many other countries whose leadership potential is thwarted by fundamental ideologies and harmful cultural norms.
So how about we use the funds to develop an army of empowered femininity -- the next generation of women leaders in the exact same places where these terrorists reign?
According to the World Bank, the single highest return on investment in the developing world is girls. For every year a girl receives primary education, her earning potential is boosted 10 to 20 percent. Even more, secondary education increases a girl's income by 15 to 25 percent per year.
The evidence is overwhelming. It is proven that young women share 90 percent of their earnings with their families, compared to only 30 to 40 percent for young men. And if we close the gender gap in employment, a nation's GDP would increase by 1.2 percent in just one year. The impact, for example, is $13.9 billion -- in a single year -- into the economy of Nigeria, Africa's most populous country and where another terrorist group, Boko Haram, is forcibly silencing girls' and young women's voices and education.
We must not only educate girls; we must shift the paradigm of how girls in the developing world are perceived -- from valueless victims to powerful agents of change. We can help them become tomorrow's leaders who will transform their societies as political leaders, business owners and mothers who will educate their children and have healthier children.
The largest in history, 1.8 billion young people are on the planet today. Ninety percent of this enormous human force is in the developing world, and they are the fastest-growing population segment. In fact, young people make up the largest proportion of the population in the Middle East and North Africa.
So the time is NOW to change the course and take action. The power of youth can be continually harnessed by terrorists with anti-American and anti-Western agendas, or it can be nurtured to build vibrant civil societies. This money will go a long way in the development of tomorrow's women leaders -- much further than training war-makers. Additionally, we will be equipping a generation to create powerful and lasting change where these terrorists breed and reign with a ripple effect in the region and a positive impact in our own national security.
Albert Einstein said, "Insanity is doing the same thing over and over again and expecting different results." Are we going to keep reacting to fear or boldly lead with love?
Related
Popular in the Community