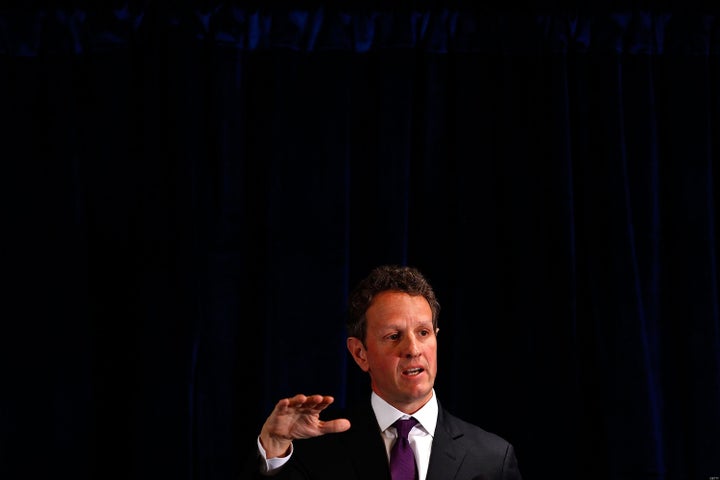 TORONTO — World leaders must work together to make sure the global recovery stays on track, Treasury Secretary Timothy Geithner said Saturday.
Geithner made his remarks as President Barack Obama has warned his counterparts from the Group of 20 nations to not reel in measures to stimulate their economies too quickly. The United States fears doing so could endanger the global recovery.
Nations like Germany, Britain and others are shifting their focus on cutting deficits – especially in the wake of Greece's debt crisis, which rattled world markets.
Asked if the global economy could slip back into another "double dip" recession, Geithner said the answer to that question hinges on decisions made by world leaders. "It is within the capacity of the people who are going to be in those rooms together in the next few days to avoid that outcome," he said.
On Thursday, Senate Republicans defeated a jobs bill that included unemployment extensions, provisions for the elderly and poor, state funding for medicaid, and various tax cuts. Republicans threatened to filibuster the legislation and because Democrats were short of the 60 votes needed to overcome the legislative block, they did not vote on the bill.
But Geithner did not mention the failed stimulus bill at home as he told politicians from the world's largest economies that global economic recovery depended upon government spending.
Geithner told the Toronto audience that one of the mistakes made in the 1930s was that countries pulled back their recovery efforts too soon, prolonging the Great Depression, he said.
He said the United States doesn't want to see that happen again. "What we want to do is continue to emphasize that we are going to avoid that mistake," he said. "It's only been a year since the world economy stopped collapsing ... it will take some time to heal."
Although the world economy has recovered from the worst financial and economic crisis since the 1930s, many challenges remain, Geithner said.
"The scars of this crisis are still with us," Geithner told reporters. "If the world economy is to expand at its potential, if growth is going to be sustainable in the future, then we need to act together to strengthen the recovery and finish the job of repairing the damage of the crisis."
Popular in the Community