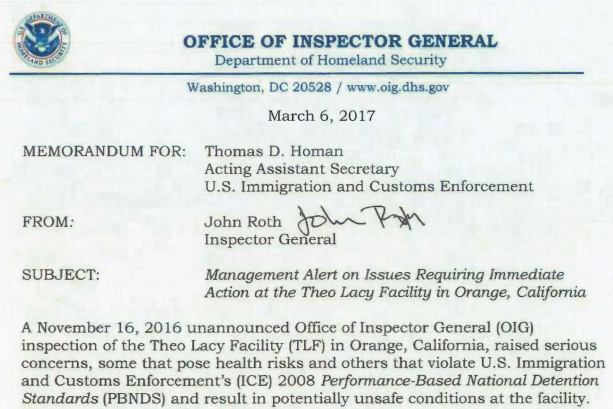 On May 9, 2017, the Orange County Board of Supervisors voted to increase its contract with U.S. Immigration & Customs Enforcement (ICE) to detain 120 more immigrants at Theo Lacy Facility.  This contract increase comes just two months after the Office of the Inspector General (OIG) released a damning report on its unannounced inspection of Theo Lacy. Mysteriously, OIG's report was immediately removed from the government's website after the May 9th vote.
In the report, which now can be read on Community Initiatives for Visiting Immigrants in Confinement (CIVIC)'s website, OIG found that Theo Lacy Facility was not complying with the U.S. Department of Agriculture's safe food handling guidelines, resulting in people in immigration detention being served spoiled meat.  Theo Lacy Facility also was not complying with ICE's Performance Based National Detention Standards, resulting in people being wrongfully held in a form of solitary confinement for long periods of time.  
OIG offered a number of recommendations in its report, but there is no evidence that the Orange County Sheriff's Department or ICE have implemented these recommendations.  In fact, CIVIC continues to document people in immigration detention at Theo Lacy being improperly placed in disciplinary segregation units that violate ICE's standards.  We also continue to hear stories from people currently detained at Theo Lacy about spoiled food.
Perhaps even more alarming, CIVIC has documented multiple instances of physical abuse of people in immigration detention by the Orange County Sheriff's Department (OCSD).  As recent as this month, we have received complaints from people in immigration detention in Orange County who have been physically and verbally abused by OCSD. 
The decision by the Orange County Board of Supervisors to increase the contract with ICE is irresponsible.  It is past time to end immigration detention in Orange County, California.