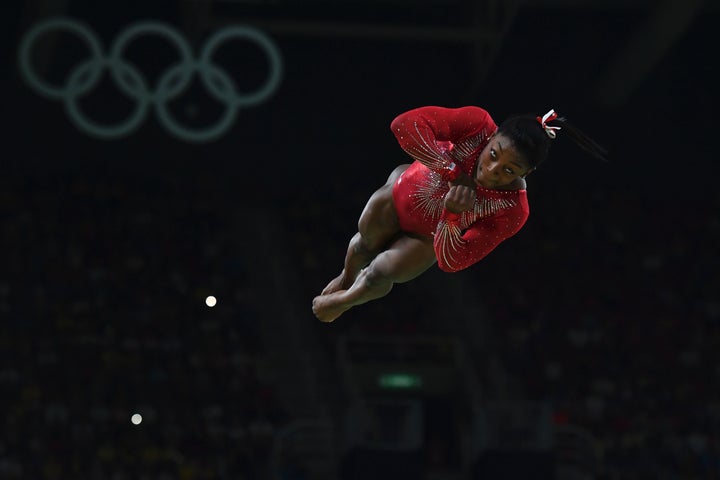 Simone Biles, fresh off gold medals in the team and all-around finals, continued her domination of the field today, as she and her teammates added three more medals to Team USA's collection.
Biles, who won all-around gold on Thursday by a staggering margin of over 2 points, today won her signature event, the vault. With her win, she becomes only the third U.S. woman gymnast to win three gold medals; her teammates Gabby Douglas and Aly Raisman are the other two. Biles is also the first American woman to ever win gold on vault.
On bars, reigning world champion Madison Kocian won the silver, and for the men's pommel horse event, Alex Naddour won the bronze.
Biles' win was expected: She qualified with the highest score and is one of the few gymnasts in the world who consistently performs the very difficult Amanar vault, which is a back handspring onto the vault table and a layout somersault with 2 1/2 twists off. Her main challengers included North Korea's Hong Un-jong, the gold medalist on vault in Beijing, who beat her at the world championships last year; Switzerland's Giulia Steingruber, who came in third in the qualifiers; Maria Paseka of Russia, who qualified fourth and won the vault final at last year's championships; and Oksana Chusovitina, the 41-year-old representing Uzbekistan, who qualified fifth.
Chusovitina, as well as Indian gymnast Dipa Karmakar, the first Indian woman to qualify for an Olympic event final, both performed the world's most dangerous vault, the Produnova. The "Prod," also sometimes called "the vault of death," is a front handspring onto the vault table and two tucked front somersaults off it, and it carries a difficulty score of 7.0 ― meaning that, if a gymnast performs it perfectly, they would be awarded the unheard-of score of 17.0. (However, because it is so difficult, few gymnasts can perform it without a fall, which incurs a deduction of 1.0.) The difficulty value of the Produnova can make it worth the risk, but for Karmakar and Chusovitina today, the risk did not pay off; they finished in fourth and sixth place, respectively.
Biles does not perform the Produnova; instead, she opts for the Amanar, which carries a difficulty score of 6.3, and she often lands it perfectly. Today, she did just that and scored an unassailable 15.966. Paseka took the silver medal, and Steingruber the bronze.
On bars, Kocian had been narrowly favored to win gold and qualified in first place. However, her victory was far less assured than Biles' and her margin for error far narrower, with Russian's Aliya Mustafina and Daria Spiridonova close on her heels. In the end, Mustafina triumphed, with a 15.9. Kocian scored a 15.833, enough to take silver, with Sophie Scheder of Germany won the bronze with a 15.566.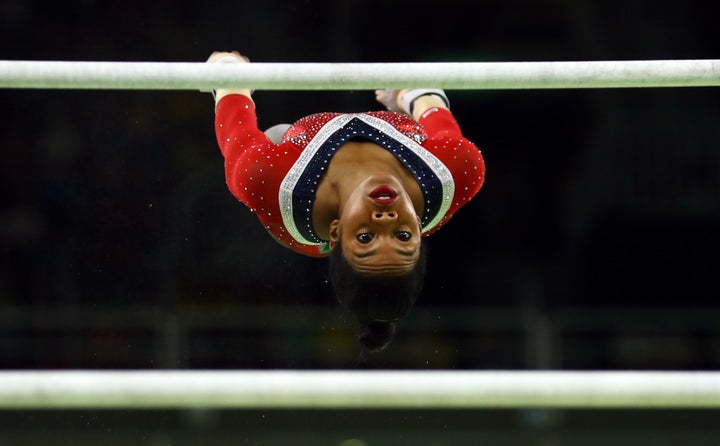 Douglas, the 2012 all-around champion, is known for her sky-high releases on bars, but she began her routine with an error, getting stuck in a handstand ― a .50-point deduction. She persisted through the routine, regaining her rhythm, and stuck her dismount, a double layout, with just a small step on her landing. But the mistake cost her, and she finished in seventh place.
In the men's finals, the two Americans who qualified on floor, Jake Dalton and Sam Mikulak, placed 6th and 8th, respectively. The U.S.'s sole finalist on pommel horse, Naddour, won the bronze medal.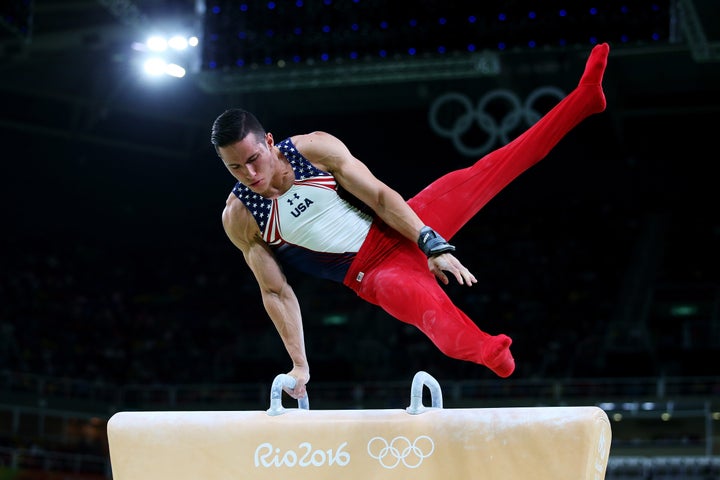 The next event final is tomorrow afternoon, when Biles will return, this time joined by her teammate Laurie Hernandez, to compete on the beam. The two Americans qualified in first and second position, respectively, meaning that Team USA's medal campaign is far from over ― it's hardly even begun.
For more Olympics coverage:
Before You Go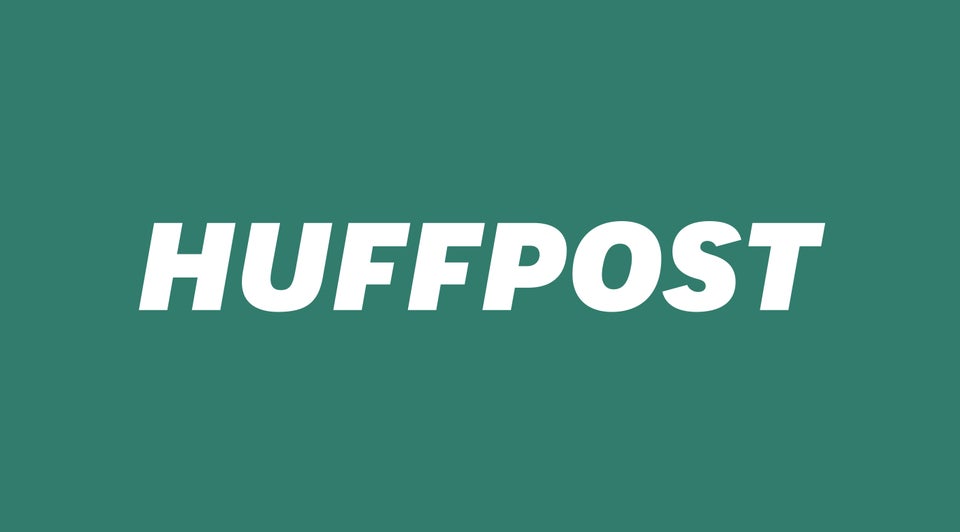 Times The U.S. Women's Gymnastics Team Redefined Squad Goals
Popular in the Community