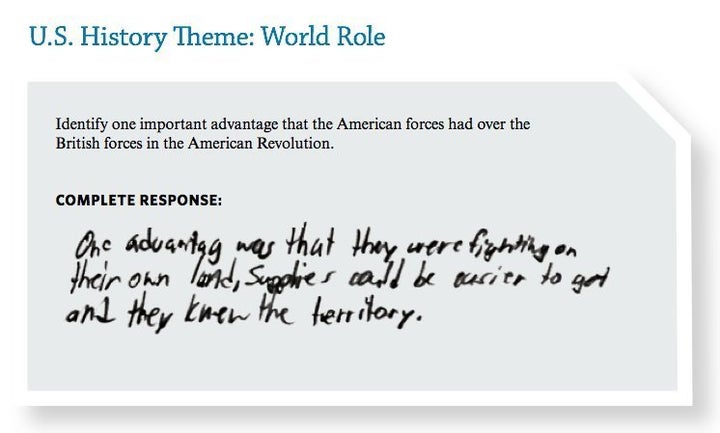 If you can identify one advantage American troops held over the British in the American Revolution, chances are you know more U.S. history than most eighth graders.
Only 32 percent of the eighth graders tested on the National Assessment of Educational Progress U.S. History exam completely answered that question. Only 9 percent of fourth graders could identify a photograph of Abraham Lincoln and state two reasons for his importance.
But that's not what has history education advocates so upset about the overall dismal NAEP scores.
"People tend to think that history is only memorizing facts," said Linda Salvucci, vice chair of the National Council for History Education. "More importantly, it's a way of thinking and organizing the world."
The NAEP report, released Tuesday morning, provides a snapshot of U.S. history education in public and nonpublic schools in the fourth, eighth and twelfth grades. The 2010 test assessed 30,000 students in a sample designed to represent the U.S. student population by race, socioeconomic status, parents' education levels, language barriers and disabilities.
NAEP tests are administered in several subjects -- including math, science, civics, history and reading -- at different intervals. Students sat for the history test in 1994, 2001, 2006 and 2010. According to Tuesday's release, eighth graders earned the highest grades to date; fourth and twelfth grade scores showed no significant change since 2006. Overall, performance has been largely stagnant.
Where there was improvement, the bottom-level students moved the score. Fourth graders ranking in the bottom 10th percentile increased performance between 1994 and 2010.
The test divides students into three categories based on performance: basic, proficient and advanced. Proficient, according to NAEP materials, "represents solid academic performance" for students who "have demonstrated competency over challenging subject matter."
In 2010, only 20 percent of fourth graders tested proficient; 17 percent of eighth graders and 12 percent of high school seniors made the mark.
"I'm not surprised," said Salvucci, who is also a professor at Trinity University in San Antonio. In her eyes, the scores are a result of both a lack of experience on the part of history teachers and a curtailed history curriculum due to a No Child Left Behind-driven focus on testing in reading and math. A Center for Education Policy report released in March 2006 showed that 71 percent of America's school districts had reduced time spent on subjects that were not reading and math -- including history -- since the passage of No Child Left Behind.
A May report from the National Research Council concluded that a decade of education policy grounded in high-stakes testing has yielded little learning. That report and the NAEP results come as President Barack Obama pushes for Congress to overhaul No Child Left Behind, the law that governs those tests.
"They've narrowed the curriculum to teach to the test. History has been deemphasized," said Lee White, executive director of the National History Coalition. "You can't expect kids to have great scores in history when they're not being taught history."
Few are happy with NCLB and its strictures, which demand a rigorous focus on reading and math but little else. The law requires 100 percent "proficiency" by its own standards by 2014. That goal has been described as utopian, one reason why U.S. Secretary of Education Arne Duncan and others stress the importance of revamping the law. But legislative efforts seem to have stalled recently.
That's why, Duncan said in Monday conference call with reporters, his office is seeking to develop a "plan B" for saving schools from the impending "slow-motion train wreck" of NCLB. Duncan has shied away from giving specifics aside from noting that the plan would offer states flexibility in achieving NCLB standards in exchange for "accountability"-focused reforms. "We will not, we will never abandon accountability," Duncan said.
When HuffPost asked for details on the reforms required by states that desire NCLB flexibility, Duncan said they're "the kinds of reforms ... emphasized in the blueprint for re-authorization. Those remain our values."
Finding a way to reform NCLB is urgent for the study of history, said Ted McConnell, executive director of the Campaign for the Civic Mission of Schools.
"They'd better come up with a fix, since nothing is passing soon," McConnell said. "It's this concentration on a few subjects over all others that leads away from high-quality instruction in these areas."
Speedy reform, Duncan said, is his intent.
"To be clear, this would not be an a la carte menu where folks can pick and choose [reforms]," he added. "I'm continuing to talk to governors on a daily basis," he said, to develop the plan.
"A well-rounded curriculum is key to preparing students for success in school and life," Duncan said in a Tuesday statement bemoaning the low NAEP scores. "That's why we're putting a greater emphasis on courses like history, art, drama and music in our efforts to fix No Child Left Behind."
Still, history education advocates worry about funding for studying the subject. Obama has called for a specific grant for studying history to be consolidated into a larger fund for the humanities. But as part of NCLB re-authorization, Rep. Duncan Hunter (R-Calif.) last month introduced a measure that would scrap 43 NCLB-funded programs entirely, including one that sponsors U.S. history education.
The lack of emphasis on U.S. history knowledge displayed by public officials sends a bad message to students, said Jim Grossman, executive director of the American Historical Association.
"I'd like to see the full Congress take the test," he said. "People use these tests quite reasonably to lament the poor history education in our schools. But history education is a much larger issue in relation to civic culture."
Though NAEP administrators stressed to reporters that scores are not comparable between subjects, education historian and former Assistant Secretary of Education Diane Ravitch mentioned history's ranking.
"It's worth noting that of the seven school subjects tested by NAEP, history has the smallest proportion of students who score Proficient or above in the most recent assessment available," Ravitch said in a statement. "The results of this assessment tell us that we as a nation must pay more attention to the teaching of U.S. history."
Ravitch wrote that 12th graders' dismal scores particularly concern her -- because those students are about to become voters.
To be deemed proficient on the NAEP exam, a fourth grader had to explain things like why cities grew where they did and why Europeans sought new trade routes in the 1400s. Proficient eighth graders had to explain changes in colonial slave practices and identify products shipped along the triangular trade route. Twelfth graders were expected to explain a trend in U.S. population and interpret a Henry David Thoreau quotation.
While these matters may seem trivial in the digital age, when a date or fact is just a click away, Lee said searchability does not compensate for learning.
"Duncan Hunter said we don't need history because we'll all have iPads," Lee said. "But what about a kid in Nebraska who has no broadband access? We can't just throw them to the wolves and let them fend for themselves."
"It's hard to win the future, as Barack Obama says he wants to do, if we lose our past," Salvucci said.
This article has been updated to include comment from Secretary of Education Arne Duncan on the NAEP results.
Related
Popular in the Community