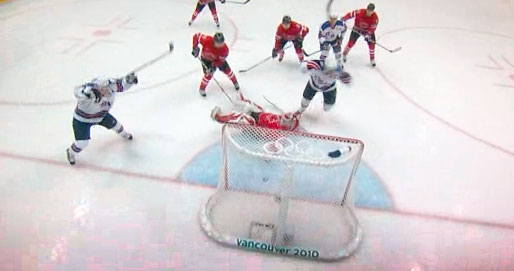 Some who do not have much hockey acumen, like some of the MSNBC announcers...where last night's game was buried as NBC went with pairs figure skating coveting the female audience over responsible sports coverage...will paint the US win over Canada as some David versus Goliath miracle win from some sort of mismatch.
Nothing would be further from the truth, as Brian Burke, the Team USA General Manager, gathered character players and youth to round out the US team to create something solid with an expressed purpose: to compete and perhaps beat talent laden teams.
So last night, hockey fans and one would gather, mostly men, watched Canada's best versus a team made to beat Canada.
This was no Miracle on Ice. This was far reaching planning and the results of this stretched ice canvas showed on the faces of fans who watched a barn burner on cable television which will reverberate through the next few days as Canada and their team convalesces and the US gets a bye into the Quarterfinals.
Brian Burke, who is mourning the loss of his youngest son a few weeks ago in a weather-related traffic accident, looks like a genius whose plan to grab clutch game difference-makers and mix them with some youth of hungry up-and-comers have suddenly stolen the limelight from Canada; the ordained country who has produced the most prolific players of the sport.
"Playing the tournament favorite in front of a rabid crowd: It's going to be a good test for our group", Burke told Craig Custance of the SportingNews and other reporters. "We've got some size, too. We've just got to try and get some line matchups the way we want them. We purposely brought some beef for that reason."
The US upended Canada in a close match that broke when one goalie could not keep up with the excellence of the other. Buffalo Sabres NHL and US 1st stringer Ryan Miller played like a god, as future NHL hall of famer NJ Devil's Martin Brodeur played as a mere man.
Fallible and burned, Brodeur seemed unable to stave off the kids as the Canadian defense collapsed under some savvy play by the skilled US forwards that were also mixed with those who had size.
This disparity was further exemplified as Brodeur made a grave miscalculation trying to chase a puck with US forwards blanketing him. Chris Drury, who is known for his clutch play in the past, ripped one through, separating the two teams and making Canadian fans suddenly realize that they were in dire straits.
Meanwhile, when the US defense collapsed under the weight of the tremendously talented Canadian forwards, Ryan Miller somehow kept the puck from going in.
Hockey fans will walk away from seeing Brodeur's off-kilter work as the difference, rather than Miller's stellar performance. Or they will not give the clutch work of Chris Drury, Jamie Langenbrunner or Ryan Kesler their due.
Fact is, this type of match-up could have swung either way, and it was the US who stood tall as Canada's invulnerability crumbled.
Hunger beat the lauded. Purpose beat what was merely on paper...the best.
Brian Burke's plan paid dividends, and it is the US who stands undefeated, while Canada heads down the pike to a potential showdown with Russia that will remove the loser from medal contention.
The US and Sweden, who is the reigning gold medalist in the last winter Olympics, sit pretty as they now await who will emerge from the rest of the pack in the quarterfinals. Russia, the Czech Republic, Canada and others will all fight it out to keep their medal hopes alive.
For anyone looking for more Team USA hockey information, anyone who registers on Teamusa.org will have access to the latest info and will receive exclusive updates throughout the games.