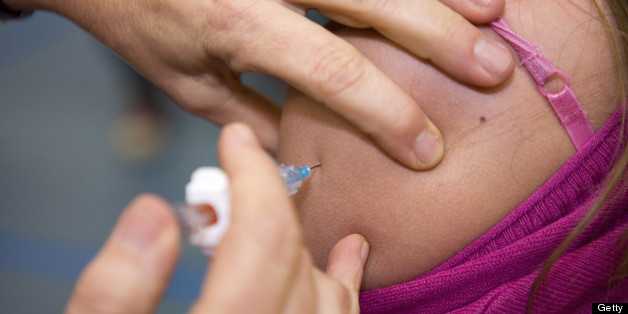 By Yasmeen Abutaleb
WASHINGTON, July 25 (Reuters) - Only slightly more than half of U.S. girls aged 13 to 17 had been vaccinated against a virus that can cause cervical and other cancers last year, and a top U.S. health official said on Thursday that more must be done to bring the rate up to the long-term goal of 80 percent.
The vaccination rate to protect against human papillomavirus (HPV) was 53.8 percent last year for teen-age girls, just marginally higher than the 53 percent rate a year earlier, the Centers for Disease Control and Prevention reported on Thursday.
The rate reflected girls who had received at least one dose of the vaccine. Full vaccination requires a three-dose series.
HPV is responsible for an estimated 26,000 cancers in the United States each year. About 79 million people in the country have the sexually transmitted virus, and 14 million are newly infected each year.
"We're dropping the ball," Tom Frieden, director of the Centers for Disease Control and Prevention, said on a conference call with reporters. "We're missing opportunities to give HPV vaccines and that needs to change."
The CDC collected data from the National Immunization Survey-Teen, which collects vaccination data for 13-17-year-olds.
The CDC recommends routine HPV vaccination for boys and girls at age 11-12, before they are sexually active.
The CDC noted that among unvaccinated girls, 84 percent had missed the opportunity to get an HPV shot when they visited a healthcare provider for another immunization. Had they also received an HPV vaccine at that time, the percentage of girls who had received at least one dose could be as high as 93 percent.
Each year the vaccination rate remains at its current 33 percent for girls who have received all three doses, an additional 4,400 women will be diagnosed with cervical cancer, according to the CDC.
HPV, which most often does not show symptoms for several years, can also cause vaginal and vulvar cancer in women and can lead to penile cancer in men. It may also lead to anal and throat cancers among men and women as well as genital warts.
HPV vaccines are sold by Merck & Co, under the name Gardasil, and by GlaxoSmithKline, under the name Cervarix.
The vaccination rate for adolescent girls who received the recommended three-dose series decreased slightly in 2012 to 33.4 percent from 34.8 percent a year before.
Health officials hope to achieve an 80 percent vaccination rate within seven years, according to goals laid out in 2020's Healthy People, a set of 10-year objectives aimed at improving health in the United States.
President Barack Obama's healthcare reform law, which requires almost all Americans obtain health insurance or pay a penalty beginning in 2014, could help increase the vaccination rate as uninsured families gain coverage for the shots, health officials said.
Health officials said many parents do not believe their daughters need to be vaccinated because they are not sexually active, or are afraid that receiving the vaccine will open the door to sex.
But Frieden and Thomas McInerny, president of the American Academy of Pediatrics, said like other vaccines, the HPV vaccine needs to be administered well before exposure to potential diseases.
For example, health officials have seen high success rates with a three-dose vaccine series for hepatitis B, a contagious liver disease. The doses for hepatitis B vaccine are typically given at birth and through the first few months of a child's life.
"We don't wait for exposure for any other vaccine," McInerny said on the call. "We recognize that the conversation about HPV can take extra time in practice."
REAL LIFE. REAL NEWS. REAL VOICES.
Help us tell more of the stories that matter from voices that too often remain unheard.
BEFORE YOU GO
PHOTO GALLERY
Misconceptions About HPV