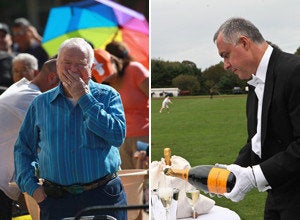 Americans' wages are falling, perhaps a reason why pessimism about their personal finances is now the lowest it's been in a decade.
(A correction has been upended to this post).

Meanwhile, U.S. households are growing increasingly concerned about their finances with more than 20 percent of adult Americans rating their financial situation as "poor," a Gallup poll finds. That's a larger share than the 16 to 19 percent of Americans who viewed their finances as poor during and after the recession. It's also the highest percentage since 2001, the first year of the survey, according to Gallup.
In some ways, the financial crisis has taken more of a toll on the employed during the recovery. Indeed, Americans' incomes have fallen more during the recovery than they did during the recession. Incomes dropped 6.7 percent during the recovery between June 2009 and June 2011, compared to a 3.2 percent drop during the recession from December 2007 to June 2009, a study from former Census Bureau officials found.
And it will take some time to get incomes back to where they were before the recession. The U.S. median income has declined 7 percent in the last 10 years and while economists expect incomes to rise over the next decade, it likely won't be enough to return to pre-recession income levels, the Wall Street Journal reports.
CORRECTION: An earlier version of this post misstated that the U.S. median income fell to $26,364. The U.S. annual median wage fell to $26,364.
Support HuffPost
The Stakes Have Never Been Higher
Related
Popular in the Community