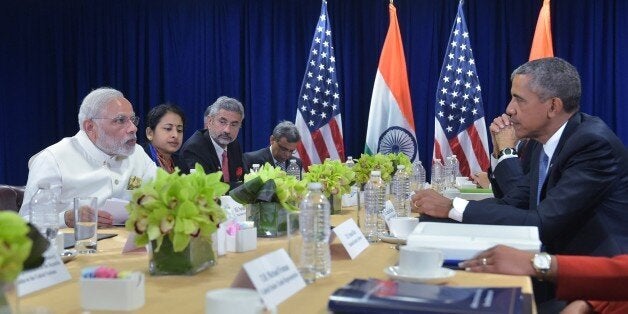 This post was co-authored by Ajay Banga and Frank Wisner.
Indian Prime Minister Narendra Modi was elected in May 2014 on the back of bold promises to restore growth and vitality to the lagging Indian economy. He promised millions of new jobs per year, especially for India's burgeoning youth, and a return to high growth rates after several years of stagnation. He laid out a bold reform agenda with economic growth at its heart.
Mr. Modi has accomplished some of what he promised. On the domestic front, he has undertaken many reforms that have been welcomed by the business community. Foreign direct investment is up 31 percent, and GDP growth has returned to the 7 percent he had promised.
But Mr. Modi's reform agenda has not yet extended to India's historically protectionist trade policies. Unlike many other developing countries, particularly in Asia, India remains largely outside the web of global and regional trade compacts. India's few existing trade agreements - with Japan and ASEAN for example - are weak and limited. India long ago expressed interest in the Asia Pacific Economic Community (APEC) community but there was then a moratorium on new members; they have not renewed their application since the moratorium was lifted. As a non-APEC member, India is not eligible to join the ongoing trade talks known as the Trans-Pacific Partnership (TPP). In those trade and economic talks in which India has participated, such as the global Doha trade round, its policies have been protectionist.
For Mr. Modi to achieve his ambitious economic targets for India, he must extend his reform agenda to the realm of trade. If he does so, the benefits to his economy and people will be substantial.
A new report by C. Fred Bergsten at the Peterson Institute for International Economics entitled "India's Rise: Toward Trade-Led Growth," lays out the stakes. If India were to complete its domestic reforms and join an ambitious TPP agreement that included all of the APEC countries, the report predicts India could expand exports by more than $500 billion per year. Indian national income could rise by 4% per year, by more than $200 billion. The Peterson Institute study - supported by the US-India Business Council (USIBC) - vividly demonstrates the benefits to India of building an expanded trade agenda into its domestic reform agenda.
By contrast, if India stands aside while its Asian and Pacific neighbors join an expanded TPP, the Peterson study forecasts export losses of $50 billion per year, as trade is diverted away from India and toward the negotiating partner. And of course, India would forego the $500 billion in potential gains from expansive trade engagement.
The economic incentives laid out in the Peterson study are clear: stand pat with India's protectionist policies and lose trade and economic vitality to others and lose $50 billion in exports annually, or embrace a more open approach and reap the economic benefits at home, with millions of additional jobs and up to $500 billion in added exports. As the report notes, "No country, including India during its growth spurt of the past decade, has achieved such expansion without deepening its interdependence with the world economy."
In light of Mr. Modi's recent trips to New York and Silicon Valley, we in the business community urge him to take this opportunity to consider a new direction for India on trade, and for the Obama administration to take the opportunity to set a new frame for US-India relations.
Prime Minister Modi could start by signaling that India was ready to be a productive trade partner - one that would raise tough questions but also take on the tough domestic issues that need to be resolved for India's trade potential to be realized. He could once again apply to join APEC, and show his country's seriousness and attractiveness by signaling a new openness to expanded trade and engagement. He could take an interest in the TPP talks, which are reportedly near to conclusion for the initial dozen countries, and signal a desire to join in the second wave. He could seek to join important plurilateral negotiations on services and environmental goods. And he could invigorate longstanding efforts to negotiate a bilateral investment treaty (BIT) with the United States.
The United States for its part should embrace and encourage such a path breaking initiative. If Modi were to extend his bold reform agenda to India's trade practices, the US could use its considerable influence to assist India's integration. With President Obama having already welcomed India's interest in joining the APEC forum, this is the time for India to move toward membership, with a new and open trade agenda. As a leading player in TPP and plurilateral negotiations, the United States could facilitate and support India's positive engagement.
Key members of the US and Indian cabinets will meet in Washington this month. A week later, Obama and Modi will meet in New York. The Peterson study shows the dramatic benefits for India of a new path on trade. And for both of our countries, a broadened economic engagement and partnership could provide the pathway to a new framework of engagement that would solidify India's role as a strategic partner of the United States.
Just as President Bush and Prime Minister Singh set an enduring frame for US-India relations in 2005 with the historic Civil Nuclear Agreement, President Obama and Prime Minister Modi have the chance to forge a durable framework for our relations for years beyond this administration - building on their excellent personal relationship, setting a path for the next US president, and giving President Obama his own legacy on the subcontinent.
Ajay Banga is president and CEO of MasterCard, and Chairman of the U.S.-India Business Council (USIBC). Frank Wisner was U.S. ambassador to India. He and Nelson Cunningham serve on USIBC's board.
Calling all HuffPost superfans!
Sign up for membership to become a founding member and help shape HuffPost's next chapter