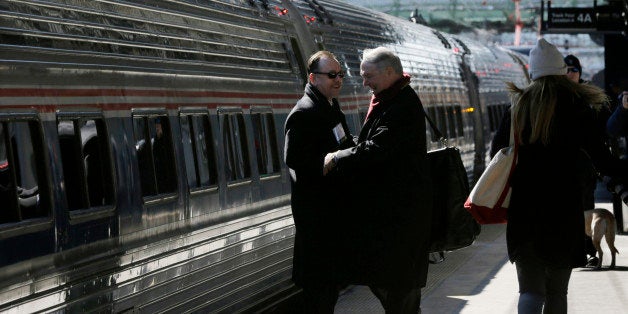 The U.S. economy's not the only thing that needs repairing. Despite being one of the early movers in infrastructure, the U.S. has now fallen behind with the upkeep. This year marks the 200th anniversary of America's first railroad charter. The country has come a long way in infrastructure since those days, but it's not necessarily in great shape.
America needs an estimated $3.6 trillion by 2020 to improve its infrastructure, according to the American Society of Civil Engineers (ACSE). Lawmakers have until May to come up with a funding plan for a national structure overhaul as the Highway Trust Fund that currently pays for projects nearly runs out.
Political officials agree that infrastructure upgrades are vital to the health of our country. President Obama announced in his State of the Union address this year that we need better ports, bridges, trains and internet speeds because "21st century businesses need 21st century infrastructure."
Republican House Speaker John Boehner also said it was "critically important" to improve the country's structures and facilities, including every day utilities. America's drinking water scored a D on ACSE's report card. Among all infrastructure categories, D+ is the average score.
Government officials have demonstrated a unified commitment toward fixing our national infrastructure. They've also expressed a willingness to spend additional capital as needed. But officials remain divided on how to raise the required funds, and the underlying problem behind the lack of adequate infrastructure investment may not be rooted in whether or not government agencies can issue the needed bonds to finance such projects.
In our view, it's been the unwillingness of elected officials -- and voters -- to agree on increasing taxes to pay back the bonds that are then used to finance infrastructure projects. Without the confidence that this will happen, investors are unlikely to buy the new bonds because there isn't going to be a strong source of revenue to repay the new class of bonds. Congressional and local elected representatives would have to agree on creating a funding source that repays new bonds if the program is to be successful.
And this is just one potential revenue solution. Other alternatives include taxing at the same level but cutting spending elsewhere, so the savings can be applied to infrastructure investment. This same pool of capital can also help pay the interest and principal on tax-exempt bonds that could help solve the under investment problem.
It's an impediment to getting increased funding for infrastructure when federal, state and local governments don't have a fully-developed system in place that generates money from existing facilities and structures. We believe the U.S. has robust infrastructure capabilities where the ability to generate revenue that helps pay for future projects already exists.
For instance, electric utility, oil and natural gas pipelines are examples of infrastructure investments that were principally built on a profit-seeking motive because they charge a fee for use of services. Contrarily, the infrastructure built by various government entities doesn't have this revenue structure. Most of the infrastructure projects that are government-sponsored don't possess an inherent revenue stream attached to it that helps pay for the infrastructure. Those revenues can then be used to finance needed repairs. Right now, most of these structures and facilities instead rely either directly or indirectly on tax revenues.
And this is mainly where our lawmakers disagree. Congress and our presidential administration have varying opinions, and we believe there's tension among political parties between increasing infrastructure spending and increasing tax revenue. The debate is whether there should be a limit on high-income individuals' ability to take advantage of the tax-exempt interest income while proposing a new program at the same time that expands the issuance of tax-exempt securities. The majority of these securities are purchased by high-income -- so high marginal tax rate -- individuals.
Under the existing tax law that governs the issuance of securities that are exempt from federal tax on the interest income, investments made for a public purpose have a better chance of getting exemptions because the qualifications are broader. But when the pendulum swings toward increasing revenues for the U.S. Treasury, then Congress narrows what qualifies as a way to increase tax revenue.
In general, it may take a consensus among lawmakers on the taxation debate to help move our infrastructure forward. Getting government officials to agree on fixing infrastructure was the first step, but that may have been the easiest one.
Calling all HuffPost superfans!
Sign up for membership to become a founding member and help shape HuffPost's next chapter