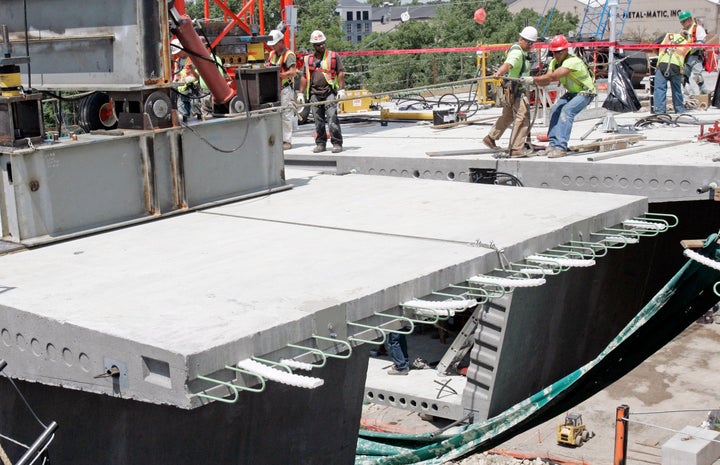 The U.S. needs to improve crumbling infrastructure to boost the recovery, according to a report released on Tuesday.
The report comes as federal efforts to invest in infrastructure took a hit in budget negotiations, with $1.5 billion of funding slashed from an Obama administration project to build a national high-speed rail system.
While there is is little indication that additional funds will be dedicated to infrastructure, the report by the Organization for International Investment, which represents the interests of U.S. subsidiaries of multinational companies, argues that multinational companies could help fill the funding gap.
"Partnering with the private sector could build infrastructure in a way that works for taxpayers, and for the country," Matthew Slaughter, the report's author and a professor at Dartmouth College's Tuck School of Business, said to The Huffington Post.
In "Building Competitiveness: American Jobs, American Infrastructure, American Global Competitiveness," Slaughter argues the U.S. could fail to attract foreign companies -- and the desperately needed, high-quality jobs they provide -- if the country does not substantial invest in roads, waterways, railways, bridges and other infrastructure.
Slaughter wrote that modernization efforts like high-speed rail development are vital to economic growth -- and helped make the U.S. a leading economy in the first place: "High-quality infrastructure has helped boost U.S. productivity and standards of living, in part by encouraging global companies to create high-paying jobs here. Today, however, America's infrastructure is deteriorating -- both in absolute terms and relative to other countries that are rapidly bolstering their infrastructure."
The nation's aging infrastructure was thrown into sharp relief in August 2007 when an interstate bridge jammed with rush hour traffic suddenly collapsed, pitching dozens of cars into the Mississippi River below and killing 13 people.
In 2009, a report by the American Society of Civil Engineers found that delayed maintenance and almost no modernization left the U.S. with failing infrastructure, threatening the economy, and lives.
Despite evidence of pressing need, there is already a massive funding gap for infrastructure projects.
"American Society of Civil Engineers estimates that between 2009 and 2014, raising America's overall infrastructure condition to "good" would require $2.2 trillion in new investment," Slaughter wrote in the report. "However, federal, state, and local spending over that period is projected to be just $1.1 trillion."
While there was some stimulus-funded infrastructure development, improving infrastructure took a backseat to the more pressing recovery, said Slaughter. But, "the challenge is still there, and has intensified as the economies of countries like China and India -- among many -- continue to grow," he said, adding that those countries were now competing with the U.S.
U.S. subsidiaries of foreign companies are a vital part of the economy, producing 18 percent of all U.S. exports -- worth around $232 billion -- Nancy McLernon, president of the Organization for International Investment, argued during a conference call.
McLernon added that foreign companies also employ almost 6 million American workers, paying them a total of $408 billion last year, with an average salary of just over $73,000, which is 33 percent higher than the average at U.S. companies, according to figures from the Organization for International Investment. Weak infrastructure could undercut these numbers, McLernon added. "It's a critical hurdle facing the U.S., which, if not overcome, will affect the country's ability to attract global companies," she said.
Frank Bozich, president of a division of German chemical giant BASF, based in Florham Park, New Jersey, said transport links affected the pool of qualified workers the firm could hire. "We're really looking to add highly skilled, educated people, but also give them a good quality of life. The radius we can attract from can be narrowed by rail and road links," Bozich said during the conference call. "It's not a good quality of life if someone's spending two hours in a car," he said, adding that companies seriously considered infrastructure when figuring out where to go next.
Related
Popular in the Community