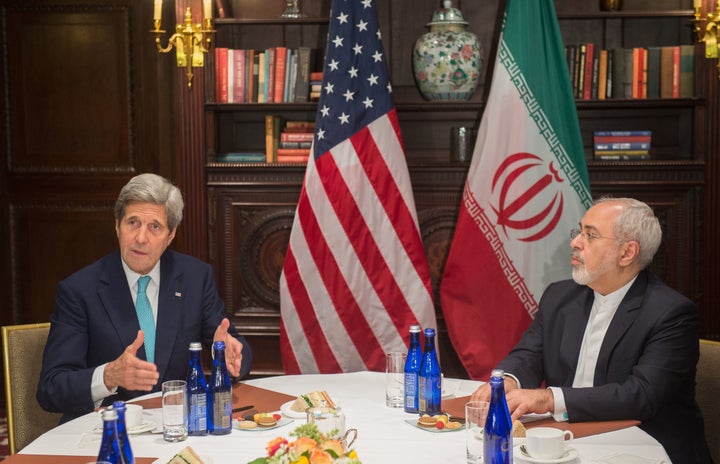 WASHINGTON ― As the international community marks the one-year anniversary of the Iran nuclear deal, some Iran-watchers say they are worried what will happen after the Obama administration, staffed with officials who helped broker the historic diplomatic agreement, leaves office in less than six months.
These concerns are based on a belief that a foundation of the U.S.-Iran rapprochement is a delicate personal relationship between two key actors that's unlikely to extend into the next president's administration, even if former Secretary of State Hillary Clinton wins the election.
In the absence of formal diplomatic relations, it was the efforts of U.S. Secretary of State John Kerry and Iran Foreign Minister Mohammad Javad Zarif ― and a handful of their deputies ― that allowed the U.S. and Iran to reach breakthroughs like the nuclear accord and a subsequent prisoner swap. The unusual relationship between Kerry and Zarif also allowed the secretary of state to phone his counterpart and avert a military confrontation when U.S. Navy sailors accidentally drifted into Iranian waters earlier this year.
"You don't have anybody, as of Jan. 20, or maybe before, who can pick up the phone to somebody and say, 'Hey look, we've got a problem' … There's nothing in place that would help you deal with an emergency," said William Luers, a retired diplomat with 31 years of experience in the foreign service.
"There's lots of ready-made opportunities for mistakes," Luers cautioned. "And once there's a mistake, then you have to figure out, how do you unravel it. The immediate reaction, given the nature of the U.S.-Iranian relations historically, is to be macho on both sides. And then you lose control of a situation."
Some regional experts and former diplomats fear that outgoing Obama administration officials will be replaced in January by people less willing or less able to manage potentially explosive bilateral issues with the longtime U.S. adversary.
There's lots of ready-made opportunities for mistakes ... The immediate reaction, given the nature of the U.S.-Iranian relations historically, is to be macho on both sides. And then you lose control of a situation.

Retired U.S. diplomat William Luers
Whether it's Clinton or former reality television star Donald Trump in the White House, "relations are going to deteriorate to some extent," predicted Ariane Tabatabai, an Iran expert and visiting professor at Georgetown University.
While parties to the nuclear agreement have generally adhered to its terms, there's a long list of potential flash points facing whoever replaces Kerry as secretary of state. Over the past year, the Iranians have accused the U.S. of discouraging foreign investment in Iran, dampening the effects of sanctions relief.
Congressional Republicans marked the one-year anniversary by calling for more sanctions against Iran, which Tehran would likely view as a violation of the deal. Iran continues to imprison U.S. citizens without charges, or on unfounded allegations. Washington and Tehran back opposite sides in civil wars in Syria and Yemen. And even with a common enemy ― the Islamic State ― they differ in how to fight the extremist terrorist group. The large U.S. Navy presence off the coast of Bahrain makes an altercation between the American and Iranian militaries a constant simmering threat.
"The reality is, personal rapport matters tremendously, and the rapport that has been built between Kerry and Zarif is a unique one," said Trita Parsi, the head of the National Iranian American Council, which lobbied aggressively in support of the nuclear accord.  
That rapport between Kerry and Zarif was developed after the two spent hours in marathon negotiation sessions, in person and over the phone.
"It's certainly true that the negotiations at some point did get personal with the fact Zarif and Kerry are kind of the same sorts of guys," said Richard Nephew, a former member of the State Department negotiating team. "They're big talkers. They like the thrust of the debate. It was adversarial at times, but I think they genuinely understood one another and could see eye to eye on a number of things."
While Clinton and her top aide Jake Sullivan were involved in early stages of the negotiations with Iran, it's not clear that they ever developed that same rapport with their Iranian counterparts (in part because Iran's more moderate leadership came to power shortly after she stepped down as secretary of state).
Parsi described Iranians as generally "suspicious" of Clinton. Tabatabai said they are "wary" of her. Parsi and Tabatabai said people in Iran took note when Clinton listed "the Iranians" as an enemy she is proud to have made during a presidential debate last year. When Clinton speaks about enforcing the nuclear agreement, said Parsi, she frames it in terms of punishing the Iranians for potential violations and does not explicitly promise to block congressional sanctions that could stymie the agreement, as Obama does.
But Nephew argued that the notion that Clinton is substantially more aggressive in her rhetoric on Iran than the Obama administration is overhyped. President Barack Obama and his deputies often talked tough on Iran, too, he noted. In the final stages of negotiations, Obama concluded nearly every statement on the subject with an obligatory warning that if talks failed, the U.S. would bomb Iran to prevent it from getting nuclear weapons.
The nuclear agreement succeeded, Nephew said, not because Kerry and Zarif got along, but because both countries deemed it to be in their strategic interest ― a reality that is likely to outlast the Obama administration.
"It's not clear to me that Mr. Trump understands this agreement, has read this agreement, understands the weight of this agreement, or would know how to manage this agreement," said Wendy Sherman, a former undersecretary of state who served as the State Department's chief negotiator in the nuclear talks.
Regardless of what approach Trump would ultimately land on, it's unlikely that the Islamic republic would be receptive to a man who has floated the idea of banning Muslims from the U.S. That's especially true if he selects as vice president former House Speaker Newt Gingrich, who has appeared multiple times at rallies hosted by the Mojahedin-e-Khalq, or the MEK, an exiled group advocating regime change in Iran. Republicans and Iran hawks, of course, may regard Trump's disinterest in establishing establishing ties with the Iranians as a virtue.
Both the Clinton and Trump campaigns declined to comment for this article.
Individual personalities aside, it's the lack of broad, institutionalized means of communication between the two countries that causes supporters of improved relations between the U.S. and Iran to worry.
... It is hard to imagine how this level of dialogue can continue once Obama leaves office.

Seyed Hossein Mousavian, former nuclear negotiator for Iran
Embassies and diplomats typically provide continuity when a president leaves office. There are some career foreign service officers, like Stephen Mull, the diplomat tasked with overseeing implementation of the nuclear deal, who have relationships with the Iranians and will likely stick around past January. But Mull's mandate is strictly limited to the nuclear issue.
A State Department official, who requested anonymity to discuss internal deliberations, said there are efforts underway aimed at "solidify the existing relations beyond what Secretary Kerry and Foreign Minister Zarif have established and to ensure that going into the next administration, there will be lines of communication." But the official declined to elaborate.
The most obvious solution would be for the U.S. and Iran to re-establish normal diplomatic relations, Zalmay Khalilzad, a former ambassador to Afghanistan, Iraq, and the United Nations; and James Dobbins, a former special envoy to Afghanistan, suggested last month. But a more politically realistic approach, they said, would be to assign mid-ranking diplomats to the interests sections of embassies representing each other ― Switzerland for the U.S. in Iran, and Pakistan for Iran in the U.S.
If there is a concrete plan to avoid a breakdown in communications, it seems that former diplomats from both sides have yet to hear about it.
"The relationship between Kerry and Zarif was hugely impactful in terms of reaching the [nuclear deal] and continuing cooperation afterwards. However, because it is more a personal relationship and not institutionalized, it is hard to imagine how this level of dialogue can continue once Obama leaves office," Seyed Hossein Mousavian, a former nuclear negotiator for Iran, wrote in an email. "The channels of communication need to be formalized," Mousavian continued.
Calling all HuffPost superfans!
Sign up for membership to become a founding member and help shape HuffPost's next chapter
BEFORE YOU GO
PHOTO GALLERY
Responses To Iran Deal