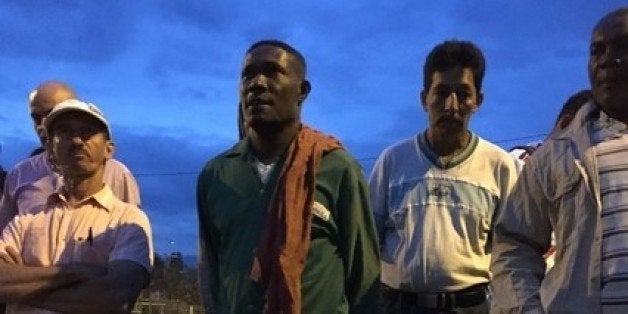 I just returned from Colombia with a delegation of the Coalition of Black Trade Unionists (CBTU). We travelled to Cali, Quibdó (in the Choco Department) and Bogota to hear from numerous representatives of the Afro-Colombian community about the grave civil, human and labor rights situation confronting them, and their demand to have a say in the ongoing peace talks in Havana, Cuba in order to find redress for their concerns. A copy of our full delegation Report can be found HERE.
As our delegation observed, Colombia is at least fifty to 75 years behind the U.S. in terms of race relations. Incredibly, there are no laws which protect Afro-Colombians from racial discrimination in employment or services. As a consequence, Afro-descendants, who officially make up 10 percent of the Colombian population, though in reality up to 25 percent, have no presence in high-level positions in the State, or in the private sector, media, industry or financial market. In addition, 78.5 percent of Afro-Colombians live under the poverty line, over 30 percent have no water and sanitation services, their infant mortality rate is over three times the national average at 76 per 100,000, and their life expectancy is also well below the national average at around 65 years.

Yet, these statistics do not begin to capture the depths of the crisis confronting the Afro-Colombian people. While 6 million people in Colombia are internally displaced (the second highest figure on earth), one-third of these, or 2 million, are Afro-descendant. And, as many of us who opposed the U.S.-Colombia Free Trade Agreement (FTA) had predicted, such displacement has only accelerated after the 2011 passage of the FTA which has allowed, and indeed encouraged, the penetration of the prized Afro-Colombian land on the Pacific coast by mining and agricultural companies which often utilize armed groups to forcibly remove Afro-Colombians from territorial lands -- lands which are supposed to be protected by Colombia's Law 70.
Moreover, as Amnesty International has recently reported, "[m]ost forced displacement has been carried out by paramilitaries and the security forces, either acting alone or in collusion with each other," and, as witnesses we talked to confirmed, these forced displacements are often-times accompanied by grisly crimes such as "the forced recruitment of children and youth, sexual and gender-based violence (SGBV), threats, disappearances and murders . . . ."
As eloquently explained by one Afro-Colombian leader -- a young, brave attorney who herself has been displaced for a second time and who would rather her name not be mentioned -- the Colombian government has itself recognized that their rights to the territory have been violated.
Indeed, they have won a number of court decisions under Law 70 which was passed to protect their territorial land, but none of these court decisions have been enforced. She said that "a slave-like system, a system of murder is instead being reinforced."
She explained that they are being targeted by a number of armed groups, especially right-wing paramilitaries, but also by FARC who recently assassinated one of their leaders. Helicopters have bombed their homes, land mines have been laid around their communities and the water that they depend on is being contaminated by mercury from illegal mining operations. But, she exclaimed, with righteous indignation, "who cares, we're black?!" She asked how one can talk about a peace process when there are "chop houses" operating in Colombia (most famously in the port town of Buenaventura) where paramilitaries terrorize the community by dismembering social leaders while they are still alive. She related that 60 percent of the Afro-Colombian territory is being destroyed by mining operations. She emphasized that the U.S. has financed this war in Colombia and that the U.S. has a duty to construct the peace. She concluded by saying, "We Afro-Colombians gave birth to humanity, we must give birth to the peace."
For its part, the Office of the UN High Commission for Refugees (UNHCR) recently reported on the continuing problem with paramilitaries forcing thousands (disproportionately Afro-Colombians and indigenous) off their land. As the report explains:
Areas such as Córdoba reported high levels of pressure by armed groups, especially post-demobilization armed groups [i.e., paramilitaries], in actions affecting land occupation and land restitution processes. Conflict continues in strategically important areas of Colombia, particularly in the coastal and border departments of Arauca, Chocó, Nariño, Norte de Santander, and Putumayo. The Pacific region of the country continues to generate most large-group displacements affecting four departments, with the highest concentration in Cauca followed by Valle del Cauca.
Our trip was organized by Marino Cordoba, the founder of AFRODES, a group which advocates for the rights of displaced Afro-Colombians. Mr. Cordoba himself has been forcibly displaced on several occasions, beginning in 1997 when his town of Riosucio, in the Choco Department, was famously invaded by a paramilitary group known as the Self-Defense Forces of Cordoba and Uraba (ACCU) with the active support of the U.S.-backed Colombian military.
Quite frighteningly, similar operations are now being carried out in the same area by a paramilitary group known as the Self-Defense Forces of Colombia Gaitanistas' (AGC). As Semana Magazine explains, "[o]ne of the similar aspects of this raid with that of the ACCU in 1997 is that the arrival of the AGC to the basins of the Lower Atrato had no restriction by the security forces. State reports outlined the presence of speed boats of the Navy that crossed the Atrato River from the town of Riosucio, as well as soldiers from Front 54. For this reason, communities feel a deep mistrust because there is no explanation as to how this illegal armed group reached Truandó without an effective reaction" by the state security forces. Moreover, some of the paramilitaries entering the area are wearing official "uniforms with insignia of the Marine Corps, but identified as 'Self-Defense Forces of Colombia Gaitanistas,'" again showing the continuing links between the paramilitaries and the U.S.-backed Colombian military.
Not surprisingly, both the U.S. and Colombian governments are vigorously denying the very existence of the paramilitary forces. U.S. Ambassador Kevin Whitaker indeed engaged in such denials in our meeting with him at the U.S. Embassy in Bogota on October 5. The denial of the existence of the paramilitaries serves quite well the purposes of the U.S. in creating them back in the early 1960's -- that is, in order to give plausible deniability to the U.S. and its Colombian military surrogates for their war against those who would challenge the unjust social order which continues to reign in that country.
It is critical for those of us concerned with human rights to shine a light on the Colombian military/paramilitary alliance which continues to plague the Afro-Colombian people with particular intensity, and which is leading to what Afro-Colombians are terming, "ethnocide"; others would call it "genocide."
Calling all HuffPost superfans!
Sign up for membership to become a founding member and help shape HuffPost's next chapter