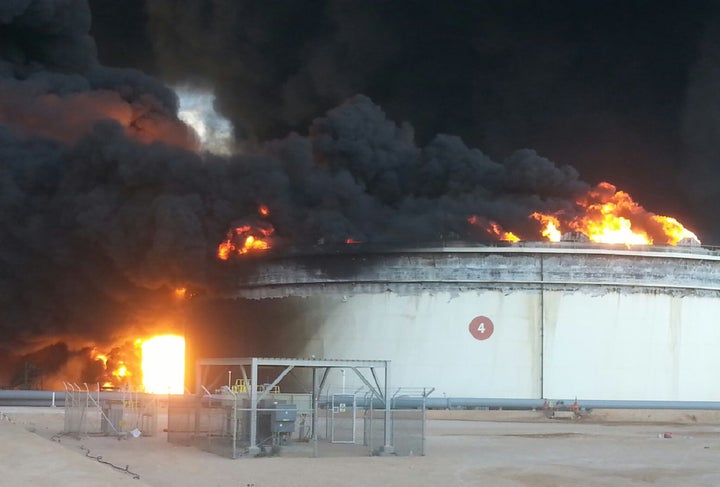 WASHINGTON -- A deal to establish a central unified government in Libya may be reached by early next week, paving the way for the country to ask the U.S. and other international powers to act against the so-called Islamic State's presence there, according to a top official from the country hosting the Libyan peace talks.
Mbarka Bouaida, Morocco's minister-delegate for foreign affairs, made the prediction in an exclusive interview this week with The Huffington Post.
"We try as much as we can, as far as we can as Moroccans, to make a deal between them to find a solution," Bouaida said Wednesday. "We're still optimistic on this point. We think we can find a good deal, and they can maybe by the end of this week or early next week, find a solution to fix their government."
The minister predicted that if the warring factions in Libya do achieve that kind of settlement, they will ask for help from Washington to tackle ISIS.
"I don't think they can do it by themselves," Bouaida said. "It will be very difficult. But let them come and ask for it. They know each other better than we do and it's a question of tribes and internal regions, internal fighting, but we need them to tell us exactly what they want us to do with them."
American officials have been indicating since late January that they are concerned about the Islamic State organization, also known as ISIS or Daesh, becoming stronger in war-torn Libya. Brett McGurk, the Obama administration's envoy to the global coalition against ISIS, told Congress this week that ISIS's affiliate in Libya is the most worrying affiliate of the group beyond its hub in Iraq and Syria. The radical militant group has governed Sirte, an important city on Libya's Mediterranean coast, since last year, and it may have up to 6,500 fighters in the country, U.S. officials told CNN early this month.
ISIS's increasing power could spell trouble for thousands of Libyans, send even more refugees into Europe and threaten the strategically important oil reserves thus far maintained secure as the rest of Libya has descended into conflict.
Sen. Bob Corker (R-Tenn.), chair of the Senate Foreign Relations Committee, told Politico on Tuesday that the U.S. is "on the verge of taking action" against ISIS in Libya.
Bouaida said the chief reason there hasn't been broader action against the group in Libya yet is that international powers lack a clear parter to coordinate with there.
"The matter of fighting against ISIL has become very urgent in Libya," the Moroccan minister told HuffPost, using the Obama administration's preferred term for the Islamic State. "This is why it's important to finalize this agreement based on peace talks. And then the second next step will to be sit with the Libyan government, the international community and the Libyan government, to see how we could fight all together against ISIS."
Two rival governments have been clashing in Libya since 2014 -- creating confusion that allowed ISIS to thrive there and pick up support among extremists, some linked to al Qaeda, who have long had a presence in the vast North African state.
The internationally recognized parliament is based in the town of Tobruk in the country's east, and is supported by armed forces calling themselves Operation Dignity. In the west, a rival assembly composed primarily of Islamists is based in the capitol of Tripoli, where Libya's main state institutions are still functioning, and is allied with a militia called Libya Dawn. Both sides oppose ISIS, which would not allow either to control the country.
Yet they have been unable to agree on a unified government, in part because rival militias face pressure from their international backers -- the UAE and Egypt on the Dignity-Tobruk side, and Qatar and Turkey on the Dawn-Tripoli side.
These outside powers are U.S. partners who swooped in to support proxies vying for control since a 2011 NATO intervention toppled the government of Libyan strongman Muammar Qaddafi.
But fears about interference persisted, peaking when it emerged in November that the outgoing UN envoy had accepted a lucrative job in the UAE.
Still, the two sides signed a deal for the formation of a united government in the Moroccan town Skhirat in December.
Bouaida noted that the UAE and Qatar had endorsed the agreement.
But it has since appeared shaky. The UAE-linked parliament voted down the administration that mediators proposed in January over how it treated the country's security apparatus. Many of its members would like to see military matters handled by Gen. Khalifa Haftar, the controversial leader of the Dignity militia and a staunch opponent of any Islamists, including those in the rival government.
Bouaida, the Moroccan minister, said that dispute is the current focus of the talks, and noted that another complaint the Tobruk government raised -- the planned government being too large -- had already been addressed.
"Today, they are still [in Morocco] working on this issue and trying to find a solution," she added. "We believe that they will find a solution since they all agree on the reduction on the number of members of government. There is one main issue where they are still stuck, in the security issue ... obviously, they don't have the same point of view on that and they cannot agree on one person to be in charge of the defense and security matters."
Hinting that the final resolution could not be accomplished in the current polarized environment in Libya, the minister added that the U.S. could "try to convince all foreigners" not to interfere in Libya. "The ideal solution" to the country's problems, she said, will have to be found by Libyans.
Popular in the Community