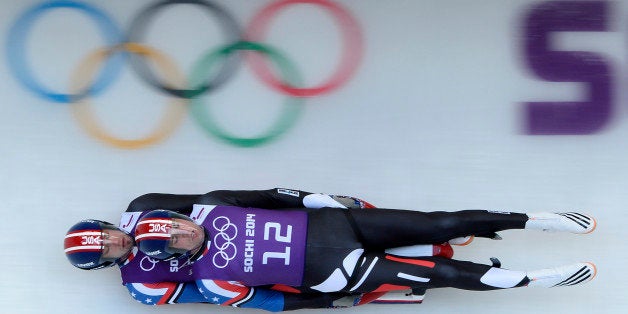 Some members of the U.S. luge team wouldn't let slide a pro-gay rights video that features their sport. They're annoyed and even "furious" over it, according to reports.
The popular, lighthearted PSA takes aim at Russia's hostile stance toward the lesbian, gay, bisexual and transgender community, as well as the country's ban on "gay propaganda." The video, by the Canadian Institute of Diversity and Inclusion, shows two male competitors, one straddling the other as they rock back and forth, at the start of doubles luge. The caption reads, "The Games have always been a little gay. Let's fight to keep it that way."
Niccum went on to complain to Reuters, "When we were kids I didn't get on the doubles sled thinking, well it never even crossed my mind, that 'oh, this is gay.' ... When did we become so sexual about everything."
Luger Matthew Mortensen told NYT that his event is easy fodder. "Doubles luge is always the target. It's never about football players taking a snap or whatever. We've heard all this stuff before."
But one luger seemed to take the joke in stride. Preston Griffall noted to the Times, "We're two dudes, laying on top of each other in spandex. Of course people are going to make fun of it."
Check out the PSA (below).
REAL LIFE. REAL NEWS. REAL VOICES.
Help us tell more of the stories that matter from voices that too often remain unheard.