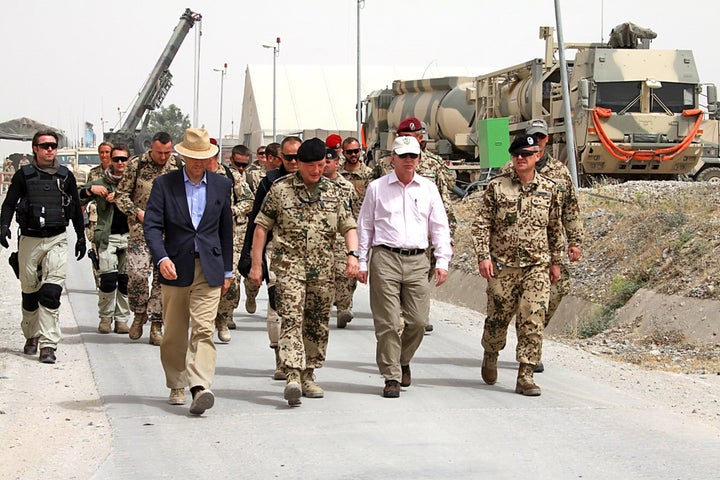 That resolution will now become official policy of the mayors' organization -- a small symbol of growing opposition to the war in Afghanistan. The mayors are asking that money spent on wars abroad be used in the United States to develop cities and towns. The last time the conference approved a resolution like this was during the Vietnam War.
On Sunday, Muhammad Younus Nawandish, the mayor of Kabul, expressed some reservations about the idea of an American withdrawal. Nawandish spoke to the conference on Saturday. He told HuffPost that his country was still "in need of security from the international community."
"We understand that the U.S. military will not stay in Afghanistan forever. But still we need your existence for the stability of Afghanistan. If they withdraw now there is a possibility of falling Afghanistan back into during the Taliban regime," Nawandish said through an interpreter.
Debate over the resolution primarily centered on whether it showed sufficient support for American troops abroad.
Pete Lewis, the mayor of Auburn, Washington, cited his own service in Vietnam, arguing that the mayors would repeat "the mistakes another generation did" if they signaled a lack of support for troops abroad. The resolution was amended to make sure no one could interpret it as a statement against service members.
Another amendment suggested by Mayor Mick Cornett (R-Oklahoma City) made sure the resolution also called on President Obama -- in addition to Congress -- to redirect funds to cities and towns.
Before that amendment was approved, Cornett said the resolution should have been referred to the "ideas we oughta stay the hell away from committee."
But Mayor Paul Soglin (D-Madison, Wis.) said that the resolution, which did not call for an immediate withdrawal from wars abroad, was "rather temperate."
"This one does not call for an immediate withdrawal, but it calls for speeding up the effort for ending this war," Soglin said. He and other Democratic mayors supporting the resolution cited the immense cost of wars in Iraq and Afghanistan as motivation.
Mayor John Dickert (D-Racine, Wis.) said, "I believe that we should pass the resolution just to simply say that we think that we need to reevaluate where our funds are going and that they are rebuilding our country."
Popular in the Community