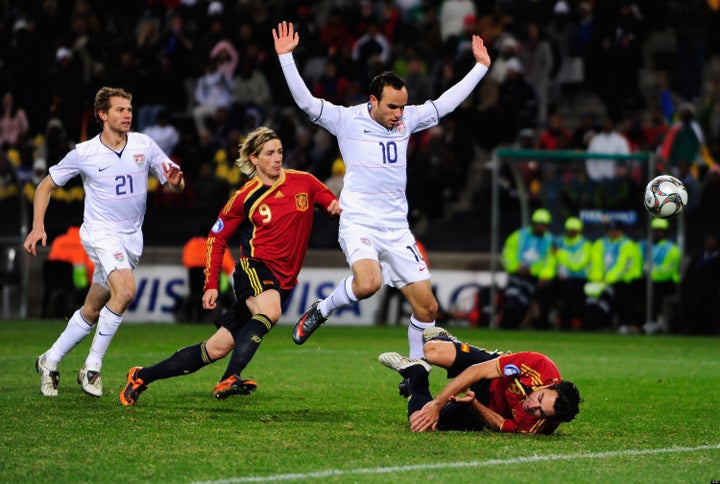 After a thrilling and unlikely first half lead, the US men's soccer team lost 3-2 to Brazil in the FIFA Confederations Cup final today at Ellis Park Stadium in Johannesburg. For an American soccer enthusiast abroad like myself, it was crushing to watch our modest home team come so close to beating the juggernaut that is Brazil, only to lose in the last minutes of the game. As a cruelly accurate banner one South African football fan was holding read, "USA, no you can't."
The United States played a largely defensive game despite scoring two elegant goals in the first 30 minutes of the match, with Brazil taking 28 shots on goal total compared to only eight for the Americans. For 74 giddy minutes of play Brazil's dominance in attacks and possession of the ball didn't seem to matter, as the United States' defense doggedly shut down plays by Brazil's star forwards Kaka and Fabiano. The loyalty of the crowd began to shift from Brazil to the United States in the stadium, with one fan near me excitedly blurting out "Obama"! As another South African fan had explained to me earlier, "we're mainly for Brazil, but it's okay with us if the United States wins, because they're the underdog."
The top of U.S. defender Oguchi Onyewu's head was arguably the star of much of the game; a half a dozen times at least, Onyewu dove to head away a dangerous shot or cross. Goalkeeper Tim Howard was everywhere he needed to be, and exuded upbeat confidence that seemed to keep the whole team going, offering low-key high fives to his teammates after they cleared the ball. Near the end of the first half, after a breakaway by Andre Santos seemed sure to end in a goal for Brazil, Howard made a brilliant point-blank save.
But Brazil kept the attacks coming in the second half of the game, and they wore the United States down. In just the first minute of the second half, Brazilian forward Fabiano turned, shot, and scored in one brilliant fluid movement. After that Brazil seemed to find its strength as the United States lost energy and confidence. Howard gave up two more goals, none of which he could have prevented, and what could have been the United States' greatest win became a respectable loss. Clint Dempsey, who scored the first goal of the game for the United States, was in tears as he accepted a bronze individual award for outstanding play.
There's no shame in loosing to Brazil 3-2, and their second place finish in the Confederations Cup was still an upset of sorts for the United States. Now, if only the team can figure out how to mount a real offense before the 2010 World Cup...

Calling all HuffPost superfans!
Sign up for membership to become a founding member and help shape HuffPost's next chapter