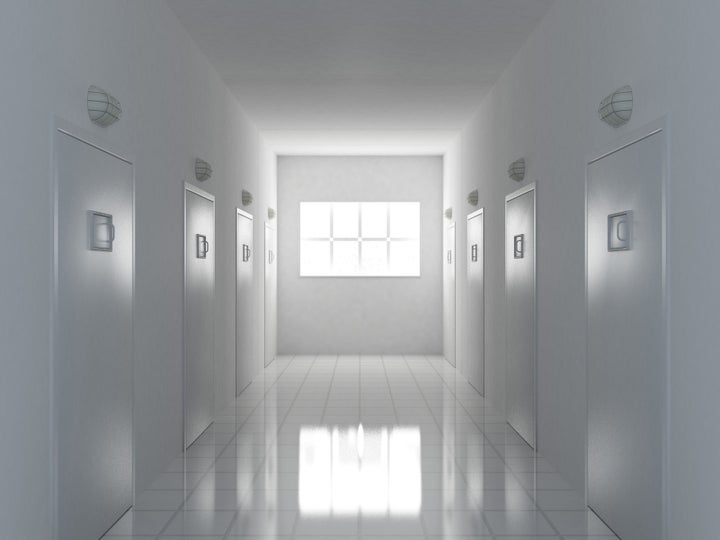 On Feb. 9, 1844, the governor of Missouri ate breakfast, went to his office and locked the door. Then he shot himself with a rifle. Thomas Reynolds' death rattled the state and inspired a conversation about mental illness that led to the founding of its first public mental hospital.
One hundred and sixty-eight years later, Missouri's mental health system is in crisis.
"The place is something out of the 1920s," Missouri State Rep. Jeanne Kirkton said of Fulton State Hospital, the state's first. "Have you ever seen 'One Flew Over The Cuckoo's Nest'? It's that, but worse."
For the state's severely mentally ill, Fulton is one of a dwindling number of options. According to an April 2012 Missouri Hospital Association report, there are only 637 licensed psychiatrists in the state. Budget cuts have forced both public and private hospitals to reduce the number of psychiatric beds they provide, while community-based mental health services have lost $17.2 million in the past 3 years alone.
Missouri is not an outlier. The National Alliance on Mental Illness in 2009 gave America's mental health system a D rating. When state budgets across the country have needed trimming in recent years, mental health services have often been among the first to go.
"It is not a glamorous issue," said Sandy Pasch, a state representative from Wisconsin. "Mental health is often one of the first things to cut ... it's not one of the heavily lobbied groups."
In the past three years, $4.35 billion for services has been cut from state budgets across the country, according to a report by the National Association of State Mental Health Program Directors Research Institute. While states are slashing funding for treatment, private care is getting harder to obtain. Mental health advocates say that the number of providers nationwide has decreased in recent years. The ones that do practice often don't take insurance or are all booked up.
"Even if you have a benefits program that should offer you mental health and substance abuse services, it's often difficult to find a provider who will even take you just to get in the door for an assessment," said Sarah Steverman, the director of state policy for Mental Health America, the nation's largest non-profit mental health advocacy group. "We don't have enough providers, and the providers that we do have don't necessarily have to service the population that's most in need because there's plenty of demand."
Amelio D'Onofrio is a New York City-based psychologist who teaches at Fordham University. He said he requires patients to pay out of pocket for treatment.
"Not everyone can afford that -- it limits the clientele to a certain socioeconomic status," he said. "The reimbursement rates [from insurance companies] to mental health providers are not on par with making a living. These become difficult choices. I want to practice, but I'm going to do it in a way that I can practice the way I want to practice, not be limited with the paperwork that insurance companies require."
Jackie Malasky, a young professional working in Washington, D.C., said she used to see a therapist, but the out-of-pocket costs stopped her.
"It just got to the point where it was too expensive," she said. "I want to get back into therapy but it's hard to find somebody you vibe with and it's really expensive."
Even if providers do take insurance, insurance companies may not cover every service.
"It is much cheaper for insurance companies to pay for medication than ongoing psychotherapy, and their lobbies and the money spent on advertisements have slowly infused our cultural thinking about this," said Lloyd Sederer, the author of The Family Guide to Mental Health Care and an adjunct professor at Columbia University's Mailman School of Public Health who also serves as an adviser to HuffPost's Healthy Living section.
But Susan Pisano, a spokeswoman for America's Health Insurance Plans, the trade group that represents the health insurance industry, said that insurance companies aim to cover the services that fit patients best, no matter the cost.
"Health plans provide coverage for very expensive things every day of the week," she said. "The decisions have to do with what the science tells us is working best." Furthermore, "if the typical recommendation doesn't apply, then there's a way for the physician to ask for an exception."
But there are signs that many people are slipping through the cracks. According to the Substance Abuse and Mental Health Services Administration, 40 percent of adults with serious mental illnesses reported not getting treatment at all in 2009.
One of those adults is Marsha Roach's 30-year-old son Peter, who is autistic and also suffers from substance abuse issues. Roach said that her son received extensive support in middle school and high school. Once he graduated, everything changed.
"It's really a nightmare," she said. "It just blows my mind with what I've had to go through. We've been very unsuccessful in everything we've tried."
Peter Roach lives in Branford, Conn., with his mother and grandmother and hasn't worked or taken classes since high school. His mother, who has a full-time job, has tried for years to get him into supportive housing, but hasn't had any luck.
"A big part of the reason is because he has family. They keep putting him at the back of the list because there are people who don't," Marsha Roach said. "What's going to happen when I die? Who's going to take care of him?"
Roach has worked with counselors from BH Care, a nearby non-profit behavioral health care provider. She says that one counselor told her "if you can't deal with him, drop him off at a [homeless] shelter."
Mike Fitzpatrick, the Executive Director of the National Alliance on Mental Illness, said that there is a total lack of a support system for caregivers.
"Ultimately it's families and caregivers who are taking care of and providing support to the people that they love, and too often they're going it alone."
Fitzpatrick said that when caregivers are worried about loved ones, especially those who are resistant to getting help, calling the police is often the most accessible option.
Samantha Bernstein of Stamford, Conn., has twice called 911 on her son Max, who has pediatric bipolar disorder.
"He would have tantrums that lasted over an hour, I mean throwing himself on the floor," she said. "He once had a tantrum that was so major that he slipped and hit his head and needed stitches."
She said that both times she called, the response team was extremely helpful. However, Max's issues continued.
"He was hospitalized eight times between the ages of 5 and 7," she said.
Bernstein enrolled her son in Hampshire Country School, a therapeutic boarding school for boys in Rindge, N.H. She said that Max, now 10, no longer has violent outbursts and is off medication. Thanks to the school, he has plenty of adult supervision and constant support.
That amount is not something most families can afford, given that the median income in U.S. households is only $52,762. But while mental health treatment often comes at a great cost to both patients and governments, studies suggest it's more expensive for the nation to avoid dealing with mental illness than it is to treat it properly.
People with mental illness "are by and large invisible people to many state legislators, so they're the easier cuts to make without having a big backlash," said Kirkton, the Missouri lawmaker. "It's most unfortunate because when you look down into the numbers of how much it really costs state and local governments, when you think about all the impacts of mental illness on employment, hospital care, public safety, it's not a pennywise decision."
Popular in the Community